Citizens Bank Park's Newest Play Area is a Home Run with Kids
Opened last year, the interactive and immersive children's experience, The Yard, at Citizens Bank Park is already a hit with young Phillies fans. So, when you're not busy watching Bryce Harper and the boys hit it out of the park, grab your gang and make your way to the ultimate hangout spot for the whole family, located in right field in Ashburn Alley. Here's just a taste of the exciting family-friendly things you'll find in at The Yard:
Citizens Bank Phan Field
Now your little leaguer can play like the pros on the Citizens Bank Phan Field, a WIFFLE ball field modeled after the Phillies' big-league field. Watch as they practice their batting skills and run the bases during a WIFFLE ball game with their friends (anyone under the age of 14 can play!). Don't forget to admire just how closely the miniature version matches the full-sized field. There's a diamond orientation, sharing the same city skyline view, a small PhanaVision electronic scoreboard, the iconic Liberty Bell and a dugout!
Phanatic Climbing Wall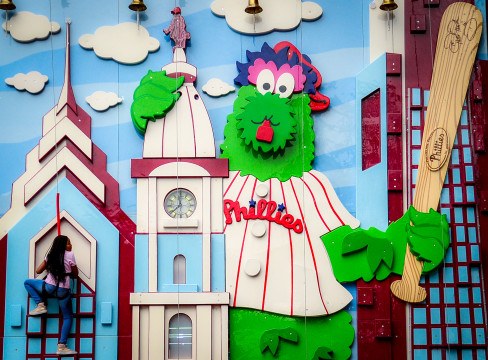 Let your little ones take a turn at safely scaling some of the city's most iconic landmarks. The Phanatic Climbing Wall allows kids to climb to the top of a 30-foot structure that depicts the city skyline and everybody's favorite mascot—the Phillie Phanatic. Don't worry moms and dads—they'll be wearing a harness!
Hatfield Hot Dog Launcher
The kiddos can act like the Phanatic on Dollar Dog nights and put their hot dog launching skills to the test. They'll have the chance to use an authentic hot dog launcher to catapult foam franks at targets. This is the one exception to the "don't play with your food" rule.
Bullpen Speed Pitch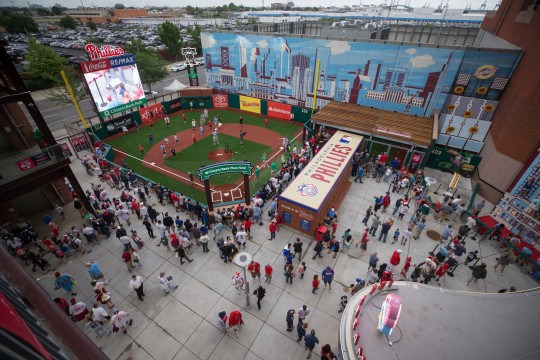 Watch your pint-sized players fine-tune their fastball inside the Bullpen speed pitch. They can practice their pitching technique and measure the velocity of their throw, thanks to a state-of-the-art radar gun. Watch out Aaron Nola, these kids might be your next teammates!
Sweet Treats for All
With an onsite ice cream bar and kid-sized concessions you'll keep your littlest fans content, while you can sip on a selection of beer, wine, cocktails and frozen drinks at The Backyard Bar. Cheers to a day of family fun!
Have a family fun-filled day watching the Phillies play at Citizens Bank Park.
This is a paid partnership between Philadelphia Phillies and Philadelphia Magazine's City/Studio
---