These Cosmetic Trends Will Redefine Beauty in Philly in 2023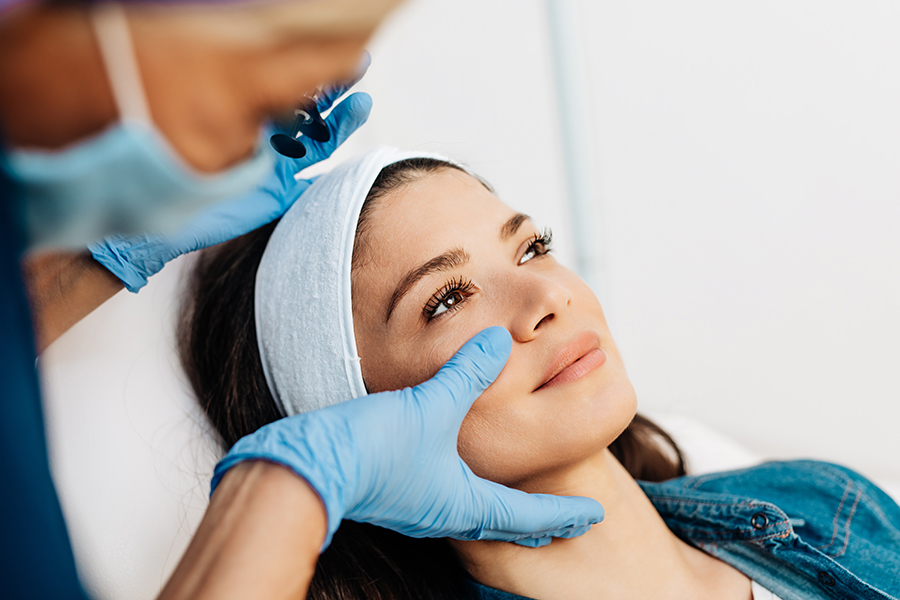 The nature of cosmetic procedures is ever changing. From buccal fat pad removal to a custom-sculpted jawline, new looks are constantly emerging this year as social media and post-pandemic life collide with a new cosmetic toolkit driven by the latest generation of fillers and injectables. Giving your face and body a boost is more accessible than ever with noninvasive and temporary options making it easy to find the look that works for you.
New techniques and approaches are hitting the market in 2023, and to find out how they're going to reshape our look, we spoke to Ivona Percec, MD, PhD, and associate director of cosmetic surgery at Penn Plastic Surgery, about the newest and soon-to-be-approved procedures.
"We're very fortunate to live in an age where there are a lot of tools that are safe and effective for cosmetics or aesthetic procedures, ranging from the least invasive skincare to the most invasive, like very safe implants," Percec says. "As a plastic surgeon, I practice all of those components, so it's a particularly exciting time in my practice, as we're always highlighting things that are new to the market."
Here are the looks that will define beauty in Philly this year.
Snatched Jawline
An exciting, new-to-market, breakthrough approach available through Dr. Percec is Juvederm's Volux, the first hyaluronic acid-based injectable filler, just approved by the FDA, that specifically targets the jawline.
"The jawline is an area that has been lacking approved products, and the strength of the jawline is really important in the framing of the face," Percec says. One of the more recent developments that Percec is seeing in the industry is an increasing understanding of the importance of the lower half of the face, particularly the jawline. While browlifts and crow's feet corrections previously dominated, surgeons and aestheticians are coming to realize that tweaks to the jawline can change how features, from the lips to the nose and more, are perceived.
"By improving the jaw, the patient will likely be happier with their nose and face because the proportions are more correct and more even," Percec says.
Percec is also seeing more patients who are looking to emphasize either masculine or feminine characteristics, and finding the right shape for the jaw is paramount to that approach.
"For a man who wants a more chiseled jawline, this can be perfect, and he doesn't have to go into surgery–it's all done in the office," Percec says.
Volux works particularly well because the filler provides structural support and contours the jawline. At the same, unlike many surgical approaches, it is a temporary option lasting two to five years, so patients don't have to commit to a permanent change.
It works well enough that Percec sees it replacing common facial surgeries, or serving to keep a patient in top condition after surgery.
"We can even simulate the effects of a neck lift or lower facelift by cleaning up the jawline with this product," Percec says. "That can allow us to delay or even replace that kind of surgery."
A creative use of fillers on the lower half of the face isn't limited to the jaw: Percec sees it as useful for positively affecting other major areas of the face, using it to reshape, slim, or expand it, in place of procedures like chin implants.
"You can actually feminize areas of the face as well," Percec says. "A woman who has a particularly square of cleft chin, for example, can have the dimple filled in, round out the chin or change the angle of the jaw, making her face look more feminine."
Liquid Facelifts and Rhinoplasty
2023 may well be the year of the filler–Percec also sees their applicability in more creative uses coming to market. One new application is to inject a different, much thinner kind of filler into the top layer of the skin in tiny, tiny amounts.
"The goal is to deliver it in such a tiny amount that the skin quality is improved. Not the deeper structures or the bony structures, but the skin itself will look more hydrated with a diminished pore size," Percec says.
Another filler about to receive FDA approval is specifically for under-eye hollows. A sensitive area, patients can be at times concerned about trying to fix under-eye bags or shadows. But Percec points out that a skilled provider can fix the area safely with fillers, and thereby potentially avoid an eye lift.
"Patients don't necessarily need surgery for those areas," Percec says. "They may actually simply lack the volume and structure to support that area. Using a filler and maintaining that over time can actually make a big difference in making that person look less tired or fatigued. But we have to be careful to not over do it because of the delicate structure of the eye."
Percec notes that injectables have advanced enough that they can even replace or simulate traditional rhinoplasty with a temporary reshaping of the nose, offering the patient more flexibility as they age, and even the ability to adapt to new trends as they change over time.
Facial Contouring
With more and more photos and videos taking up people's feeds, there's been a greater and greater emphasis on facial definition. To that end, Percec is seeing new ways to thin the face and create greater contouring.
Botox already put to that use, according to Percec. This year it may actually receive FDA approval to thin the jaw muscles, which can be used to make faces thinner and more feminine in appearance.
"People who have a really wide lower face, or even who grind their teeth, will benefit from it," Percec says.
One area that is getting heavy attention lately on social media is the buccal fat pad. This area beneath the cheekbone, can be critical to facial contouring, but is resistant to weight loss and can shift with age. Percec points out that there's a more permanent, surgical solution that involves physical removal of the fat pad, but there's also an injectable treatment, called Kybella, that diminishes fat cells locally. The procedure can be transformative, but Percec notes it's not for everyone.
"It emphasizes the hollowing of the cheeks, so it's ideal for someone with a wide or full face, or otherwise wants to look more masculine," Percec says. "It may create a look that's too aggressive otherwise."
Combined Approaches
Combining surgical and noninvasive approaches is recommended as fillers become more advanced, as they can be used to maintain the effects of surgery, or even be used in conjunction with it. One example: For very loose skin, Percec recommends against simply using fillers, as it may cause an overinflated look.
With all these noninvasive approaches coming to market, Percec notes that there's a risk of less qualified professionals offering treatment–-and patients receiving treatment from multiple different professionals.
That can be dangerous, not only in terms of receiving lower quality fillers, but also because, in order to create the right look, the person providing treatment needs to know exactly what fillers the patient has received in the past. To solve this issue, Percec advises finding a consistent team.
"What I would recommend is either working with a surgeon who also provides injectables, or for practices that only offer injectables, teaming up with a surgeon, so that you can make sure you're working together to give people the look that they want for the whole face throughout their life."
Penn Plastic Surgery offers a full range of cosmetic procedures, including surgical and injectable options, and skin care services. Their focus on quality, safety and the most up to date techniques is combined with individualized care to give you exceptional results. Schedule a consultation online or call us at 610-902-1828.
This is a paid partnership between Penn Plastic Surgery and Philadelphia Magazine's City/Studio
---