Living in Brewerytown: A Neighborhood Guide
A yeasty mix of established residents and newer arrivals have caused a lot of ferment in this historic North Philly neighborhood.
---
As you may or may not know, Philadelphia is where Americans were first introduced to what's now the country's most popular style of beer.
Though at least one beer scholar disputes it, George Wagner is generally credited with brewing the first lager beer in America in 1840. His was a true homebrew: he produced it in a kettle hung over the hearth in the back of his Northern Liberties home. But first in St. Louis, then later in Philadelphia and Milwaukee, commercially brewed lager beer would take the country by storm.
A state historical marker near the now-demolished Ortlieb brewery marks the spot where Wagner lived. And Northern Liberties was home to the city's two biggest brewers in the 20th century, Schmidt's and the aforementioned Ortlieb's. But by the late 19th century, the place to get your beer fix satisfied in Philly was Brewerytown, on the Schuylkill side of North Philadelphia.
Brewerytown got its name from the more than 20 breweries that operated in the neighborhood at the peak of its sudsy heyday. Most were run by brewers of German descent, and many of them operated in buildings designed by German-American architect Otto Wolf. The more than 60 buildings Wolf designed in Brewerytown gave the neighborhood a distinct German flavor.
The imposition of Prohibition in 1920 started Brewerytown on its long, slow decline as the small breweries gave up the ghost due to the loss of their mainstay business. The neighborhood followed suit as vacancies spread and buildings deteriorated.
Fortunately, many of those brewery buildings remained standing, enough to make the neighborhood a National Register historic district in 1991. One of them, the former F.A. Poth brewery, even resumed producing beer when Red Bell Brewing Company made its building its home. (Too-rapid expansion turned Red Bell into a zombie company in 2002, but the Poth brewery building soldiers on, as you will soon learn.)
Most of them, however, were converted into apartments and condominiums, and new developments followed in their wake. The new residents brought new energy to the Girard Avenue business district at the neighborhood's heart, and the large-scale projects brought a slew of smaller ones in their wake.
Part of Brewerytown remains a neighborhood on the mend today thanks to the large amount of vacant land left when derelict houses were demolished. But with that supply steadily shrinking as more and more houses get built, the future looks heady indeed for even the least-well-off parts of the neighborhood.
---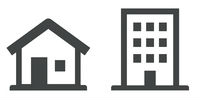 Brewerytown Housing Prices at a Glance
Median listing price, all homes (Sept. 2019): $272,500
Average apartment rent: $1,474
---
What You Can Buy in Brewerytown
A Trio of New Construction Contemporary Townhouses: One, Two, Three
3018, 3020 and 3022 W. Stiles St. | Each 4 beds, 3 baths, 2,400 square feet, $575,000
Customizable Penthouse Unit in Brewerytown's First Condo Building
1501 N. 31st St. #4 | 2 beds, 2 baths, 1,300 square feet, $489,000
Newly Restored and Renewed Traditional Rowhouse
1338 N. Dover St. | 2 beds, 2 baths, 1,365 square feet, $284,900
---

Public Transportation in Brewerytown
SEPTA Trolley Route: 15, on Girard Avenue
SEPTA Bus Routes: 3, on Cecil B. Moore Ave.; 7, on 27th and 29th streets; 32, on 26th, 27th, 33rd and Poplar streets and Poplar Drive; 48, on 27th, Poplar and 29th streets; 49, on 29th Street
---
Food Shopping in Brewerytown
Supermarket: Aldi, 3101 W. Girard Ave.
Specialty grocers: Primal Supply Meats Butchery & Market, 1521 N. 31st St.
Neighborhood grocers: Bravo Mini Market, 1646 N. 29th St; Cecil B. Moore Grocery, 2604 Cecil B. Moore Ave.; Girard Mini Market, 2901 W. Girard Ave.; Jefferson Food Market, 1501 N. 29th St.; Karen Mini Mart, 1400 N. 30th St.; Rodriguez Supermarket, 1700 N. 28th St.; Three Sisters Grocery Store, 2500 Master St.
---
What a Real Estate Agent Says About Brewerytown
"Brewerytown is booming. It's evident by the institutional investment taking place on the 31st Street corridor and on the back blocks from Girard to Cecil B. Moore, where international investors are paying 6 percent cap rates* for 2-100+ unit multifamily and mixed-use assets.
"Given its proximity to the Art Museum, cultural attractions, Fairmount Park, I-76, and the Girard Avenue hipster commercial corridor, and its relative affordability on both the rental and sales side, Brewerytown has emerged as a Top 5 submarket in the entire city of Philadelphia.
"We sell here to first-time homebuyers, boutique multifamily investors (at the time of writing, we're going to closing in 12 hours to sell two four-unit buildings to investors), Qualified Opportunity Zone funds (we recently sold a 110-unit mixed-use site at 2601 Poplar on behalf of both local buyers and sellers) and everything in between."
—Ryan McManus, "Agent PHL," Compass Real Estate
*A "captialization rate," or "cap rate," is the expected return on a real estate investment.
---
Local Color
The demise of Red Bell left Brewerytown bereft of breweries once again, but the void was refilled in 2015 with the opening of Crime & Punishment Brewing Co., a new craft brewpub in the middle of Brewerytown's burgeoning restaurant row along Girard Avenue. As might befit a brewery that takes its name from a Dostoyevsky novel, the dishes on C&P's menu are Russian-inspired. Other flavors you can find on Girard Avenue include gourmet burgers, Italian, Jamaican, pizza, soul food, and, of course, Chinese takeout. In addition to C&P, Brewerytown has three other eateries where beer is a specialty of the house: 2637brew (2637 W. Girard Ave.), Rybrew (2816 W. Girard Ave.) and Hops Brewerytown, the third and latest of a string of brewpubs to occupy 1361 N. 31st St.
---
More Local Color
What began as an experiment in local sourcing of food by a well-known Philadelphia restaurant chain morphed into one of the city's first community-run nonprofit community gardens. Brewerytown Garden, at 27th and Master streets, rose in 2015 from the ashes of Marathon Farm, Marathon Grill's experimental produce garden. That same year, the Philadelphia Department of Parks and Recreation selected it as the first "preservation garden" in its FarmPhilly program, bringing it into the city park system as well. More than 50 Brewerytown and Fairmount households currently raise crops in the garden.
---
Did You Know?
Recall the F.A. Poth Brewery building we mentioned at the beginning of this guide? It's now becoming the latest emblem of the strong interest in residential construction in Brewerytown.
After spending about 15 years or so as a haven for graffiti artists, urban spelunkers and even an escape-room game designer, the Otto Wolf-designed Poth brewery passed from the hands of the zombie Red Bell Brewing Company to MM Partners, Brewerytown's home-brewed real estate development firm. David Waxman's firm has put together an impressive portfolio of adaptive-reuse projects that have recycled industrial buildings and hospitals into great spaces for living, and the Poth building will add one more to that list.
MM Partners bought the building for $4.12 million in January 2018 and has since commenced a $37.6 million renovation and reconstruction project with funds from investment partners and tax credits. The first phase of the project will see 135 loft apartments and 25,000 square feet of commercial space fill part of the complex.
Waxman told Hidden City Philadelphia, "We love these old buildings because you simply can't build a new building like this anymore. You get high ceilings, thick walls and floors, and amazing original details. The stories behind many of these buildings also make a great marketing angle because they are authentic not something contrived like you see in a lot of new buildings."
Listing price data from Zillow as of September 2019; average rent data from Yardi Matrix via RENTCafé
---
---