Living in East Passyunk: A Neighborhood Guide
You can still find Italians and Irish in this bustling corner of South Philly. But they're now just two tiles in a gorgeous mosaic of ethnicities and lifestyles.
---
What may well be the most celebrated intersection in all Philadelphia lies in East Passyunk: "Cheesesteak Corner," where South 9th Street and East Passyunk Avenue cross. Here cheesesteak pioneer Pat's and upstart Geno's duke it out for the hearts and stomachs of millions of "Rocky" fans and cheesesteak aficionados a year.
One of these places used to have a sign in its window saying "This is America. When ordering, please speak English." The son of the guy who put that sign there quietly removed it a couple of years back, a tacit acknowledgment of just how polyglot the two neighborhoods that make up East Passyunk have become.
Today, the shopping street that gives both Passyunk Square and East Passyunk Crossing their name has blossomed into a global diner's delight, with restaurants offering everything from Mexican to Spanish to Dutch to Japanese to French cuisine. Yeah, you can still find Italian fare there too, including one of the city's most celebrated old-school pizzerias.
Surrounding that street are blocks of rowhouses ranging from compact to capacious, many of them recently renovated. Pocket parks and playgrounds offer valued green space. You'll also find plenty of friendly and welcoming residents there, no matter who you are. (Just remember: This is a mosaic, not a melting pot. This being Philly still, you may find some blocks more welcoming than others.)
---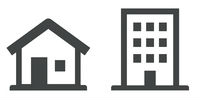 East Passyunk Housing Prices at a Glance
Median single-family house value: East Passyunk Crossing, $306,800; Passyunk Square, $352,100
Median condo value: N/A
Median monthly rent: East Passyunk Crossing, $1,433; Passyunk Square, $1,512
---
What You Can Buy in East Passyunk
Recently Built Extra-Wide Rowhouse with Balcony and Roof Deck
1110 Greenwich St. | 5 beds, 4 full, 1 half baths, 3,190 square feet, $849,900
Newly Renovated Rowhouse Around the Corner from "The Miracle on 13th Street"
1319 Tasker St. | 3 beds, 2 full, 1 half baths, 1,800 square feet, $509,999
Cute Renovated Rowhouse Just Off East Passyunk Avenue
1225 Mercy St. | 2 beds, 1 bath, 784 square feet, $349,900
---

Public Transportation in East Passyunk
SEPTA Broad Street Line: Ellsworth-Federal, Tasker-Morris and Snyder stations
SEPTA Bus Routes: 29, on Tasker and Morris streets; 45, on 11th and 12th streets; 47, on 7th and 8th streets; 47m, northbound on 9th Street; 64, on Washington Avenue; 79, on Snyder Avenue
---
Food Shopping in East Passyunk
Italian Market: The southern half of Philadelphia's legendary curb market on South 9th Street lies in Passyunk Square and terminates at Cheesesteak Corner. The neighborhood shares the market with Bella Vista to its north. (See Bella Vista Neighborhood Guide for description.)
Supermarkets: Acme, 10th and Reed streets; Sprouts Farmers Market, 1100 S. Broad St., diagonally opposite neighborhood's northwest corner
Specialty grocers: Hung Vuong Supermarket (Asian specialty supermarket), 1132-38 Washington Ave.; First Oriental Market Inc. (Asian specialty market), 1111 S. 6th St.
---
What a Real Estate Agent Says About East Passyunk
"Passyunk Square and East Passyunk Crossing, or EPX as it's been called, are two great little neighborhoods between 6th and Broad streets and Washington to Snyder avenues. I've found that the old and the new generations get along and work together well. These diverse neighborhoods are highlighted by the many heritage and history nights held at the East Passyunk Community Center on a regular basis.
"The amount of newer award-winning restaurants along with some amazing long-standing places make East Passyunk Avenue a great place for dinner and dates.
"These neighborhoods have been a solid investment real estate-wise and continue to develop. Just like its sister neighborhood Passyunk Square has done, EPX still has some room to grow, so that's good news for buyers looking to get in before everything is fully developed. As of the printing of this article. there are six homes for sale in EPX under $200,000 with three bedrooms. Great value for such an amazing location just a few blocks from the Broad Street Line and the stadiums."
—Paul Fontaine, Keller Williams Realty – Center City
---
Local Color
The old Italian families who settled in East Passyunk pulled out all the stops in decorating their houses for the holidays, and this tradition survives in spectacular fashion on the 1600 block of South 13th Street. "The Miracle on South 13th Street" draws visitors from far and wide to marvel at the elaborate light displays that change from year to year.
---
Did You Know?
Passyunk Square was once home to Philadelphia's second county prison. The New County, later Moyamensing, Prison sat at East Passyunk Avenue and Reed Street from its opening in 1838 until its demolition in 1968. One of its unusual features was a separate "Debtor's Apartment" (the Egyptian Revival building in the 1838 lithograph above). Intended for use as a debtors' prison, it never served that purpose, as a change in the law just before the prison opened ended the jailing of debtors as a punishment.
Adjacent to the prison was Wharton Field, a baseball field where 19th-century civil rights leader Octavius V. Catto's baseball team played.
The neighborhood's Acme supermarket now occupies the site where both once stood.
House price and rent data from Zillow Home Value Index and Zillow Rent Index, October 2018
---
---