Thos. Moser Sets the Stage for Modern Living in a Model Home
One of the hardest things for a buyer to do is imagine what a home will look like once it's filled with furniture. The Maine woodcrafter is helping take care of that at a model home in Fairmount.
---
Design professionals universally recommend that sellers do some staging when they put their homes on the market. Wise developers do the same when they equip a model home for touring.
Realtor-developer Ori Feibush currently has a model home open at his Brown Street Court development, a new seven-unit luxury townhouse project in Fairmount. House-hunters who tour it are in for a bit of a surprise: the staging comes courtesy of Thos. Moser, Handmade American Furniture.
Moser's partnership with OCF Realty is a new departure locally for the Maine furniture maker, whose ties to Philadelphia stretch back 33 years. It's an effort to showcase the contemporary side of the Moser furniture line and reach out to a new generation of potential buyers.
"Thos. Moser furniture works in any environment — whether the new developments are traditional, transitional or contemporary in design," said Aaron Moser, president and CEO of Thos. Moser. "And its sustainability — made from a renewable resource using cherry wood harvested from the Allegheny Plateau of Pennsylvania and guaranteed for life — has growing appeal in today's environmentally friendly climate."
All of these facts should recommend the Moser line to younger buyers in search of contemporary style. And it's with that in mind that the company got in touch with OCF about furnishing one of its model homes.
"While talking with some realtors within Philadelphia, we discussed the possibility of collaborating with developers and builders to stage some models in up-and-coming neighborhoods near Center City, and near the Thos. Moser showroom on Walnut Street, to reach as many people as possible, including young professionals, who may not know about the Thos. Moser brand," Moser said.
"It was suggested to us that we partner with OCF Realty as they have several new developments underway across the city."
Like the furniture, the Brown Street Court development blends contemporary features with traditional design: the townhomes have neotraditional exteriors but modern interiors with open main floors, neutral walls and no detailing. The furniture on display in the model is crafted using the time-honored joinery that distinguishes Moser furniture from its peers, yet is thoroughly contemporary in appearance.
"Setting up model homes with our furniture provides us with the opportunity to introduce younger potential clients to the more contemporary side of the Moser brand," said Moser. "Young professionals are moving into cities, and the partnership between OCF Realty and Thos. Moser emphasizes not only the evolution of the city of Philadelphia and its growing residential and commercial offerings, but also of the Thos. Moser brand."
Moser added that this will not be the only partnership with a developer Thos. Moser will enter into in this city. "While we partnered with OCF as the first collaboration in the city of Philadelphia, we are continuing to explore other opportunities in Philadelphia and in our other showroom markets, which include New York City, Boston, Washington, San Francisco and Freeport, Maine."
Moser's previous interior design forays include providing furniture for designer show houses in New York, California and Washington, including last year's DC Design House.
So far, Moser said, response from would-be buyers has been positive: "We received many compliments about the furniture from visitors, who range in age from millennials to empty-nesters."
The Moser contemporary collection will remain on display at the Brown Street Court home at 2619 Brown St. through December, at which point it will move to OCF's Wharton Place model home at 2010 Wharton St. in Point Breeze. The furnished rooms in the photo gallery below come from a Wharton Place installation in July. Whether you're in the market for a new home or modern furniture for your current one, this model home and its furniture are worth checking out. Visitors to the model home can also enter a drawing to win a New Gloucester Rocker.
---
Thos. Moser Model Home Furniture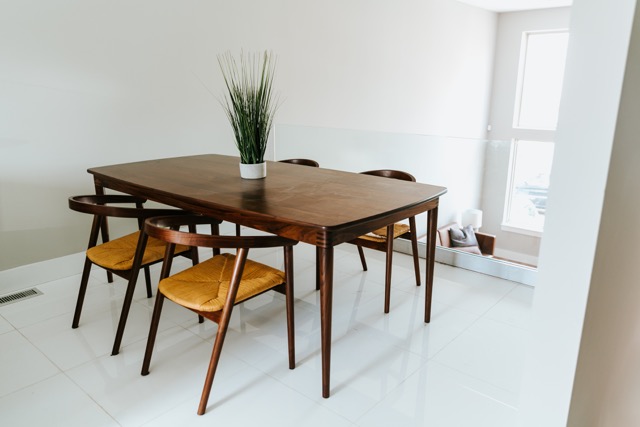 ---
Follow Sandy Smith on Twitter.
---
---