Kitschy-Cool Listing on Delancey Street Offers Plenty of Intrigue
The just-listed home extends back to Cypress Street and offers two-car parking.
---
We've covered a wide array of homes on Delancey Street. This kitschy-cool abode at 521 Delancey is a little different than, say, the majestic, curved beauty on the 1800 block.
Some of the decor may be a little dated, like the kitchen cabinets, but for some reason the whole thing just works. The living room features wonderful pine floors, a fireplace and delightful exposed brick wall that speaks to the historic charm of the home.
A major highlight of the home is the 2-story greenhouse window that overlooks the rear garden. It really brings the outside in, and washes the earthy elements of the kitchen in natural light.
Unfortunately, there are only a few pictures with the listing, so you can't really get a sense of the entire home. What you do see is that the upstairs has a few showcase features that could look insanely good with some tasteful updates.
Take, for example, the exposed beams in the master bedroom. It's not an uncommon element, to be sure, but the spiral staircase that climbs through and above the beams reveals a loft space that's used a large dressing room with "walls of closets," according to the listing. That's pretty damn cool.
The master bedroom also boasts a fireplace, French doors to the balcony and a large master bath, the latter can be seen in the gallery below.
THE FINE PRINT
Beds: 3
Baths: 3
Square Feet: 2,625
Price: $1,265,000
Additional Info: Two car parking
---
521 DELANCEY St PHILADELPHIA, PA 19106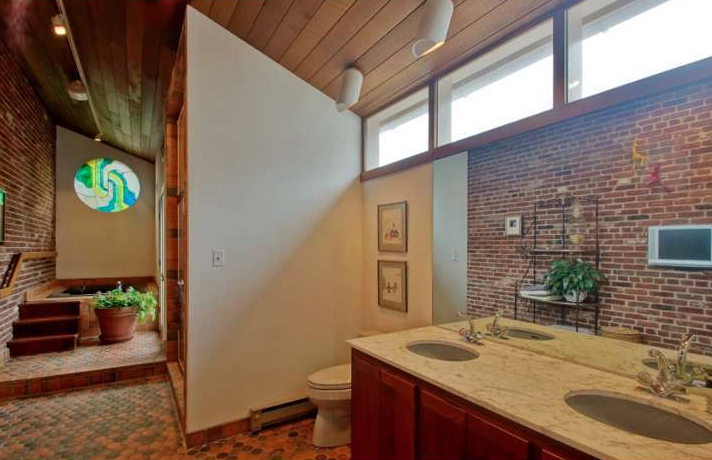 ---
•
521 DELANCEY St. PHILADELPHIA, PA 19106
[BHHS Fox & Roach, Center City–Rittenhouse Hotel]
---