News
Flyers Host Andrea Helfrich Got Engaged in a Made-For-TV Proposal at the Four Seasons
The groom-to-be popped the question between playoff rounds.
---
One of the best spots in Philly for all things wedding is the recently opened Four Seasons Hotel Philadelphia, which occupies the 48th through 60th floors of the Comcast Center and is the eighth tallest situated hotel in North America. So it's no wonder that groom-to-be Antonio Presta, a restaurateur with Craft Manayunk and Trios Tomato Pie, as well as a medical-supply wholesaler, staged his proposal to Philadelphia Flyers TV host and producer Andrea Helfrich at the destination — amid a quick break in the playoff schedule back in August. Check out these photos by Philip Gabriel Photography to see how Antonio won her heart.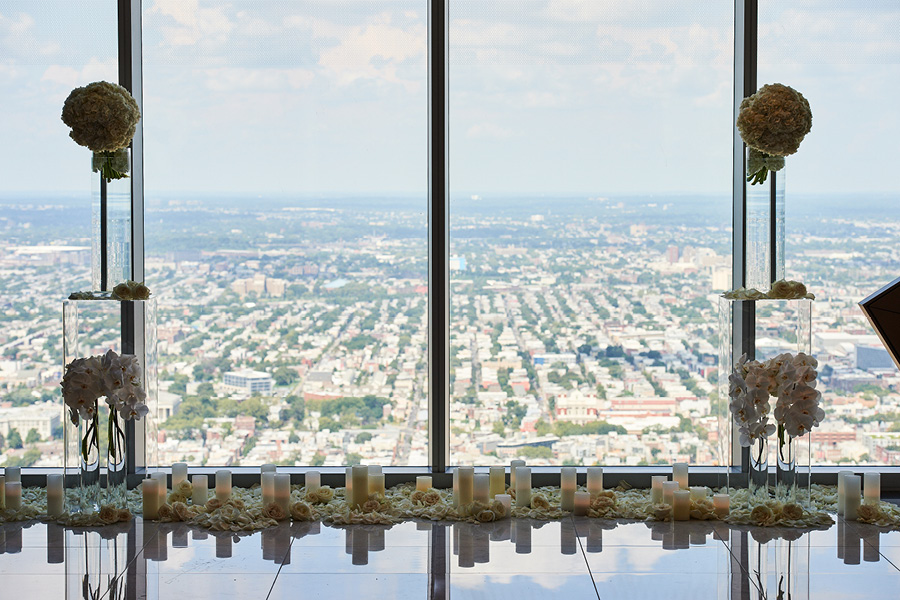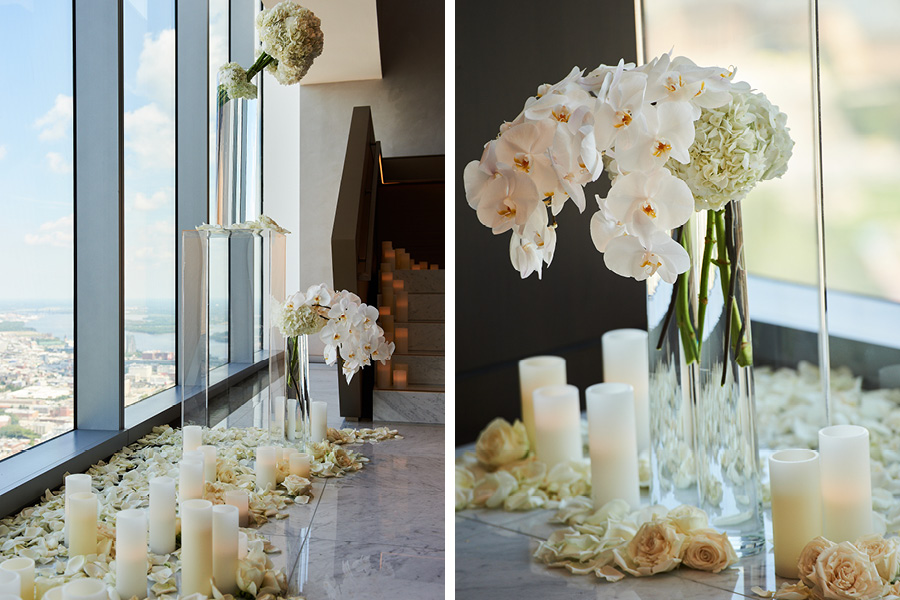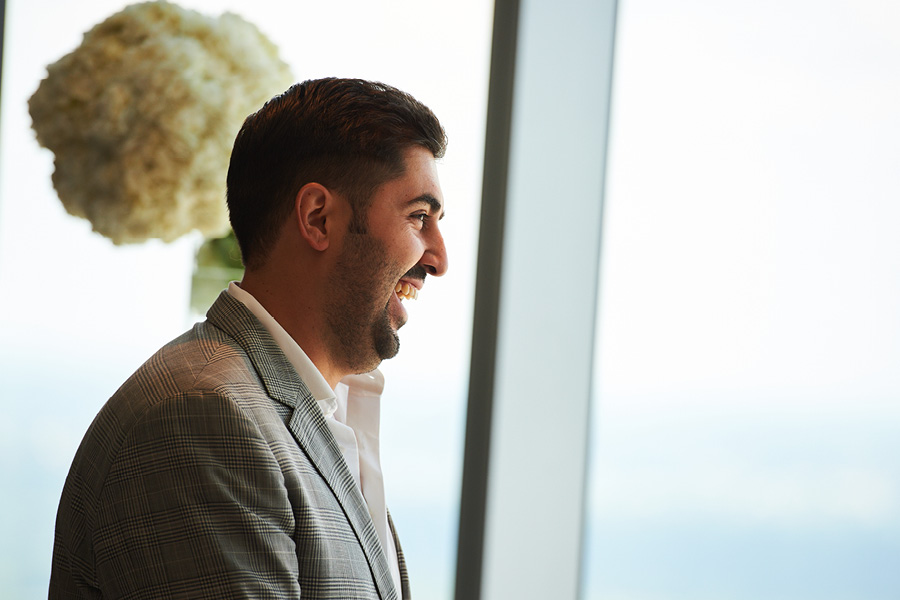 Andrea Helfrich, 31, and Antonio Presta, 30, first met at the former Bella Trattoria restaurant. Andrea, who had just opened a nail salon in Manayunk, popped in with her business partner for lunch. Antonio was serving as manager. (His family ran the restaurant.) "I don't really remember us meeting, but a few days later he messaged me on Facebook," says Andrea, the creator of the Everything But Hockey podcast in addition to her role with the Philadelphia Flyers. She agreed to go on a date with him. But there was a twist, says Antonio. "She always brought a friend. She brought a friend for the first year!"
The two dated for 10 years — long distance and across three states — before Antonio took the next step on August 22nd, 2020. But his plan was put into motion a few weeks prior. Antonio was in Long Island for a business meeting, and he called Andrea to see if she'd like to meet him in the Hamptons. "I flew up and, while there, I got wind that he was planning something special," recalls Andrea. Her friends had led her to believe she'd be getting engaged on that trip. "We left a few days later with a nice tan and good memories, but no change to our relationship status." When it didn't happen, she convinced herself that the "something special" wouldn't take place till November. (The Flyers had just begun the seeding round in the NHL playoff bubble; she knew she wouldn't have a day off till after the whirlwind season had passed.)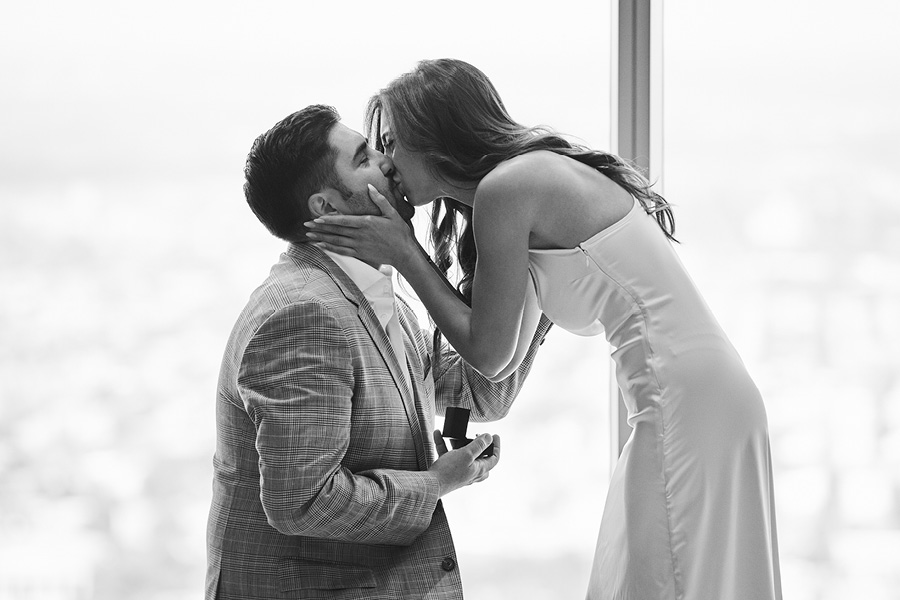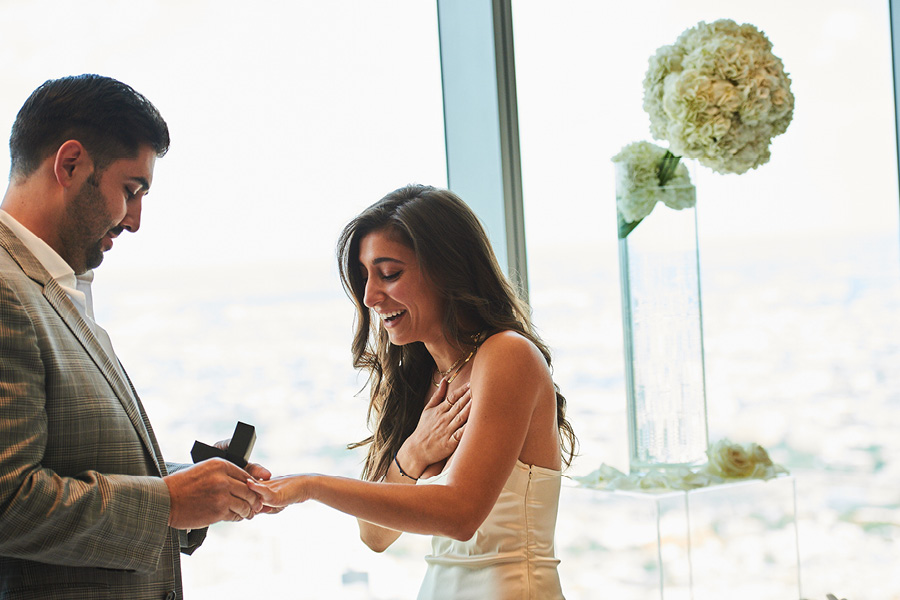 Then came Friday, August 21st. The Flyers had beat the Montreal Canadiens in game six and advanced to round two, so she had the weekend to herself before play resumed Monday. Andrea's friend, Taylor West, asked her to have a "girls' day" Saturday, and she innocently agreed. They started with coffees and blowouts (which she's never had before). Her hairstylist pulled some clip-in extension from the cabinet that "just so happened to match my hair color," recalls Andrea. The two headed back to Taylor's apartment to find something to wear to lunch (or so Andrea thought). "I pulled out a pair of biker shorts and an oversize T-shirt, while she opted for a beautiful summer dress," says Andrea. "I no longer wanted to look like I rolled out of bed." Andrea settled on a cream slip dress and put it on with a pair of sandals.
Taylor suggested they stop for drinks at the Four Seasons Skyhigh Lounge. "Knowing indoor anything was closed [due to COVID-19,] I poked every hole in this plan during our two-block walk," says Andrea. But they arrived; their temperatures were taken; and they got into the elevator. "My friend told me to get a video of the beautiful view," says Andrea. "Again, I fell for it. I took a video, changed the filter, then took another video." The elevator opened, but Andrea was busy tagging Taylor on social, so her head was down as they walked through the lobby. "We reached a staircase that was cascading in rose petals and candles. It was so romantic, but I thought nothing of it because, hello, it's the Four Seasons!" (Antonio, by the way, had selected the Four Seasons because the couple were "enamored" with the restaurant when they first dined there. "Without any ability to travel overseas, this was by far the most romantic location available," adds the groom-to-be, who notes that the floral team, led by famed bloom expert Jeff Leatham, and the hotel staff went above and beyond.)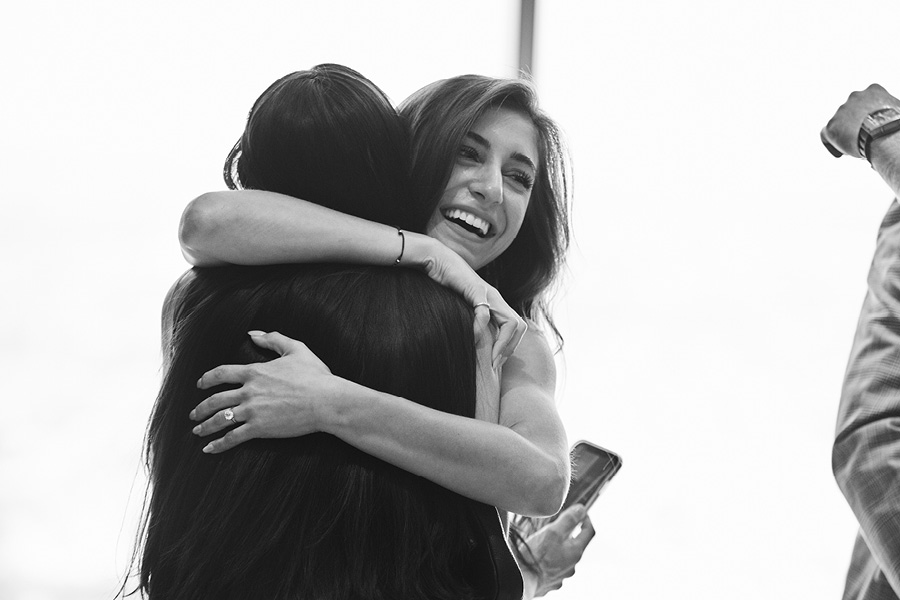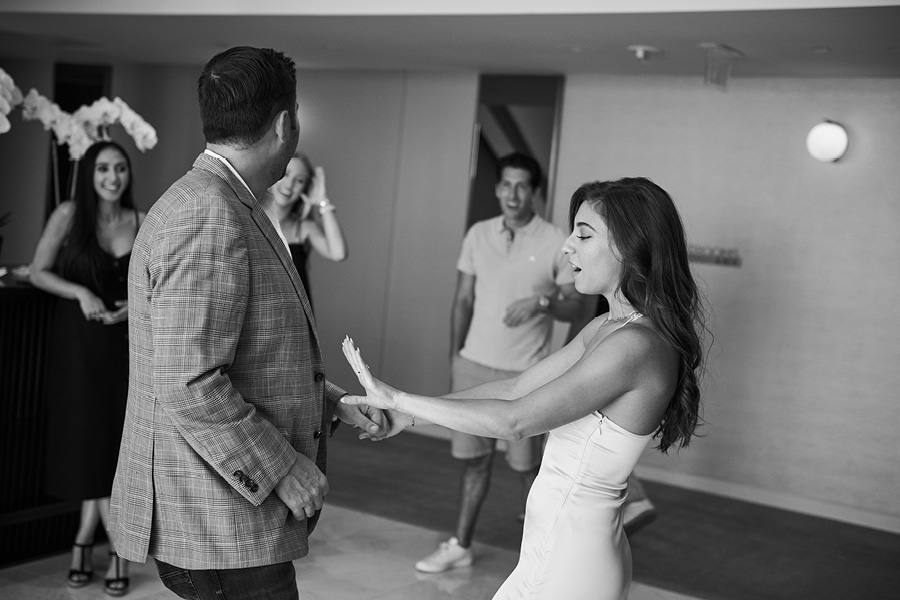 Andrea was about four steps down when she saw Antonio standing at the bottom and finally put it all together. She came to stand with Antonio in front of a window "that had us in the clouds," and he popped the question. "I started to get nervous as soon as she began walking down the stairs," he says. "My heart was definitely beating quickly. Keep in mind I still didn't really have a speech. Fortunately, everything I said was perfect. At least that's what she said!" Witnessing it all? Taylor, of course — along with a few of their closest friends. Andrea was so overwhelmed by it all she had to be reminded to put on the ring.
The surprises continued from there: The duo's dog, Benji, greeted them in the suite Anthony booked. The four-legged friend was wearing a handkerchief that read, "My humans are getting married." The happy couple sipped champagne and called her family, then Antonio said it was time to go home. Confused, Andrea agreed — and was shocked to see a small group of their friends and family waiting to congratulate them back at their house. Their backyard was also bedecked: Candles floated in the pool, and there was a bar, food (from one of his family's restaurants and Jesse Ito from Royal Izakaya), music and tables draped in linens. "For a second I thought were were getting married right then and there," says Andrea.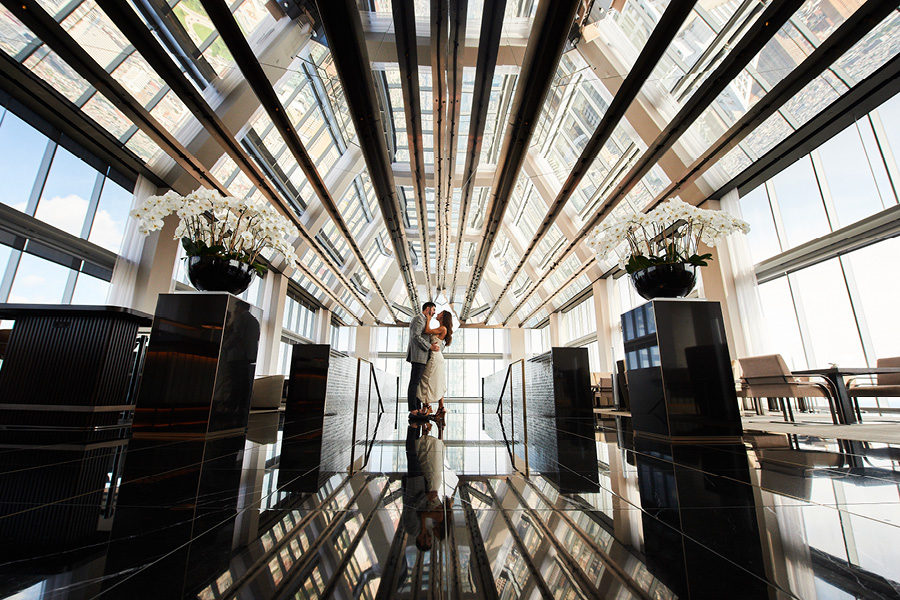 As for their future plans? They would like to do a destination wedding in September 2021, perhaps in Tuscany, though they aren't sure how that will pan out due to the current climate. One thing is for certain: They're basking in newly engaged bliss. "I have not yet come down from cloud nine," says Andrea. "Hands down, it was the best day ever."
Get more great content from Philadelphia Wedding:
FACEBOOK | INSTAGRAM | NEWSLETTER | PINTEREST
Getting married? Start and end your wedding planning journey with Philadelphia Weddings' guide to the best wedding vendors in the city.
---
---