We Moved Our Wedding Up Because of Coronavirus. Here's Why It Worked
The couple had a small Jewish ceremony and got their legal marriage license later.
---
For the countless couples who have been impacted by the coronavirus pandemic, it is all about their approach. Some made the difficult decision to postpone. Others made the call to elope, or even hold a small soiree now and a larger one later. There have been drive-in weddings, emergency self-uniting licenses, DIY Big Days and more. Then there is this couple, who chose to push up their date from a large bash in June to an intimate Jewish ceremony with only friends and family in May, instead. Read below to see why it worked for them, and check out the little touches, captured by photographer Yael Pachino, that made their new plan perfect for them.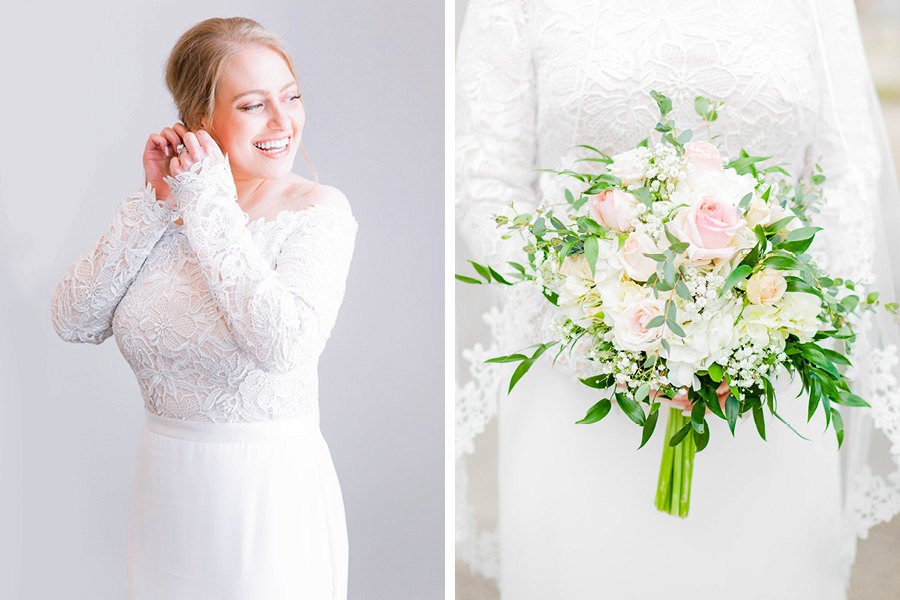 Center City couple Molly Weinberg and and Daniel Vessal can't recall whether it was Jewish life or Greek life that brought them together during the first week at Temple University, but either way, the duo had an instant friendship. Each year they grew closer — good pals, really close friends, then besties junior year. It was that year something changed — at Molly's sorority's big gala. "I wanted to take the guy who I thought I liked at the time, but Daniel kinda hinted that he really wanted to go, 'as friends,' of course." So in April 2014, they went to that ball together. A month after that, Daniel confessed how much he liked Molly.
And in August 2019, he proposed while on Molly's "birthday" trip in Miami. Sure, Molly may have seen the writing on the wall (Daniel's nervous behavior, including his constant texting, refusal to let her hold his book bag — because it had the ring — and a WhatsApp message she intercepted about a "game plan" were potential indications), but she was genuinely surprised and swept off her feet when she saw what he had prepared: a rose petal-filled gazebo, picture frames of the two throughout the years, candles and bubbly. And Daniel's brother, Jason, caught the big moment on video.
The couple initially decided to hold their 300-person wedding June 7th, 2020, at Hilton City Avenue and began the planning process. But with the coronavirus crisis underway in March, they pressed pause; they chose not to send their wedding invitations, deciding instead to wait. On April 23rd, they made the call to change their plan from a large shindig to a small, coronavirus-friendly one — but they wanted to move the date up a month.
"It really sounds nuts, be we felt in our hearts it made perfect sense," says Molly, the campus director at Jewish Heritage Programs and a lifestyle blogger. (Daniel is a business development manager at HERE Mobility.) "Why wait the full amount considering we knew our immediate family could make it, and at that point, it was the full guest list," says Molly. "There was so much stress and planning that had gone into the big June wedding that by the time April came around, all we wanted was to be husband and wife. It didn't matter anymore about color scheme, place cards, bands vs. DJ: What mattered was our love and uniting our lives together."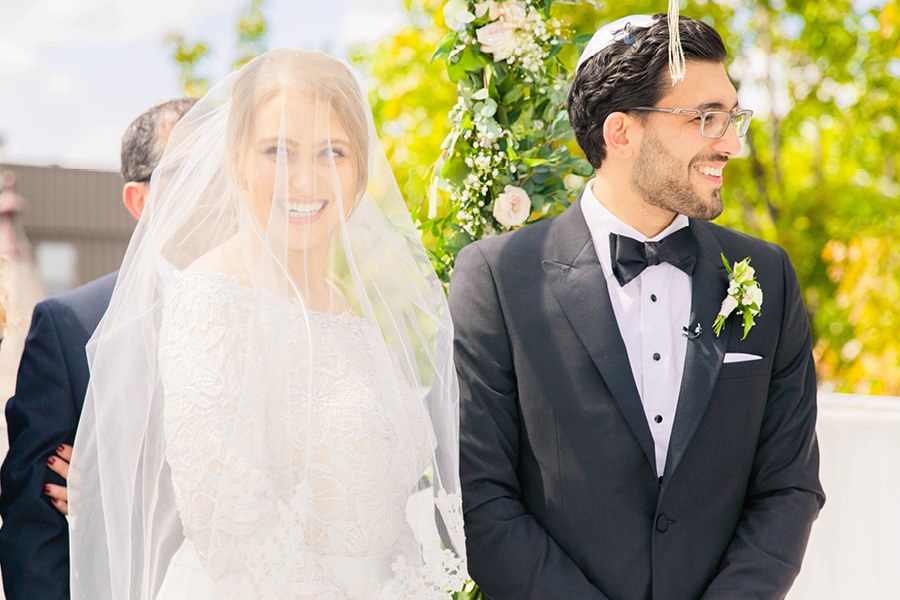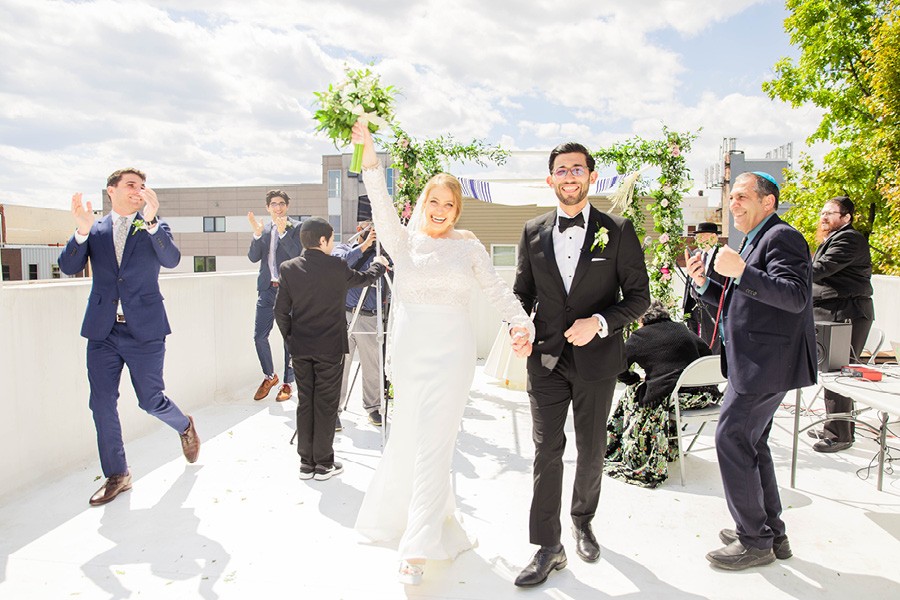 They set the date for May 12th, at the Chabad house at Temple, with their group of 12 gathering on the rooftop for the ceremony and on the first floor for the reception. (The rest of the guests would watch on live stream.) Molly contacted Chick Invitations about creating Zoom wedding invites, all with the theme: Plans change, our love has not. The team created boxes with all of the details, the couple's signature cocktail recipe, LOVE coasters, bubbles to blow (in their respective homes) when they walked down the aisle and a marriage advice card (in lieu of a RSVP card). Everyone was also invited via Paperless Post (to ensure the link was sent quick enough).
The only real hitch leading up to the new Big Day: Because City Hall was closed, the duo could not obtain their marriage license. They planned to get married in the Jewish tradition and be wed legally later, once government services resumed. (The couple later obtained their marriage license on June 29th, when the Register of Wills began taking appointments during the yellow phase. Their rabbi has also signed it for the legal date of July 4th. Their last step: Send it back.)
But that didn't matter to the couple. "All we cared about was coming together as one by becoming husband and wife," says Molly, who is grateful for their family and friends who helped make the celebration special — and did it in just a few short weeks. Friend Josh Freed helped out with the Zoom: In addition to a tripod and iPad from the couple, he contributed another tripod and iPad, and his computer to manage the entire process. Instead of one angle, there were three: chuppah cam, aisle cam and main cam.
In a sentimental touch, the chuppah was an homage to Molly's father, who had passed away in 2017. Four flagpoles from the business he had run with Molly's mother were used to form the chuppah structure. (Molly says her mother had the brilliant idea.) The tallit on top was her late grandfather's. (The chuppah was also bedecked in roses, hydrangeas and ruscus by Phoebe Floral.) The Kiddush cup and cake-cutter were from her parents' wedding (and the wine was from Daniel's great uncle, who lives in Israel). And Daniel's brother played the violin live while the groom walked down the aisle with his parents. (It was Daniel's favorite wedding detail.)
Arrangements were made to comply with coronavirus guidelines, too: Rather than gather the 12-person reception around one or two long tables, Molly's mother had it set up that each family group had their own table; it was arranged in a rectangle so the intimate crowd could see each other. And each person got their own, individually wrapped meal of options such as sushi, steak or brisket from House of Kosher. The couple took a mini-moon down the Shore to honor their original wedding date and are hoping to hold a larger reception at the end of October, but realize they may need to look toward next year depending on restrictions.
Their advice for others through it all — no matter what your decisions may be in the time of coronavirus? "Lead with your priorities, and your decisions will be easier."
THE DETAILS
Photographer: Yael Pachino | Venue: Chabad at Temple University | Planning/Design: Bride's mother | Florals: Phoebe Floral | Catering: House of Kosher | Bride's Gown: Tadashi Shoji | Hair: Megan Hunter of Ariel Katrina Hair | Makeup: Bride | Entertainment: Friend Josh Freed | Cake: Emunah Wircberg & Marissa Otto | Invitations: Chick Invitations | Videography: Willow Tree Films | Rabbi: Baruch Kantor
Get more great content from Philadelphia Wedding:
FACEBOOK | INSTAGRAM | NEWSLETTER | PINTEREST
Getting married? Start and end your wedding planning journey with Philadelphia Weddings' guide to the best wedding vendors in the city.
---
---