Coronavirus Wedding Diaries: This Ukulele Engagement Song Is Everything We Need to Hear Right Now
Wedding photographer Colin Coleman, his bride-to-be, and his daughter shared their good news on social media.
---
The coronavirus crisis has upended life in Philly (and across the country) in more ways than we can count. With the strictest guidelines first focused on large group gatherings, and now all of Philly under a stay-at-home order from Mayor Kenney, weddings as the grand celebrations we know and love them as are effectively halted. While there's no perfect roadmap for how to proceed, there is something to learn from every couple's story as they navigate postponing, canceling, and changing their wedding plans in the wake of COVID-19.
This story is part of Philadelphia Wedding's on-going Real Talk series, where real Philly couples share their unique approaches to wedding planning and marriage. If you have a unique story or experience worth sharing, we'd love to hear about it.
The Couple: Molly Harleman, 28, and Colin Coleman, 31, of Port Richmond
We met in 2015, when Colin was second-shooting a wedding at a venue I worked at (as told by Molly). I was behind the desk trying to read a book when he came to complain that the sprinklers had wet all the reception chairs. There was something about our first interaction that really stuck with me. I mentioned to my manager (who is a family friend) that I was interested in finding out who this person was. A couple days later, she connected us on Facebook. That's when I noticed his profile picture was him holding a ukulele. [He is a former professional player.] I had recently started playing ukulele and didn't know anyone else who did. We started talking and discovered even more coincidences that had brought us together.
I went up to her with the intention of telling her about the ceremony mishap. But I also started the conversation by introducing myself and chatting a little bit. She looked like she did not want to talk to anyone, but I got a smile out of her. … The next day, I got a friend request from Molly on Facebook. I remember specifically opening up her profile, hitting "message" and starting a message, only to close it and decide I didn't want to be a random guy messaging her. She messaged me about 10 minutes later. She mentioned something about the ukulele I was holding on my profile, and the rest is history.
My daughter, Kenzie, helped me come up with my initial proposal plan. She has been a part of every step of the process. She helped me design Molly's ring and was the first one I showed the ring to once it was made. Kenzie's 10th birthday is coming up in April. I wanted our families to be present for the proposal, and the least suspicious way to do this would be at Kenzie's birthday party. She gave permission to hijack her birthday party, propose, and turn it into an engagement party that our friends (even from across the country) would secretly show up to.
[Because of coronavirus,] we don't know if or when Kenzie will have a birthday party this year, so I knew I couldn't wait any longer to propose. We woke up Friday morning [March 20th] and planned to be lazy, kind of like a Sunday. Our tradition is to get coffee and stay in bed as long as possible. I had been hiding the ring at my studio inside an empty album box for over a month. I made an excuse to go to my studio to get an album for a client. Molly tried to stop me, because we've been trying to stay in the house to protect ourselves and Kenzie. On my way to the studio I called both of our families to tell them I was going to do it. I had already gotten the OK from Kenzie for the new plan the night before while we were brushing our teeth.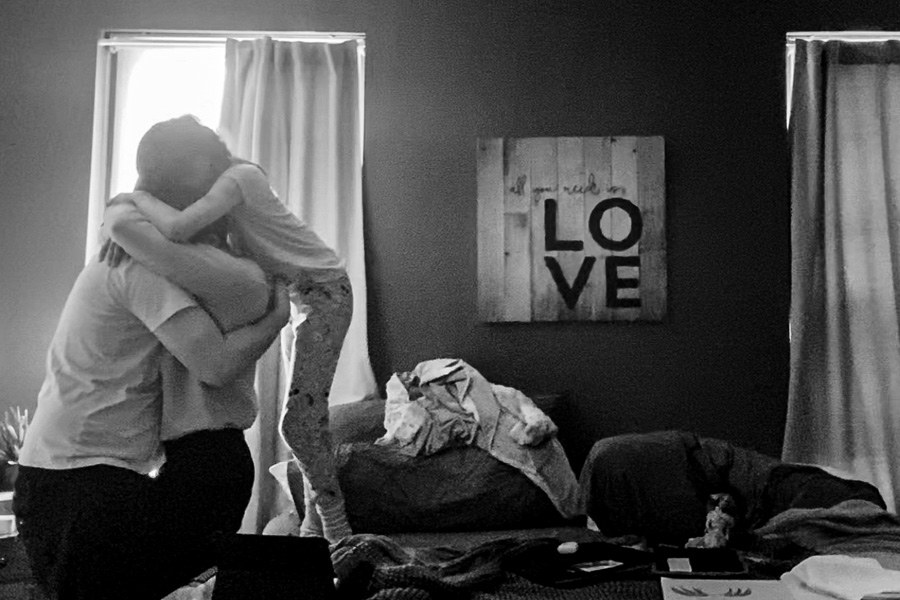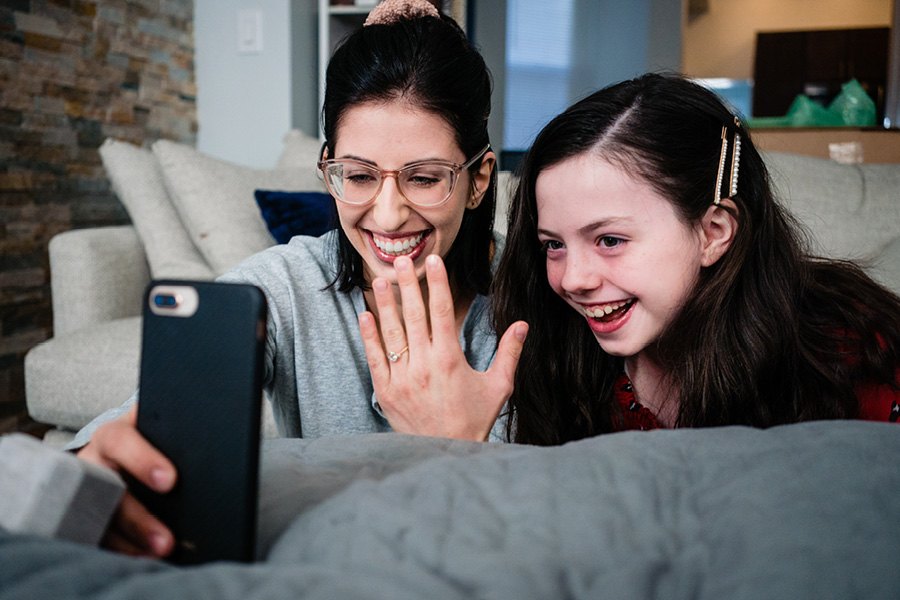 I surprised Molly and Kenzie with coffee and apple hand pies in bed. I managed to secretly set up my iPhone camera, and then walked over to Molly's side of the bed. I pulled out the ring box and the rest is kind of a blur. Kenzie immediately wanted to start telling Molly all the ways she's been keeping the secret, and I had to remind Molly that she had to answer so I could put the ring on her finger. She kept asking if it was real, if the ring was real, and [saying] that she was going to throw up.
I've always believed that Colin wouldn't be able to surprise me with a proposal (as told by Molly). I thought I'd see it coming from a mile away. I knew he wanted family and friends to be around, so I actually started getting suspicious about Kenzie's birthday party. I never, ever expected this. I was in complete shock. I didn't know what to say, and couldn't process my emotions. When I finally understood what was happening, obviously I said yes.
We announced our engagement via social media with a ukulele video. (Full video below.) Making these videos is something we've always done, but haven't had much time to do it lately. It turns out, quarantine gives you a lot of time to do things you've lost touch with. We covered Maggie Rogers's "Love You For a Long Time." It was the best representation of us and our relationship.
View this post on Instagram
Everyone was thrilled. Our family and friends have been waiting a really long time for this to happen. Nobody expected it to happen now, and most people have commented that they felt a lot of joy and love to get this news during such a confusing and fearful time.
And the ring is perfect (as told by Molly). I've always been in awe of Lauren Priori's custom jewelry and nudged Colin in that direction. Colin has a really unique eye for certain things, and I knew if he had a hand in designing the ring, then it would mean so much more to me. I had no idea that he would involve Kenzie. The story goes that Colin settled on the center stone, but Kenzie told him that he HAD to give me two stones on the sides.
The three diamonds represent the three of us as a family (as told by Molly). It is truly the ring of my dreams.
For now, everything went back to normal, if you can call it normal. We've been homeschooling Kenzie and trying to maintain a routine of doing work and getting some exercise. We both belong to Warhorse Barbell club (Molly works there part-time and trains as a powerlifter, in addition to being a speech-language pathologist), and they've been amazing enough to lend out equipment, so we've turned our basement into a very cramped home gym. We took the day of the proposal to just celebrate and FaceTime as many people as we could. The only thing that has really changed is we both keep wanting to look at the ring and say "fiance" as often as possible.
We didn't want to rush into wedding planning. Since that's pretty impossible now, it's nice that there isn't any pressure to make decisions. Since we've both witnessed the ins and outs of the wedding industry, we've had pretty clear ideas of what we want and don't want when we get married. We're prepared to abandon most of the traditional stuff and focus on throwing a big party to celebrate with the people we love. Priorities will be photography, music and food. We have some ideas about nontraditional venues, but haven't settled on anything.
We're taking [time] to just relax and do the things we enjoy. We rarely get this much time with Kenzie at once. We've watched lots of movies, gone on long walks, cooked, baked. Both of our jobs have been on hold. Colin, being a wedding photographer, has had many weddings rescheduled. Most of his time has been spent sorting through old hard drives. This has uncovered lots of old photos from the last 10 years of Kenzie, which has led to many emotional moments for all of us. Colin plans to make an album of every year of Kenzie's life once this is all over. This week, the goal is to get into a good routine and be productive, to hopefully make transitioning back to work and school life easier.
Get more great content from Philadelphia Wedding:
FACEBOOK | INSTAGRAM | NEWSLETTER | PINTEREST
Getting married? Start and end your wedding planning journey with Philadelphia Weddings' guide to the best wedding vendors in the city.
---
---