One of Philly's Best Street Artists Helped This Guy Propose
Art was clearly the way to his gal's heart.
---
As the sun slowly emerges from winter's tight grip, spring-y proposals start popping up all over our lovely city. On one of the first few nice days of the year, March 31, Brian Arellano proposed to his lady, Allison Shadel, with the help of Philly street artist Amberella at Race Street Pier.
Brian and Allison first met on a random Tuesday night in June. Allison was walking to her home in Old City from Spruce Street Harbor Park, where she was attending an event for Philly's Major League Bocce group. It was a proud night for her because she had decided not to stay out too late … until she walked by Nick's Bar and Grill on 2nd Street, where a fellow bocce player called out to her to come in for a drink. Fortunately for this story, Allison gave in. She wound up sitting next to Brian, a Texan visiting from New York, at the bar, and they immediately hit it off. The duo chatted all night long, right up until closing time. After walking her home, Brian asked for her number, and Allison was struck by this random, yet totally genuine, interaction. They grabbed lunch together the next day before Brian returned to New York, where he was based for work at the time. Back at his office, Brian recalls telling a colleague that he met an "amazing woman" and wanted to be transferred to Philly. Eventually, he was.
RELATED: This Surprise Date at Citizens Bank Park Turned into a Marriage Proposal

After getting to know Allison a bit better, Brian picked up on a trend in her art collection — she has a serious affinity for the work of local street artist Amberella, who has posted candy-heart-like tags with motivational sayings like "Conquer", "Believe it" and "All I Ever Wanted" all around town. When it came time for Brian to pop the question a few weeks ago, he knew the Amberella's hearts would have to be involved. The latter of which graced the lawn of Race Street Pier on a sunny Saturday in late March, when after nine months of dating, Brian planned to propose to Allison — with an assist by the artist herself.
Allison recalls Brian really wanting to go to Race Street Pier that day, but she wasn't really in the mood to do so. She took her good ol' time getting there, requesting to stop for coffee and to peruse boutiques along the way. When they finally arrived, her eyes immediately jumped to her beloved "Amber hearts" adorning the lawn. She thought the artist might be doing a pop-up. As the pair got closer, Allison noticed a sign saying "Get over here" — a phrase of endearment the couple uses often — in what looked like a custom heart.
"Is this for me?" Allison asked.
It was, indeed, all for her — Brian had worked with Amber to set up the surprise in advance. He sent her an email outlining his plan and asking for her help, but figured it was a long shot. Amber responded immediately with the idea to put the hearts on stakes because, you know, Race Street Pier isn't exactly the place to tag up. Amber agreed to set it all up, too. All that was left for Brian was to get down on one knee, and you can see for yourself what happened next in the photos below.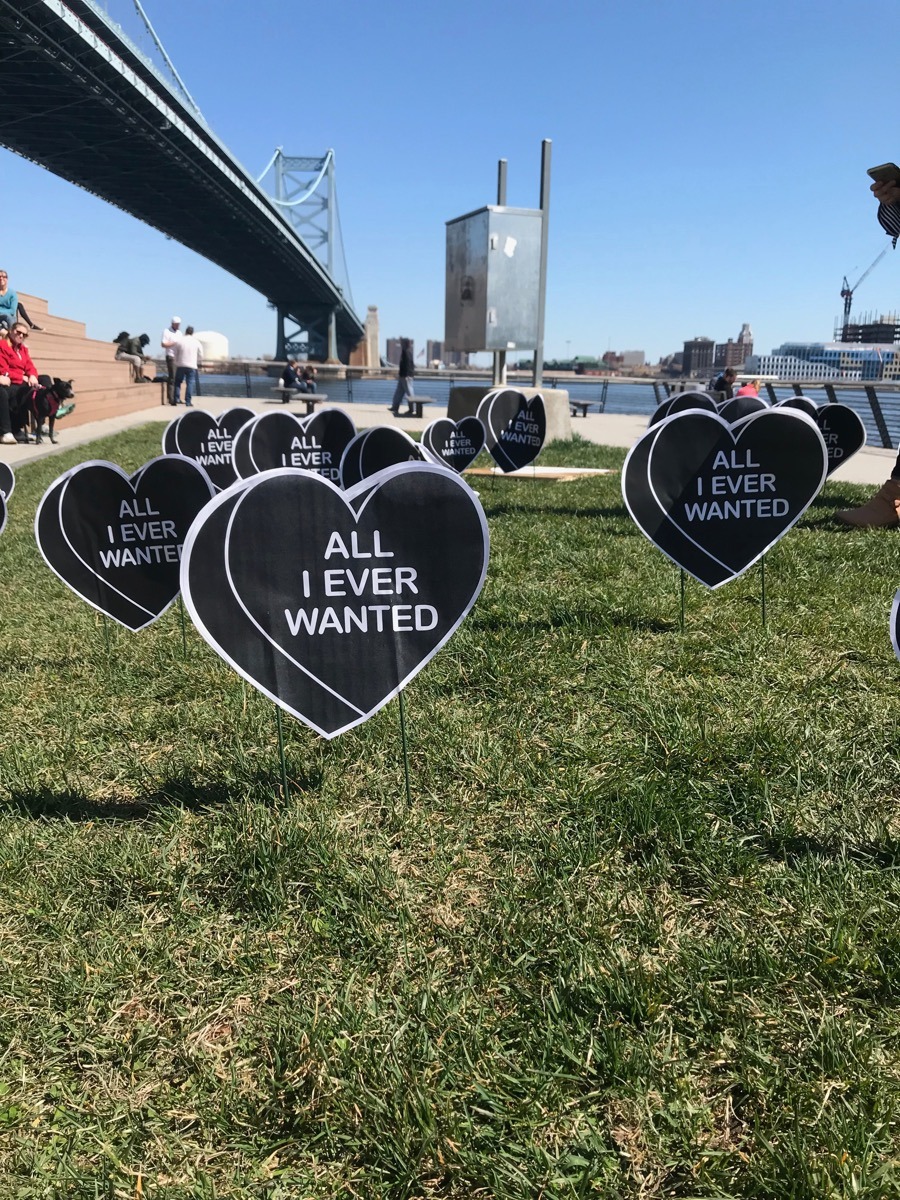 Waiting at the Pier to share in the tears, squeals and hugs were Allison's two best friends. The group accompanied the newly engaged couple to Panorama Wine Bar, where Allison's parents were waiting to celebrate.
Congrats, Allison and Brian! Once you're ready to start wedding planning, we've got you covered.
Get more great content from Philadelphia Wedding:
FACEBOOK | INSTAGRAM | NEWSLETTER | PINTEREST
Getting married? Start and end your wedding planning journey with Philadelphia Weddings' guide to the best wedding vendors in the city.
---
---