A PA Bride Sorted Her Bridesmaids into Harry Potter Houses and It's Pretty Adorable
Check out these Hogwarts robes — and a bunch of other creative ideas from her wedding day.
Meet Christine JeeHae Lim and Kenneth Sang-Jee Lee. They got married this past July 1st at Tyler Arboretum in Media, Pennsylvania. Ordinarily, we'd run you through their love story and photos from their wedding, but their day (coordinated by Polka Dot Events and photographed by Ein Photography) is full of so many interesting and unique details that we're going to call them out one by one. 
1. Let's start with the Harry Potter robes Christine's bridesmaids wore while getting ready.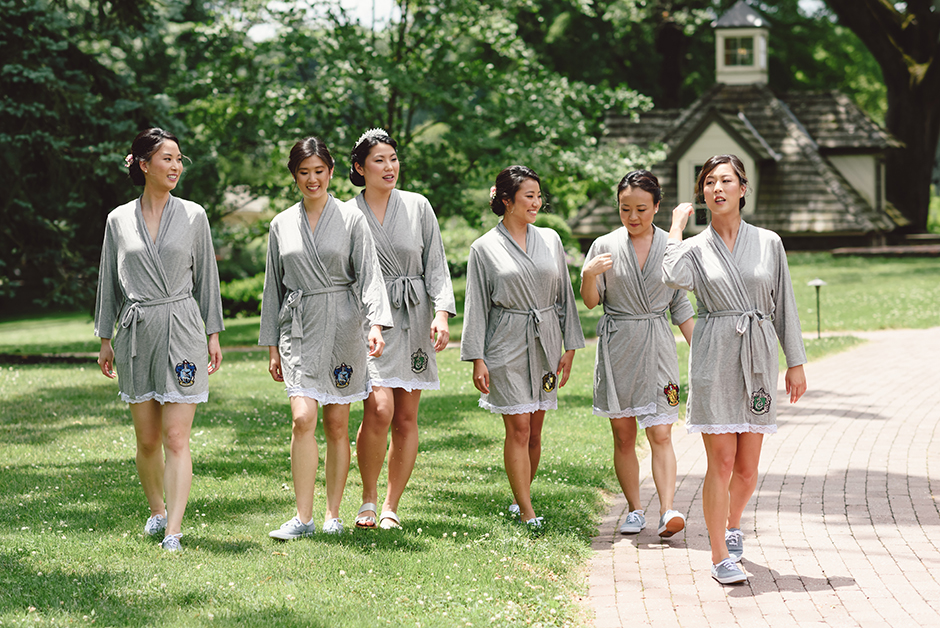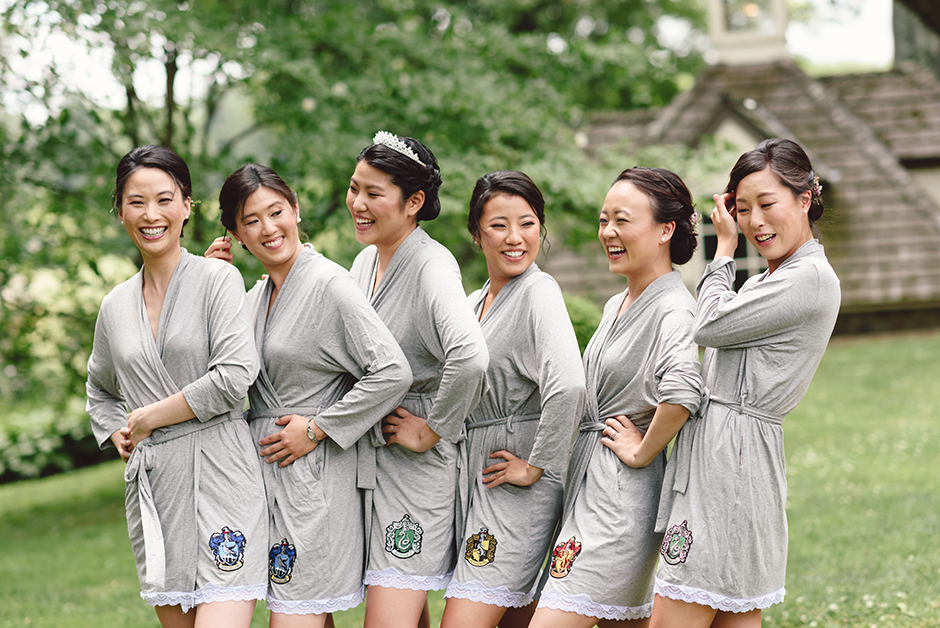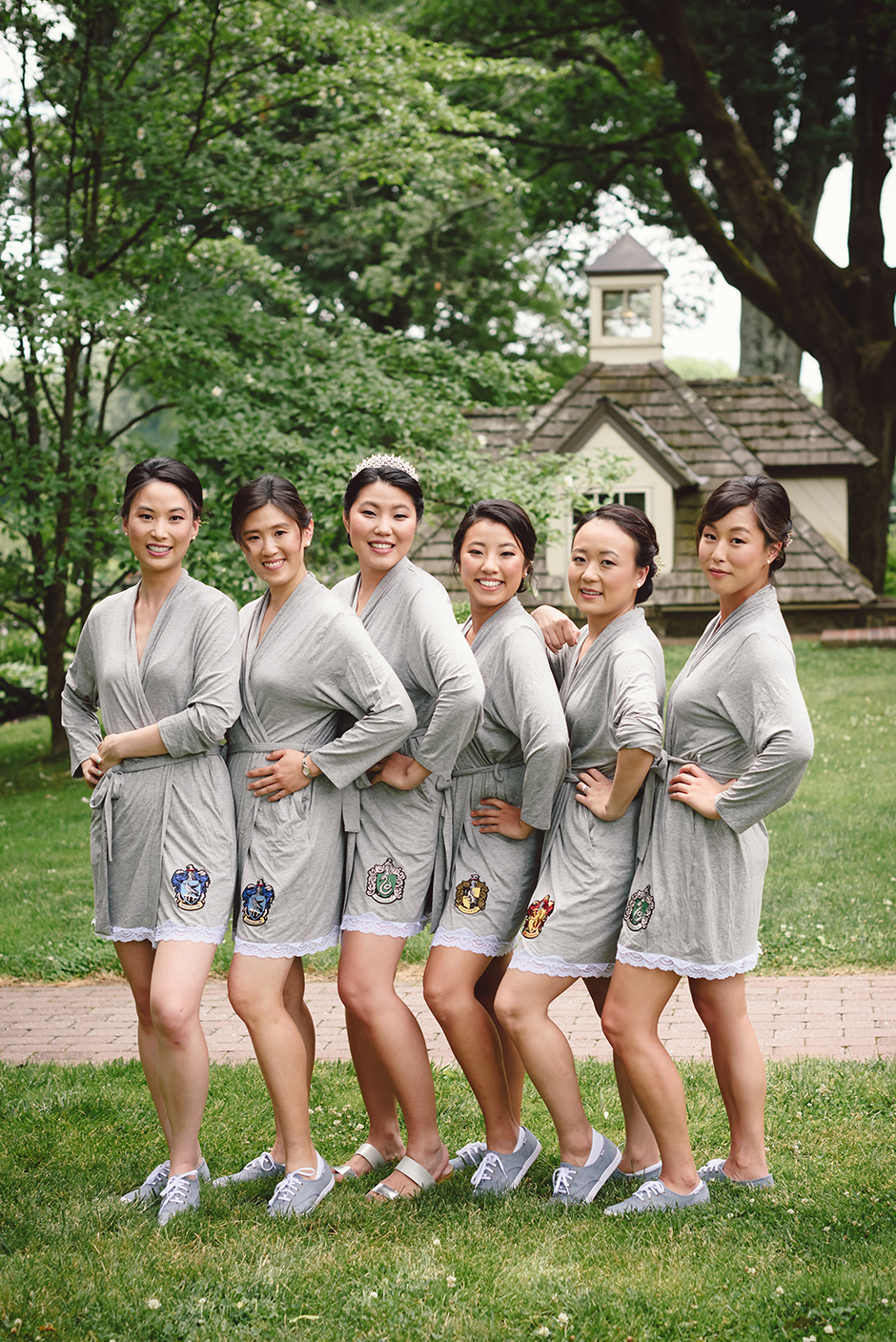 "We sat down with my sister and one of the local groomsmen and casually brought up which Hogwarts house our friends would be sorted into," says Christine. "We bought the house patches from Hot Topic and Ebay and spent a 'date night' watching Netflix and ironing them all on. Turns out both my sister and husband are Hufflepuffs and my sister-in-law and I are both Slytherins. Hufflepuff and Slytherins make a good team!"
Fortunately for the groomsmen, they didn't have to miss out on the Harry Potter fun — Kenneth gave them each a pair of grey sweat shorts bearing their chosen House emblem.
2. Bridesmaid comfort and ease continued into their formal wedding wear.


Christine's wedding party rented their dresses from Union Station — "I knew that maybe only one of the bridesmaids shared my fashion taste enough to wear the dress I would choose again, so rentals were perfect for us," says Christine — and they wore Keds sneakers on their feet. Props for supporting the gals supporting you, Christine!
3. Christine's tiara is a true Disney princess crown.
A major Magic Kingdom fan, Christine purchased the tiara from the Arribas Brothers store on Main Street, USA in Disney World. If someone has a better method for feeling like a literal princess on your wedding day, we would like to hear it.
4. At their Western ceremony (Christine and Kenneth also had a Korean paebaek ceremony), the ring bearers shot bubbles from bubble guns as they walked down the aisle.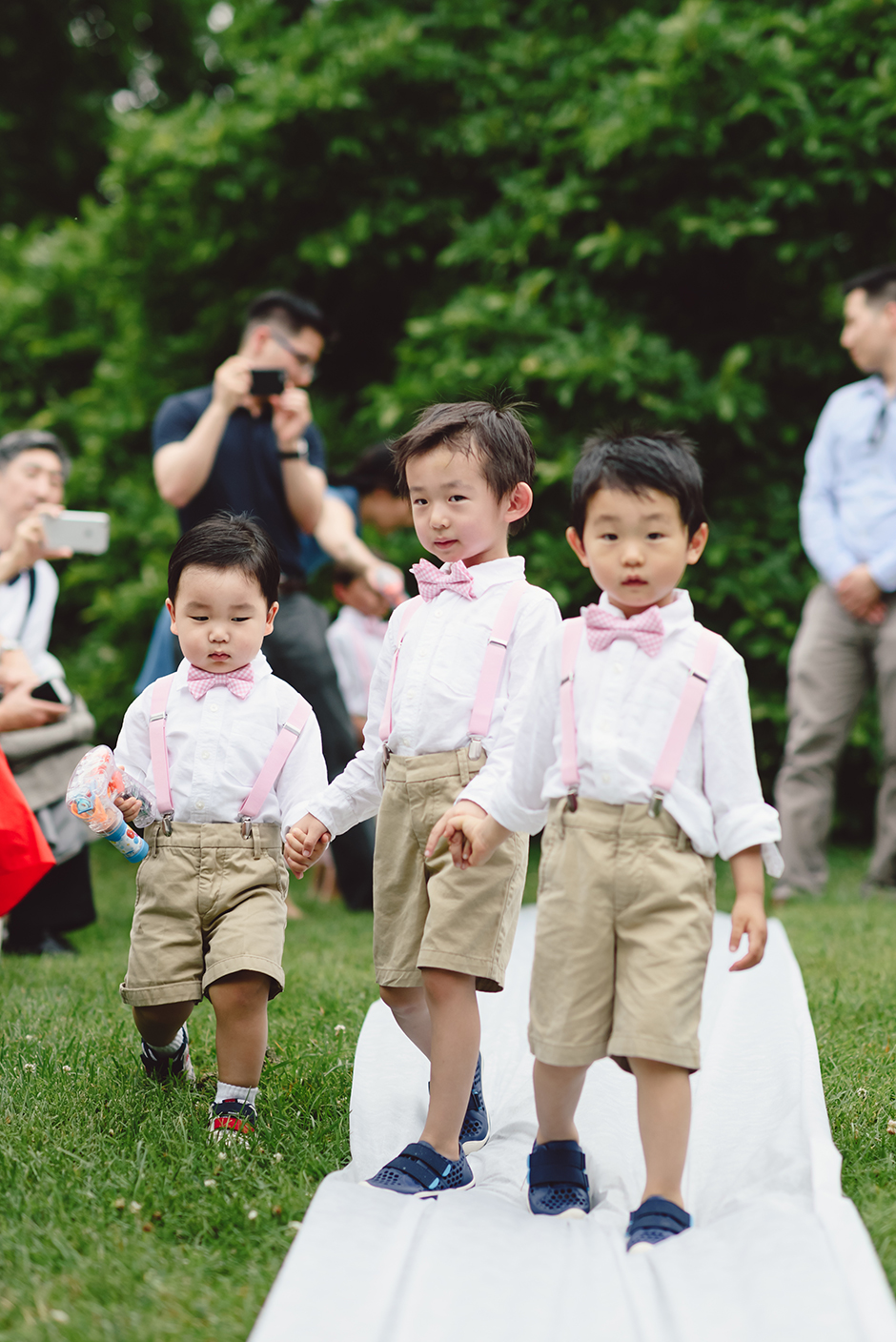 They also wore adorable pink suspenders and matching gingham bow ties.
5. There was also a cute basket of outdoor event survival supplies.
Sunscreen, especially for baby guests, is so necessary in the hot July heat.
6. Moving on to portraits, both Kenneth and Christine used fun signs to cement their relationships with their wedding party.
This isn't the first time we've seen this "how we know each other" idea, but we like how cheeky the signs get here.
7. Pictures with their parents were equally creative.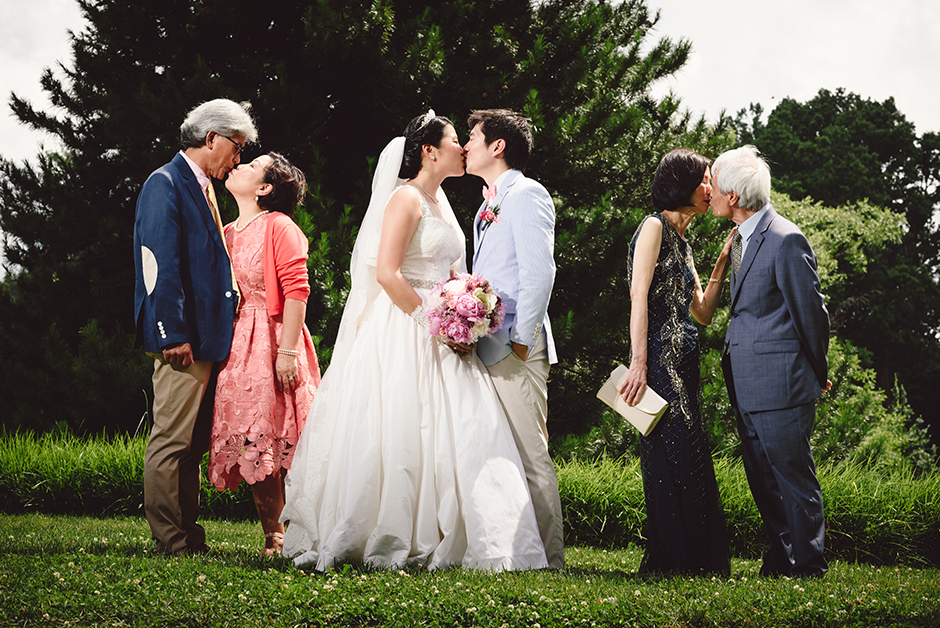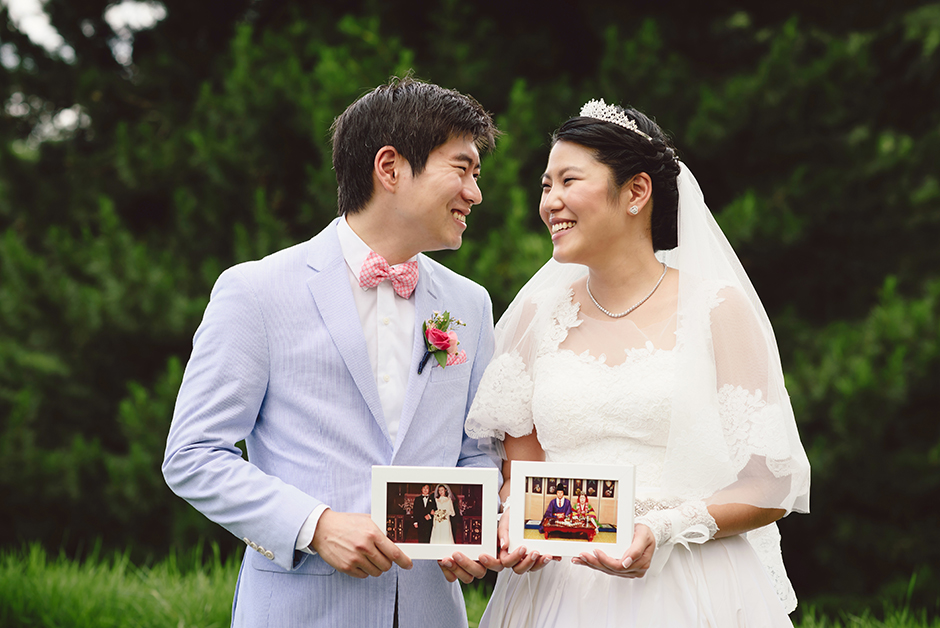 We love the idea of all three couples kissing in one picture, and holding photos of your parents on their own wedding days will always be a meaningful idea.
8. At the cocktail hour, there were plenty of fun activities for kids.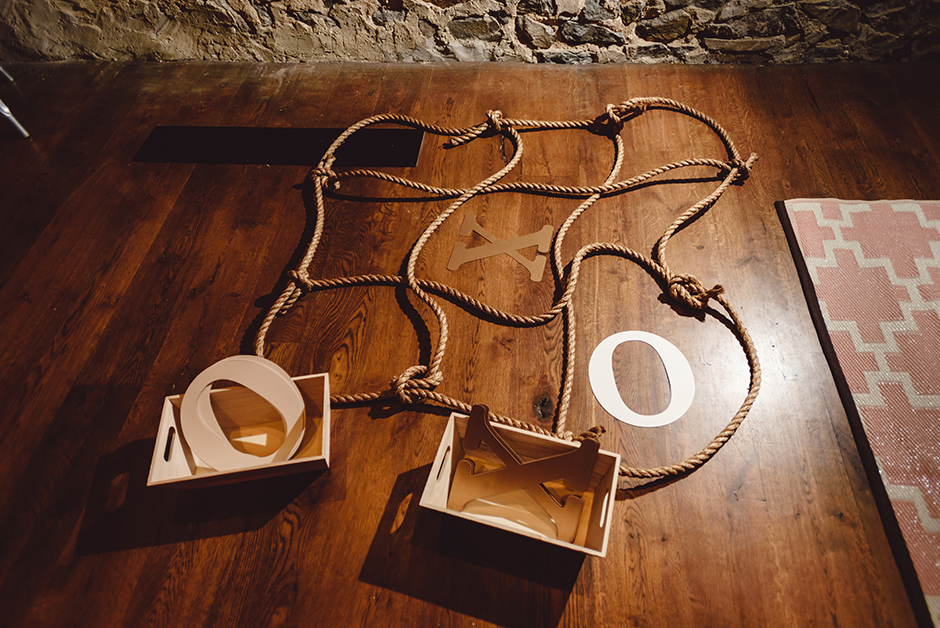 Games included ring toss and tic tac toe.
9. There was also a DIY flower crown station at the reception.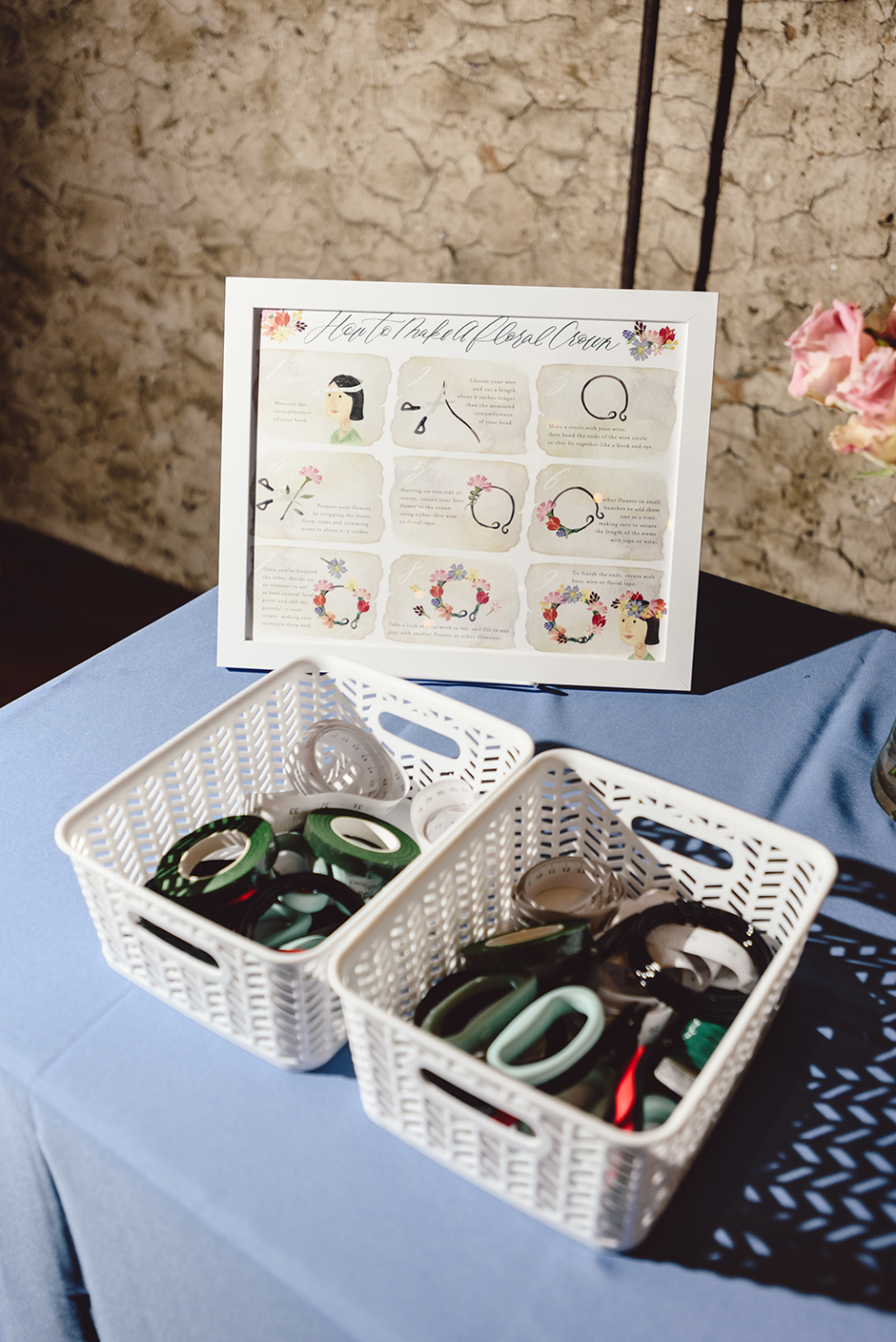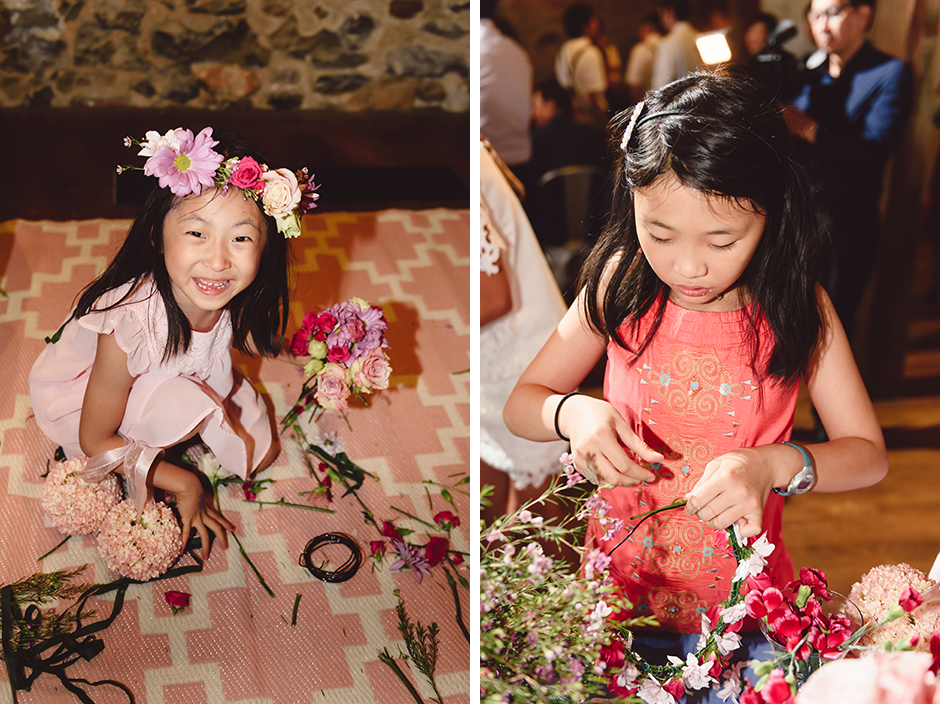 Such a fun, interactive way for guests to get extra festive with their wedding day attire!
10. Because many guests were family and shared the same two last names, Christine and Kenneth arranged their seating chart by how they know guests instead of alphabetically.
What a thoughtful stroll down memory lane.
11. At the dinner tables, extra steps were taken to encourage to encourage inter-group mingling.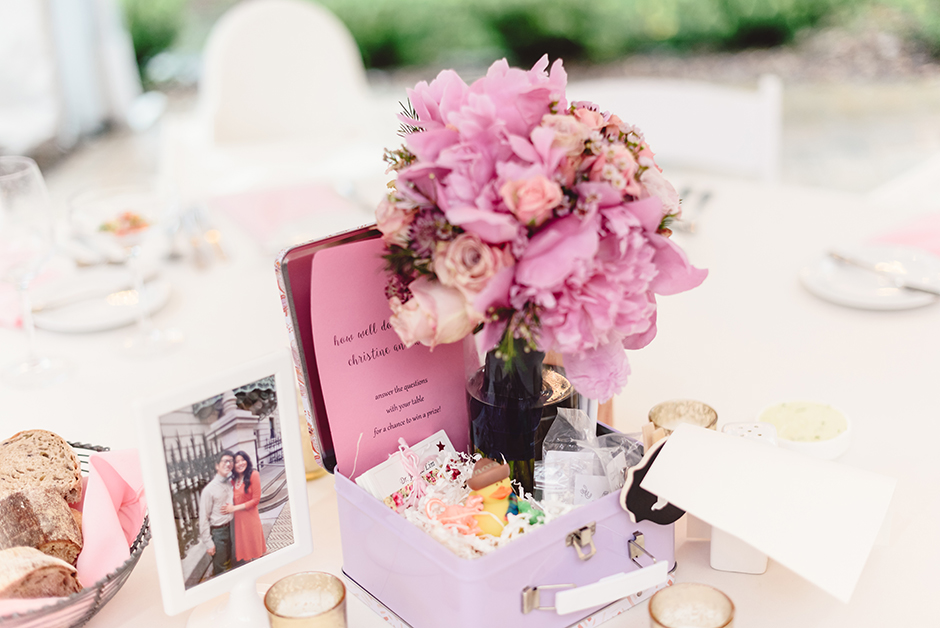 Says Christine: "One thing I've really loved over the past few years is the unexpected connections and friendships that spring out of our introducing [our] friends. We decided to continue that with our table arrangements, grouping friends with similar interests, or who live in or grew up in similar parts of the country, etc. To help "break the ice," we created a trivia card with 10 questions — 3 him, 3 her, 4 couple — with a prize for the table with the highest score. An unexpected consequence was our friends introducing themselves and chatting with our parents to answer some of the questions!"
12. Their wedding favors were both functional and charitable.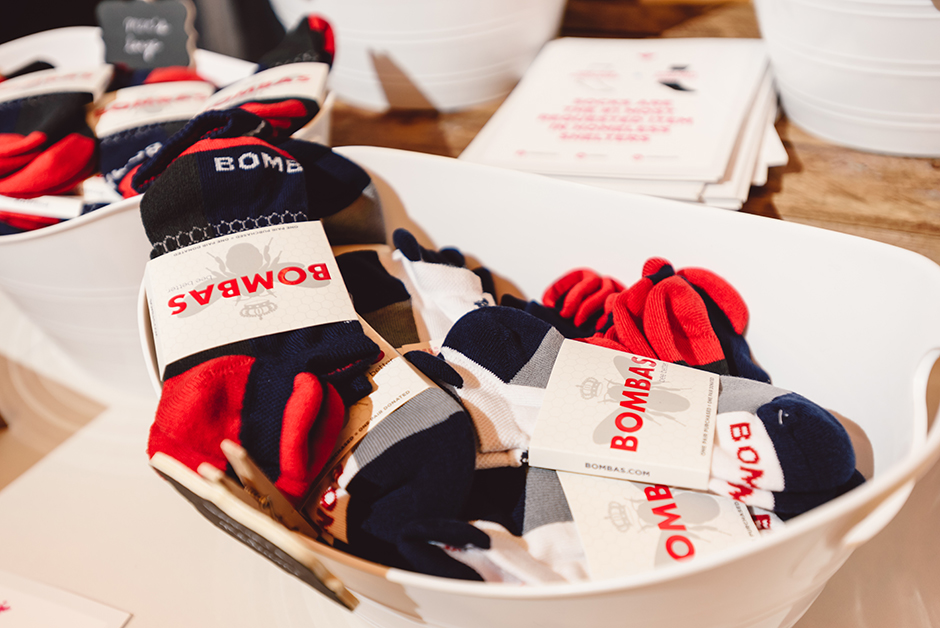 More from Christine: " For wedding favors, we didn't want silly tchotchkes, but we wanted something a little 'more' than food. We liked the idea of a charitable contribution but also really wanted to give our guests something tangible. We are both huge fans of Bombas socks – they're the only socks I wear brand new for a race, and they donate a pair of socks to a homeless organization for each pair purchased. We went with the red, white, and blue socks since our wedding was right before July 4th! A bunch of our guests have [since] told us they love Bombas socks and bought a bunch more for themselves, so we're glad to have helped spread the word."
VENDORS
Photography: Ein Photography | Venue: Tyler Arboretum | Event Coordinator: Allie Beik for Polka Dot Events | Florals: Papertini | Bride's Attire: Anomalie | Bridesmaid Dresses: Union Station | Hair: Lauren Krawse for Styles on B | Makeup: Stefanie Syat for Pre-Dame | Groom and Groomsmen Attire: Jos. A. Bank, Uniqlo, and Mrs. Bow Tie | Catering & Cake: Jeffrey A. Miller Catering | Videography: DK Collection | Music: Louis Pettinelli Music | Photo Booth: Digisnaps PA | Seating Chart: Jessica Ferguson Design | Paebaek Ceremony: Rose Hanbok
Get more great content from Philadelphia Wedding: 
FACEBOOK | INSTAGRAM | NEWSLETTER | PINTEREST
---
---