News
When Will This Nightmare End?
Grounded flights. Masochistic joggers. And lots and lots of photos of the sun.
---
Check phillymag.com each morning for the latest edition of Philly Today. And if you have a news tip for our hardworking Philly Mag reporters, please do so here. You can also use that form to send us reader mail. We love reader mail!
When Will This Air Quality Nightmare End in Philadelphia?
We knew it was coming.
The local TV meteorologists were warning us about it since last week. But the gravity of it all didn't really set in until it was fully upon us on Wednesday. We could smell it, taste it, see it.
The masochists among us went for jogs, some wearing N-95 masks, some not. One of my colleagues, an avid bicyclist, realized what a bad idea a bike ride was after sitting behind the handlebars for just six blocks. Outdoor bar areas that would normally have been packed with Center City Sips revelers were desolate. My daughter looked out the car window at people smoking cigarettes and said, "Now that's a bad idea."
Lots and lots of us took photos of the skyline shrouded in the remnants of those Canadian wildfires. Others, like me, pointed our cell-phone cameras at the bizarre-looking sun: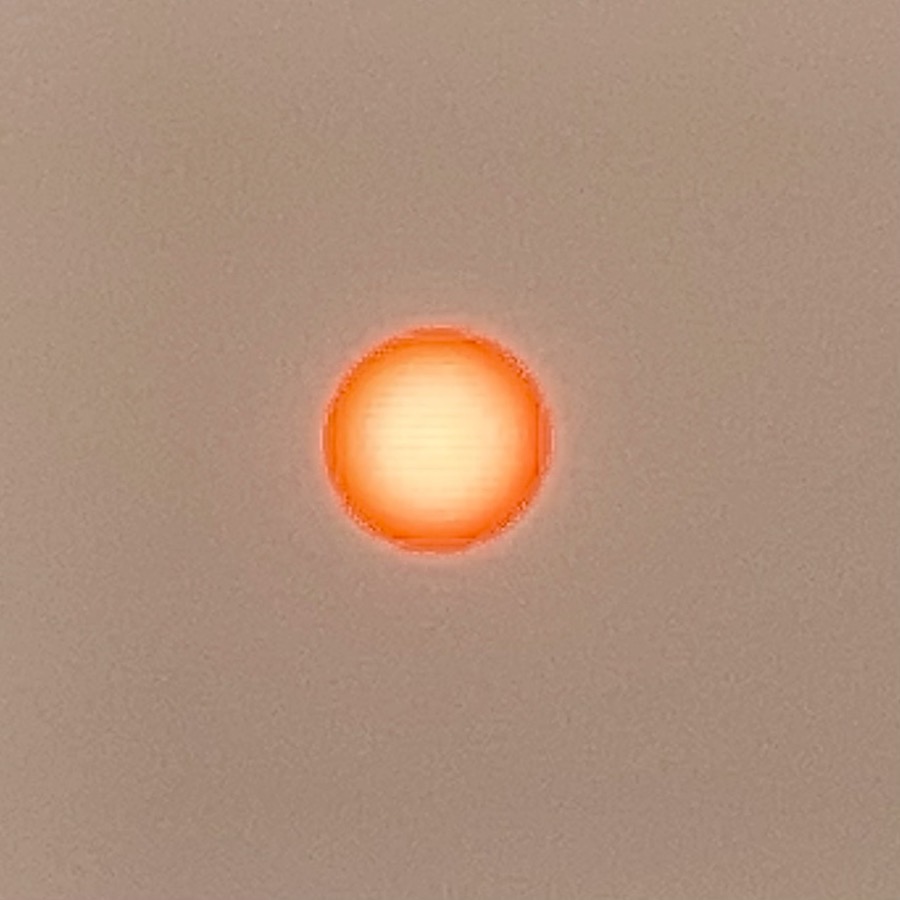 Just how bad are things? As of Wednesday morning, we were in the city's "very unhealthy" zone. As of 7 a.m. on Thursday, we had moved into the "hazardous" (that's worse than "very unhealthy") zone. The FAA grounded all flights into Philadelphia International Airport early on Thursday.
And if you're hoping for an alfresco dinner in Philadelphia on Thursday or Friday, you might want to reconsider. Nobody is quite sure when this is all going to end. Could be Friday. Could be Saturday. Things might improve later on Thursday before getting worse again. Your entire weekend could be wiped out.
Officials suggest that you stay indoors with the windows closed and air conditioner on whenever possible and wear an N95 mask when outdoors.
Good luck!
Mütter Madness
There's been a lot of drama of late at the Mütter Museum in Philadelphia. You know the Mütter: that place with all the anatomical specimens, deformed things in jars and giant hairballs. Well, Mütter leadership months ago scrubbed most of the virtual content and online exhibitions from the museum's YouTube channel, as many museums around the world participate in a larger discussion about the ethics of displaying human remains. But critics of this decision say Mütter leadership is robbing the museum of its integrity and its very purpose. On May 30th, some of these critics launched a petition demanding that the Mütter restore all online content immediately, and said petition is already up to more than 22,000 signatures.
More Trouble at Temple
There have been quite a few negative headlines coming out of Temple University over the past year, and here's another: Six women, some of them Temple students, are suing Temple, claiming that an assistant Temple football coach (who is no longer employed by the school) hired them to take care of his dog overnight and then secretly captured videos of them using his shower. The Philadelphia Police Department is also investigating.
And from the Smoke-Gets-In-Your-Eyes Sports Desk …
Well, I've been a stalwart Phillies fan my entire life, and last night was a first for me, as the game was postponed on account of … smoke? That final meetup of the Phils and the Tigers will now be tonight, with a 6:05 start. Hey, it's hard enough to catch those long outfield flies when the Great Outdoors doesn't look like the doorway to Hell. Much less catch those hot dogs …
Citizens Bank Ballpark if tonight was dollar dog night pic.twitter.com/Drc9sI2VDw

— Phillies Muse (@Phillies_Muse) June 7, 2023
Hope you passed the time reliving some warm memories from the recent past!
One year ago today, Alec Bohm and Matt Vierling each slugged ninth-inning home runs off of Josh Hader, giving the Phillies four consecutive wins to start Rob Thomson's managerial tenure. pic.twitter.com/UEI4Mig3Lb

— Tim Kelly (@TimKellySports) June 7, 2023
All Philly Today Sports Desk coverage is provided by Sandy Hingston.
---
---