Longform
Jeff Marrazzo's Big, Bold Philly Gene Therapy Vision
The self-described science novice led Spark Therapeutics from start-up obscurity to the pinnacle of medicine and a $4.8 billion merger. Now he's focused on ensuring Philly becomes the gene therapy capital of the country.
---
The calls kept coming in, and she let them go straight to voicemail. Venture capital investors weren't her cup of tea. She was a scientist. She had a lab to run. And besides, the big private money of health care had never looked kindly on her clinical trials in the past. Why let it in the door now?
Katherine High stared down her overburdened schedule from inside a glass-paned office on the fifth floor of the Colket Translational Research Building, part of the Children's Hospital of Philadelphia. It appeared one of these businessman-types had sneaked onto the following day's docket.
Jeff Marrazzo? Who is that? Not now. He could wait.
Of course, there were good reasons to take such meetings seriously in early 2011 — if not for her own lab, then for her employer. At the time, CHOP CEO and president Steve Altschuler was seeking new revenue streams in the face of fresh headwinds buffeting health care. The Great Recession had wiped out millions of families' employer-based insurance, leaving hospitals around the country to shoulder the costs of additional uncompensated care. On top of that, a newly elected, Tea Party-infused Congress was threatening to gut a major benefactor of the hospital, the National Institutes of Health. It all cast doubt on the affordability of ongoing research, especially for novel medicines like the ones High had been toiling away at for decades.
Life on the edge was nothing new for High. In the early 1990s, she led investigations that showed signs of eradicating hemophilia in mice, even while securing funding in the broader field remained a challenge. Her line of research, known as gene therapy, was high-risk, high-reward stuff. But the rewards to that point had been largely theoretical.­
Gene therapy is the process by which doctors replace harmful or defective human genes with healthy or supercharged ones in order to treat a disease. Instead of a pill or a vaccine doing the work, gene therapy tweaks the infrastructure of the human body in a targeted way that produces the missing protein itself. It often creates permanent changes to how a person produces proteins — ­creating a wall against an ailment. To engineer those changes, there are two main avenues for delivering gene therapy: Doctors can extract a person's cells, modify them, then return those cells back into the body, or they can use a modified virus created­ in a lab to deliver the genetic change into the body.
When the process is successful, patients can be healed, almost miraculously, of previously incurable diseases with a single treatment. But the errors can be costly. In 1999, a teenager named Jesse Gelsinger volunteered for an early "safety study" at Penn — unrelated to High's work — in which researchers were testing a treatment for a genetic liver disease. Other participants had gotten flu-like symptoms after receiving the treatment. Tragically, Gelsinger died. And with him, for a time, "Gene therapy died, too," says Altschuler, who was chair of pediatrics at Penn's medical school at the time. "Investors dried up."
But finally, all these years later, the results out of clinical trials run by High and Jean Bennett, a Penn researcher, seemed undeniable: Children and adults who'd been legally blind were zipping around obstacle courses. Although the proof of concept had been developed by Bennett and previously tested in animals, they'd now unlocked a key to ending a type of inherited blindness.
"And so, you know, these people who wanted to talk about their fund or whatever — ­it was just a nuisance for me," says High, recalling a pivotal moment in her career. She was already changing lives. In the wrong hands, all that work could disappear. "I had been contacted by Big Pharma and Big Biotech, and they would come to the hospital, do their due diligence on our programs — look through all the regulatory files, the manufacturing files, the clinical data — and then give the hospital a term sheet. But if some problem occurred that we had not anticipated, they were gonna drop it like a hot potato."
And then there was the ongoing nuisance of this guy Marrazzo … That name, that name again on her calendar.
For the better part of the fall and winter, Marrazzo, an outside consultant to CHOP, had been roaming its halls, trying to find a moneymaker. But he wasn't a venture capitalist. Marrazzo was working with CHOP leadership to ward off a cash-crunch conundrum at the hospital. CHOP wasn't just one of the most prestigious children's health-care institutions in the country; it was already a leader in monetizing its discoveries, often through deals with major drug makers. A few years prior, CHOP brought in $180 million by selling its royalty rights to a rotavirus vaccine that it had helped develop and licensed to Merck decades earlier. But while such deals are lucrative, they always capped the upside for the institution. Altschuler had an idea to generate more money from the hard-earned research gains produced at CHOP: What if instead of licensing or selling its intellectual property, the hospital developed commercial products itself?
Marrazzo had once served as a special assistant on health-care policy for Governor Ed Rendell. Altschuler had met him a couple years after that, while Marrazzo was a student at Wharton, and found him to be sharp, politically savvy, and a good people person. So he brought him on as a consultant, arming him with full access to his employees and a mandate: "Take six months. I want you to evaluate every potential commercial enterprise that we could generate at CHOP."
Marrazzo met with dozens of people — ­scientists, clinicians, health-care technologists — ­until there was just one name left on his list: Katherine High. She'd cancel. He'd reschedule. When they finally did meet, in March 2011, Marrazzo wasn't what High had been expecting. Right off the bat, she noticed he had no problem with her being the expert in the room. He was chiefly concerned about patient impact. He just kept asking questions, eager to learn, and he was endlessly optimistic. "I wasn't going to spend my time working with somebody who, you know, had problems working with smart women," says High. "But also, I was glad to be talking to somebody who wasn't skeptical about it, who seemed to think it might work."
Scheduled for a half-hour, their meeting stretched into seven hours. Although Marrazzo had come across some exciting prospects at CHOP, none checked all the boxes on his rubric for viability. And yes, he had a rubric. This was it.
"My knowledge about gene therapy was pretty close to zero before meeting Kathy," Marrazzo says. "But I mean, obviously, there was something in my gut that said there's something here."
What emerged from that meeting was the genesis of Spark Therapeutics, a company that High and Marrazzo would co-found with Altschuler using $10 million in seed funding from CHOP. Spark would later file an IPO, in 2015, before quickly making its mark as a start-up: the first gene-therapy product for a genetic disease — Luxturna — to win approval from the FDA (2017). The largest venture-backed exit (that's start-up speak for a sale) by a company in the Philly area, through a merger with international drugmaker Roche (in 2019, for $4.8 billion). And Spark did it while showcasing a new way of doing business for research hospitals — creating a spin-off with the institution as the sole investor.
"Spark's return to CHOP basically doubled the endowment," says Altschuler, referring to the windfall from the Roche deal. "It was close to a billion-dollar return."
Prior to Spark, Marrazzo had never been a CEO. He'd also hardly contemplated gene therapy, despite being well versed in the broader trends of health care. What he did have was a profound acumen for learning, an underdog mentality, and a loyalty to the city where he was raised. As negotiations with the Swiss giant progressed, Marrazzo made sure one thing was clear: Spark would remain a Philly company. It was not moving to Basel or Boston or even Bensalem. Expansion would have to happen right here in the city.
"Philadelphia shouldn't try to become a biotech center or a life-sciences center; it should try to become the best center in the world for cell and gene therapy — to be the best at this niche thing," Marrazzo says. "Because when we wake up in 20 years, this will not be so niche. It's going to be the predominant way we develop medicines. That's the way Philly is going to compete."
Observers wondered what Marrazzo would do next after he concluded his stellar first act with the Roche deal. He led Spark through the pandemic, then officially stepped down in February of last year. The short answer is that Marrazzo decided he's not going anywhere. Rather, he's working toward a bigger goal — even bigger than Spark. He wants to make Philly the cell and gene therapy capital of the country. And his plan to do that involves imparting what he's learned along this amazing journey to a new generation of Philly CEOs.
•
In the early days, when Spark was just a few dozen employees — nowhere near the 900 it has today — Marrazzo­ made a point of meeting with each new hire during onboarding. He'd tell the founding­ story of the company as a function­ of three people and how their unique journeys came together: High, a mid-career researcher­ who never gave up on gene therapy;­ Altschuler, a business visionary; and himself, a 30-something co-founder whose only prior contribution­ to science had been a single byline to his name — a co-byline at that — on a study published when he was an intern in high school.
"I always said to scientists I used to work with at Spark that the paper was the height of my scientific career," Marrazzo says, sitting at a deli a block from the company's headquarters in University City. "So I peaked at 16."
In actuality, the self-effacing Marrazzo, now 44, cites that internship at Fox Chase Cancer Center as a meaningful stepping-stone, albeit not the jump-start of his journey to Spark. For that, he'd go back further. In February 1993, his grandmother was diagnosed with lung cancer and treated at Memorial Sloan Kettering in New York City. For a 14-year-old from a tight-knit family, her illness was devastating. Intellectually, it shook something loose. "I watched, not really knowing a lot, but intuiting that it didn't really make sense to me how they were treating her," Marrazzo says.
This was arguably the best cancer hospital in the nation. The treatment, however, seemed incredibly blunt. Marrazzo watched as doctors blasted her system with a toxic agent again and again, trying to knock the cancer out but leaving her bruised and weakened in the process. And then, six months later, she died. There had to be a better way.
"Why don't we have a much more precise, targeted way to kill just the things that need to be killed in your body?" he wondered. "And could you do it in a way that was curative?"
The thought sat there, gnawing at him for years. It pushed him toward that internship and then in the direction­ of a systems-science degree at Penn. (He thought about medical school, but the internship confirmed that his passion wasn't clinical work.) It stayed with him after he graduated and served as a special assistant to Ed Rendell, advancing Medicaid­ regulation and long-term health-care policy in Harrisburg. And eventually,­ it drove him to pursue a health-care management­ degree at Wharton­ while simultaneously getting an MPA from Harvard­ Kennedy School. He wasn't Doogie­ Howser, but Marrazzo was still an overachiever.
In the years since his grandmother's passing, scientists had been asking the same questions he did, and a lot of progress was being made from underneath microscopes in Philly. Just a few blocks from High's lab, Carl June was developing treatments for leukemia and HIV using modified CAR-T cells, via techniques that were a close cousin to gene therapy. "I was optimistic about the next decade, two, three, four, and how they were going to be shaped by the molecularization of medicine — the idea that instead of poking and prodding to try to figure out what was wrong with patients and treating them largely with blunt instruments, we were going to be able to look within cells, identify­ problems, and diagnose or prognose them. And we were going to be able to change things within cells," Marrazzo­ says.
Sitting in the deli, across from us, a group of construction workers in orange vests is eating lunch. Through the window­ beyond them, I can see a dug-out construction site at the intersection of 30th and Chestnut. Soon, that hole will house Spark's Gene Therapy Innovation Center, a 500,000-square-foot facility designed for the global manufacturing of gene therapy products — ­the first physical manifestation of Roche's commitment to Philly since the acquisition of Spark.
"Everyone looks at Comcast as the Big Employer, and it is," Marrazzo acknowledges. "But having the second-largest drug company in the world decide to set up one of its divisions here — that's meaningful."­ (By market capitalization, Roche was the 25th largest company in the world in 2022.) "If you can get a second company to do that? A third one? A fourth? All of a sudden, that starts to change everything."
It would represent a steep climb for Philly. Look up rankings of the top hubs for biotech (the umbrella industry for all types of genetic modification, including gene therapy) and you'll find Philly falls behind places like Boston, San Diego and North Carolina. But if you narrow that search to just cell and gene therapy, the results are more promising. Philly ranks near the top of categories like NIH funding, volume of patent approvals, and R&D jobs — all bolstered by the strength of having four "Tier 1" universities here. However, the conditions for commercial activity — and specifically­ the absence of more venture capital investment — are what's dampened the glow.
Marrazzo thinks he can help change that. "It gives venture capitalists more confidence to bet on a person when there's somebody else, like me, involved — who they know is helping them through the process," he explains. "One of the roles I see myself playing now is, in essence, supporting­ largely first-time CEOs who I think can be super-successful."
In other words, with the clout he's earned and the doors open to him now, Marrazzo is aiming to bring more Philly-based start-up leaders along — "an experienced guy leading them up the mountain, so to speak" — and thus increase the likelihood those companies won't just blossom, but will bear fruit in Philly.
At the very start of Spark, the co-founders­ made the unorthodox choice to have CHOP as their sole investor in part because of feedback they got from VCs. "The primary thing I think we heard was, CHOP has no experience doing that, and you're going to fail," Marrazzo says. "Implicit in their criticism or their warning was that you need to take money from a venture capitalist who will set up the company in another place, because that's the tried-and-true model."
But seeing as there had never been a successful stand-alone gene therapy company anywhere, why would Bostonians or Californians do any better than the folks here?
"I'm competitive enough that if you tell me I can't do this, well, I'm going to do this and prove you wrong," Marrazzo says. "And not just prove we belong, but prove that we're going to be the first ones to do this, and we're going to be the best at it."
Plenty of companies begin at research institutions, and plenty of higher-ed institutions (including Penn) now have seed funds to get them off the ground. But once acquired, they typically relocate. "I'm spending a lot of time with companies that are at this moment very early," he says. "Where a company is going to physically be pretty much gets set in stone in the beginning. Once you hire the first 10 or 15 people in a place, it's hard to move."
The success of Philly's gene therapy sector­ will come down to leadership — finding­ more leaders who refuse to uproot their ideas, their companies and themselves, then convincing venture capitalists to invest in those individuals, even if the city is outside their comfort zone. It comes down to those who can see their own success­ running in tandem with the city's prosperity.
"I'm looking for people who have a similar­ ethos to me," Marrazzo says. "I don't know that I have yet figured out the exact formula for how to spot it. But I kind of know it when I see it. Maybe it's just their curiosity, their learning orientation, their learning speed — and I think, maybe most importantly, their self-awareness. People who have those types of qualities, I think, probably deserve to get more shots.
"There are people who can get pretty wayward prioritizing the wrong thing," he adds. "You've been given this huge gift to spend your working life doing something that can change the life of your patient."
•
Stephanie Joachim knew twins would be exhausting, but raising them largely on her own was another level. If she left them alone for a second, her infant daughter Leia would track her movements across the room. But at five months, Joachim noticed, Luke's eyes didn't follow her at all. "When we shined the light on his eyes, his pupils wouldn't constrict. They would stay really, really big," recalls Joachim, who lives in Virginia. "That's when I panicked. I'm like, Oh my God, he's got a brain tumor, or something's wrong."
Luke's brain was fine. But the pediatrician informed Joachim that her son had Leber congenital amaurosis — known as LCA. It's a regressive retinal disorder affecting roughly one in 50,000 kids. He'd be legally blind by kindergarten. Luke would need to learn braille and walk with a cane. He'd likely never recognize his sister's face or play sports or know the joy of a starry night.
Soon after, Joachim read an article about a series of experimental trials in Philadelphia. It was too late to enroll, but when Spark received FDA approval and Luxturna hit the market for all patients, the family flew to Miami for treatment for Luke. Doctors injected the medicine into the back of his retina, sparking a genetic change in his body — and then they waited. Days later, Luke's eyes began producing the light-sensitive pigments that LCA inhibited. Two years later, Luke was running the bases at Fenway Park. His vision will never be 20/20, but he's living an energetic, healthy life.
Over Zoom, the bespectacled six-year-old answers questions about his latest achievement in karate. "Yellow belt," he says with a grin, before running off into his house. Yellow was a foreign concept before Luxturna. So, too, was looking at a stranger on the computer. "I remember the first time he smiled back at me from across the kitchen, I just bawled," says Joachim. "Now, he'll be like, 'Mommy, you didn't put on mascara' — seeing a little too good."
Luke's procedure in 2019 was remarkably straightforward — with the exception of how to pay for it. The price tag for Luxturna was $425,000 per eye. "I was like, well, isn't that why we have health insurance?" Joachim says. "And the pediatrician said no health insurance is going to approve something like that, because it just got FDA approval." So she started fund-raising — and praying. "A million dollars is not exactly a car wash," she says.
But on the same day she got a third denial letter from her health insurer, she also got a note from a benefactor (who wished to remain anonymous) who'd heard Luke's story. He offered to pay for the whole treatment. "It's just a reminder that God's not going to let you down," Joachim says.
(A spokesperson from Spark says that the company does not believe this to be a typical patient experience and that Spark is "unaware of any patient being denied treatment because of their insurance or having to pay the full cost of treatment from their own resources.")
Cell- and gene-therapy-based treatments aren't immune to the outrage in this country over the affordability of health care and the manipulation of drug prices. Despite being regulated and marketed as drugs, these nascently commercialized treatments are more akin to high-end procedures in both cost and bodily effect. The bill for a heart transplant is around $1.3 million; for Luxturna in two eyes, $850,000; for Zolgensma, the second FDA-approved gene therapy treatment (it's for spinal muscular atrophy), the price tag is $2.1 million. All of the pricing considerations that exist for conventional drugmakers (like the need to recoup the cost of research and development and then make a profit) also apply to gene therapy, but there are additional factors, such as highly specialized manufacturing processes and the need for doctors trained to administer it.
In the long run, reducing the price of Luxturna and all gene therapy "drugs" will demand scale — a reality that Roche might be able to provide for Spark, beginning with its massive Gene Therapy Innovation Center that's under construction across from the deli at 30th and Chestnut. "What this new center will mean is that we can not only make all the products that we've envisioned from the Spark pipeline, but we'll also be able to support Roche with gene therapy manufacturing for worldwide use," says Ron Philip, the current CEO of Spark.
But more scale requires more customers­ for gene therapy treatments, and that goal can be curtailed by a high sticker price. After the FDA approval, Marrazzo and his team launched an outcomes-based rebate structure for insurers, so that if the therapy didn't work — and 93 percent of the time, it did, according to the Phase 3 trials — ­Spark would return a chunk of the costs to insurers.­ The moves signaled confidence in the drug, and in gene therapy more broadly.
"From the very beginning, we spent a lot of time and energy working on ensuring that Luxturna was going to get approved and that patients would have access to it," says Marrazzo. "Because Luxturna was the first one, we felt it was our responsibility to basically try to move the field of gene therapy forward."
Marrazzo says that most importantly, Spark's "pay for performance" agreements with insurers got more patients treated: "If we could create such a world, they would not have to choose between their wallet and their vision."
•
As a newcomer to the field of gene therapy, Marrazzo had to be an understudy at the same time he was stepping into the role of CEO. Beginning with that seven-hour meeting with High, he devoted himself to learning the science behind Luxturna and Spark's other research assets. "I think there are a lot of people who think Jeff has a PhD or a science background," says Rob Perez, a partner in Boston private equity firm General Atlantic, who spent two years on Spark's board.
A commitment to theory and facts, along with the business degree, gave Marrazzo a leg up while oscillating between investors and scientists. It's bolstered his reputation as one of the biggest boosters of gene therapy in the city. "Our industry is filled with great ideas that are essentially science experiments that either never come to fruition or every two years get two years further away," says Perez. "Essentially,­ the fact that as a young business graduate he was able to create this amazing story in Spark is one of the great successes in our industry."
That Marrazzo is versatile enough to lead Spark without a hard-science background is a credit to his upbringing, which, while privileged, was uniquely well-rounded. His mother is an opera singer. His father, Bill Marrazzo, is the former head of the Philadelphia water department and current CEO of public­ radio station WHYY. (Disclosure: I've worked as a freelancer for WHYY in the past.)
Since stepping down as Spark's CEO, Marrazzo has made the arts part of his personal mission. Last year, he and his wife established a family foundation that's focused on supporting arts education in schools. "We both fundamentally believe it's important to keep hold of our humanity­ as the world becomes more automated," he says. "I think that my corporate success, my professional success, is a function of being able to simultaneously use right-brain/left-brain thinking. I've learned a lot more from interacting with people and asking questions than from reading."
When he attended Germantown Friends and Penn, Marrazzo took on a broad range of interests and hobbies, shirking the pressure to specialize at a young age. He captained three varsity sports teams at GFS — basketball, soccer and track-and-field — and not because he was the best player on any of them. "That bastard took the captainship from me," says Brendan Jones, a friend of 20-plus years. "I was the one who made varsity in the ninth grade. But the guy is just too much of a leader. He's not in your face. I've never heard him yell. He's just very self-assured."
Jones recalls a time when the two were at church camp as teenagers. They were each assigned a partner for a canoe trip. "I got paired with this one guy who had such a loud mouth and wouldn't shut up," Jones says. "We were yelling back and forth at each other. Jeff got paired up with somebody similar. He never really reacted. He just let the river take them and didn't fight back." And soon enough, he reports, "The guy that he was with kind of settled down. He just has a remarkable ability to kind of go with the flow and end up exactly where he needs to be."
Today, it's brought him to a crossroads in his career that coincides with a critical juncture for biotech in Philly. Since the ballyhooed merger with Roche, market forces have knocked gene therapy back down to Earth. In 2022, a wide swath of biotech stocks fell to multi-year lows. There were layoffs and restructuring at several Philly-based gene therapy companies in the past year. Despite inroads into commercialized medicine, gene therapy companies like Spark are a long way from turning a profit. And in economic downturns, that future still looks fragile.
But at least the city has an anchor nowadays — a narrative to believe in — with Spark's connection to Roche. "It's meaningful to see Spark actually become a significant business and helps drive more capital into gene therapy," says Perez.
Marrazzo has appeared modest in taking credit for Spark's ascent since stepping down. On the way to the deli, we passed the company's glistening offices inside the Bulletin Building, at 30th and Market. In 2017, Marrazzo negotiated a lease with Drexel and Brandywine Realty that made Spark the first corporate tenant of the highly coveted, six-million-square-foot Schuylkill Yards development project. Of course, that's not what he pointed out to me.
"One of the neatest things about this building, and my only creative contribution," he began, pointing to a gradient on the reflective windows that deters birds from flying into it. Up close, the gradient consists of letters of the alphabet tapering from the roof to ground level. As it descends, the number of letters decreases until only A, T, C and G remain. This was Marrazzo's brainstorm: "It's a nod to the fact that the building was a printing press," he explained, "and then at the bottom a nod to the four letters of the chemical pairs of DNA."
Like a movie director dropping Easter eggs in his films, Marrazzo has a discreet way of showing his own imprint. It turns out the letters on the building aren't his only contribution. At night, the interior of the glass-paneled structure glows green.
"Luxturna — Spark's first approved gene therapy, and the first-ever U.S. approved gene therapy — was approved only a few months before the Eagles won the Super Bowl," Marrazzo writes in an email weeks later.
Go Birds. All birds.
•
When he played basketball growing up, Marrazzo followed the careers of all the contemporary greats in the city: Rasheed Wallace, Hakeem Warrick, and, of course, Kobe Bryant — along with plenty of guys who flamed out, too. "It tells you a lot about how there are so many factors that come into play with success," Marrazzo says. "Particularly the work that it takes to get there. And finding your niche."
He tells me this one afternoon at the Cliffs at Callowhill, a cavernous indoor rock-climbing facility in the city. Though there's a little salt-and-pepper in his beard these days, Marrazzo moves like a metronome up a rock wall, swinging his legs from block to block until he reaches the top of a route. The best climbers keep their arms loose, he explains. These days, he often comes here with his seven-year-old daughter, who has started to compete in the sport. "One of the parental challenges­ is figuring out when you nudge, push, make them, don't make them — it's really interesting," Marrazzo says.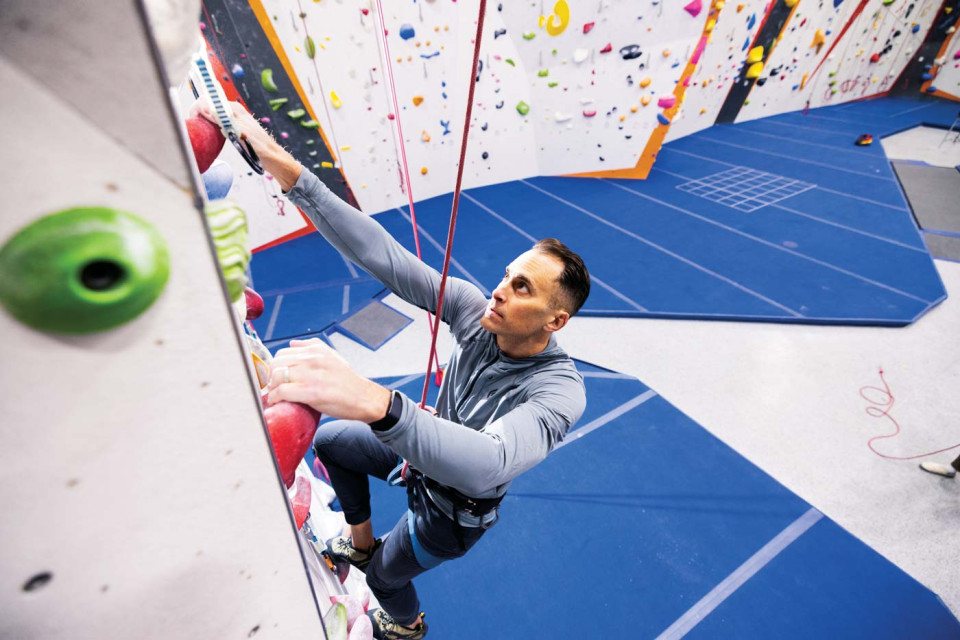 The same goes for how to approach and mentor the next transformational leaders in the business of gene therapy. Marrazzo knows that he has wisdom to impart, and he could do that by simply getting into the VC game and investing in companies, which would give him a say in how those companies run. But that's not how he's going about it; rather, he's employing an approach that's more art than science. "There's certainly many people in similar positions to me who join a venture capital fund as a partner," he says. "I haven't done that to date because, first, I like my free agency; second, I'm more interested in spending time to get to know the people without investing right away."
Marrazzo also recognizes that establishing­ a pipeline of leaders will take time. Optimistically, he cites Carl June's work in the cell therapy space as inspiration. "His being at Penn and staying at Penn, training­ and having the next generation of people­ begin as post-docs" — Marrazzo­ lists the founders of Philly-based companies including Tmunity and Carisma. "There are four or five of them that have gone on to start their own labs, then start their own biotech companies. In gene therapy, there's a pipeline that I think now is starting, and that's been created through companies like Spark."
Marrazzo has courted sharp minds to discuss how to speed up the process, including "an extraordinarily well-known scientist in Boston," and that's made him optimistic, too: "If you look back to the 1980s, Boston wasn't what South San Francisco was," he says. "This person gave me an example of a person at Harvard who got recruited to be the head of research at a large pharma company in Europe. The guy took the job but told them they had to build the research labs in Cambridge. So much of why a company settles in a location has to do with a single person and a single personal­ situation."
The man who wants to make Philly the center of the gene therapy universe finds a metaphor: "It's like a bit of a stochastic event — you know, there's a bunch of atoms colliding, and all of a sudden, something changes. And I do think that Spark is the first of those things."
Published as "The Code Cracker" in the March 2023 issue of Philadelphia magazine. The print version of this story misstated the type of company General Atlantic is, and the date of Spark's deal with Drexel and Brandywine Realty. It has also been updated to include a comment from Spark about patient access.
---