After Photo Surfaces, 3 Philly Pols Say They Won't Endorse Jewell Williams for Reelection
A political lunch convened by City Council President Darrell Clarke that included Philadelphia's sheriff, who is facing multiple accusations of sexual harassment, seems to have had unintended consequences.
---
What was billed as a private meeting hosted by City Council President Darrell Clarke to bring North Philadelphia's most prominent elected officials together on the issues has since led to some pretty pointed declarations of disunity.
The cause? A now-deleted Instagram photo first posted on Monday by North Philly's iMunch Cafe, in which state Sen. Sharif Street, state Rep. Donna Bullock, state Rep. Malcolm Kenyatta, state Rep. Danilo Burgos and Clarke were seen sitting at a table with embattled Philadelphia sheriff Jewell Williams.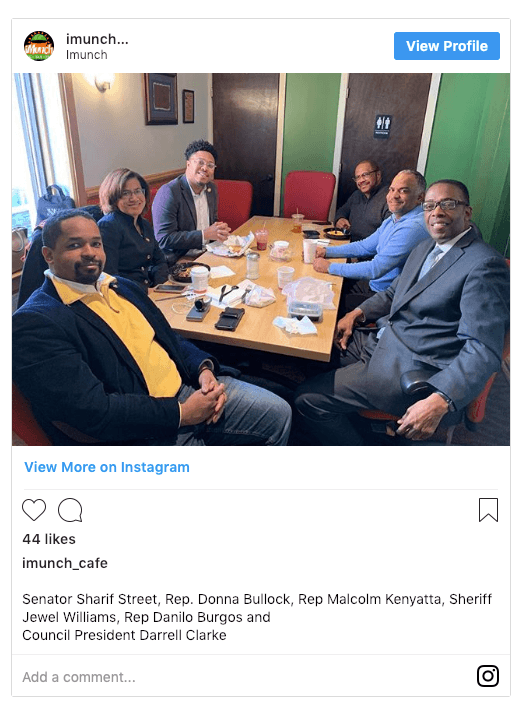 Williams, who is currently running for reelection, is facing federal lawsuits filed by two former Sheriff's Office employees alleging that he sexually harassed them on the job. (Williams has repeatedly denied the claims and did not return Philadelphia magazine's multiple calls for comment.) In a July 2018 court filing, one of the accusers, Marlaina Williams, included a letter from the Philadelphia Mayor's Office of Labor Relations noting that her allegations against Williams had been supported by "corroborative evidence" after a "thorough investigation." In 2012, the Democratic Caucus of the state House of Representatives paid a former legislative aide $30,000 as a settlement after she accused Williams of misconduct while he was a state representative.
According to elected officials and staffers interviewed, the meeting felt unprecedented given the historical divide between some longtime North Philly politicians. By all accounts, the conversation initially focused on how they could work together to address pressing issues in the community, but then, some said, it took a turn into whether officials at the table felt comfortable supporting Williams for reelection.
"The goal of the meeting was to bring North Philadelphia elected officials together over shared goals to form an agenda to discuss legislation over issues that included poverty, the opioid epidemic, and many issues impacting North Philadelphia," a spokesperson for Darrell Clarke told Philadelphia magazine. "It was nothing about endorsements or candidates."
"We were wrangled into meeting with him," countered a staffer for one of the officials present at the meeting, who asked not to be named. "Our team was not made aware of who was going to be at the meeting, and when Williams showed up, the conversation escalated. Some in the room let it be known that they weren't comfortable with publicly supporting Williams."
Once the photo became public, Philadelphia contacted every attendee to ask their stance on endorsing Williams; three have now said they will not.
"No, I will not be supporting Jewell Williams for re-election," Bullock told the magazine. "I take allegations of work place harassment seriously, whether at the state level or the community at large. At this time, I'm not endorsing anyone for sheriff."
"The photo featured a meeting about state and local government working to invest in North Philly. Rep. Kenyatta had no advance knowledge of the invited attendees," a spokesperson for Kenyatta said. "In addition, the meeting was not campaign-related. Rep. Kenyatta has been clear and vocal on issues of workplace harassment. He has not, and is not, endorsing any candidates running for sheriff."
"The meeting was about North Philadelphia coming together … whether we see eye-to-eye or not, we should have the ability to talk to one another," Street told Philadelphia. "As vice-president of the state Democratic party, I'm not making any endorsements of candidates separate from the county parties." Asked whether he would endorse Williams if endorsed by the county party, Street said, "I would respect whatever endorsement is made by each county party and or official across the board."
Rep. Burgos did not respond to the magazine's request for comment.
When asked whether Clarke would be supporting Williams for re-election, his spokesperson replied that "The Council president doesn't have anything else to say."
Clarke did not return a direct request for comment before publication.
---
---