Bryn Mawr to Scale Back on References to Founder With Racist Views
After a yearlong review, the school has decided to retitle two spaces named after M. Carey Thomas, who advanced the suffragist movement — but also pushed white supremacy.
---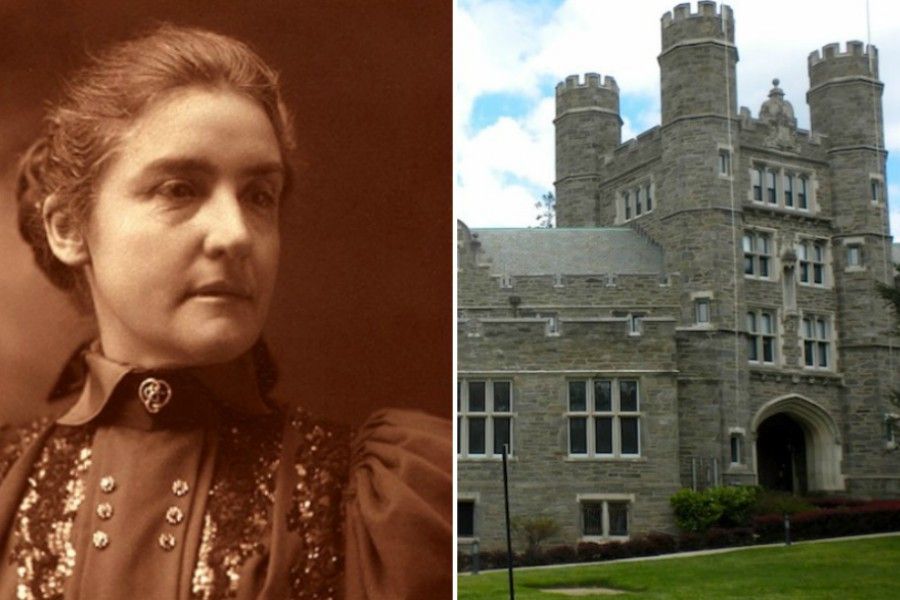 Bryn Mawr College will move forward with a plan to reduce references on its campus to M. Carey Thomas, a founder of the college who contributed significantly to the women's rights and suffrage movements but also believed in advancing white racial superiority, according to the school.
The decision follows a yearlong review, investigation and discussion period by the college, which first announced its intention to scale back on its association with Thomas in August 2017, shortly after the infamous white supremacist and neo-Nazi rally in Charlottesville, Va. The school joins many institutions that have distanced themselves from controversial monuments, speakers and leaders in the past year.
Last year, Bryn Mawr college placed a "moratorium" on the name of Thomas Library and Thomas Great Hall, a grand building located in the center of campus. Moving forward, Bryn Mawr College has decided to leave Thomas's name inscribed on the building's façade but use the names "the Old Library" and "the Great Hall" to refer to the spaces in the "daily life" of the college.
In addition, all awards bearing Thomas's name will now be called "The Bryn Mawr College" prize or award. The published description of those prizes and awards will include the history of the name to "reflect the layering of our history," in the words of Ann Logan, chair of the Bryn Mawr College board of trustees.
Logan, a 1976 Bryn Mawr graduate, explained the decision in a letter released to the Bryn Mawr community on Wednesday.
Logan wrote that while Thomas's "insistence upon women's capacity for intellectual achievement changed the face of the academy and continues to animate Bryn Mawr," the school "cannot countenance" certain values that the founder embodied.
"Entwined with Thomas' fierce ambition for women's intellectual achievement was a
commitment to the idea that white racial superiority was essential to a successful society," Logan wrote. "This was openly espoused and well documented."
Logan points to several examples:
[Thomas] blocked the hiring of Jewish faculty and the admission of qualified Jewish students. She refused to consider the admission of African American students, even rescinding admission offers made to qualified African American students. She denied a Bryn Mawr education and employment to exceptional persons because of their backgrounds. Though these policies were not unique among elite institutions of the time, the Board noted that Thomas' perspective and actions are antithetical to the College's value of inclusion.
By leaving Thomas's name on the building, the school aims to "continue to value President Thomas' many remarkable contributions to the College" while reminding students and staff to "confront all aspects of Thomas' legacy and to tell our full history.
"We recognize that for many the building will always be 'Thomas' – indeed, that is a part of our history and part of the lives of many of our alumnae/i," Logan wrote. "We ask the College also to find ways to communicate a fuller history of M. Carey Thomas' life and support ongoing reflection. We need to preserve and engage with this history and build it into the education we provide."
Surprised but pleased that @BrynMawrCollege's History Working Group has recommended removing M Carey Thomas's name from use on campus.

— Lola AF (@runlolarun) May 3, 2018
In a separate letter on Wednesday, Bryn Mawr president Kim Cassidy said the university will create two student-led groups geared toward collecting and portraying the alumnae and university history as well as other efforts to foster inclusion on campus, including a new endowed scholarship fund to support students from under-represented communities, a new Dean's Fund for Diversity and Inclusion, and a Dean's Emergency Fund.
"While we have made significant progress and while I am grateful for the efforts of many people across the community, we still have much work to do," Cassidy wrote. "I look forward to working with all of you during the coming year to gather ideas and to pilot projects as we continue to work together to build a more equitable campus community."
---
---