Philly Boxing Promoter Damon Feldman Beat His Ex-Girlfriend
Feldman originally told Philly Mag "it's a lie" before admitting that he did hit her, but then said he doesn't remember doing it.
---
Former professional boxer Damon Feldman loves his publicity.
In a 2009 Philadelphia magazine feature about the Delco man, headlined "King of the D-List," writer Don Steinberg summed it up as follows: "The boxing, well, that didn't really work out. What Damon Feldman has turned out to be a prodigy at — what became his destiny — was getting his name in print."
Back in those days, Feldman was great at landing publicity for his Celebrity Boxing matches — exhibition bouts between reality TV personalities, porn stars, and people like Tonya Harding and Rodney King.
In 2014, I personally followed him around quite a bit when he was promoting the infamous George Zimmerman vs. DMX fight that never happened.
More recently, Feldman seemed to have dropped off the face of the earth before emerging in recent weeks to promote his new book, The 16-Minute Man, as well as a new competition that pits make-up artists and hair stylists against each other in a live makeover event.
And just last week, Feldman sent out a press release announcing that he was determined to fight whoever was responsible for
vandalizing the Israeli flag in Philadelphia
, offering the perpetrator $5,000 just to show up in the ring. He was championed by many on social media as a hero for defending the flag.
But in all of that recently publicity-seeking and flurry of press releases, Feldman somehow forgot to mention the reason that he has disappeared from public view for a while: He was in jail.
Feldman was released from Chester County Prison in December following several months behind bars. The previous May, he made a plea deal with the Chester County District Attorney's office, pleading guilty to simple assault and recklessly endangering another person. He is currently serving two years of probation.
The charges stem from an October 2016 incident at the home of a Malvern woman who had been romantically involved with Feldman. (The woman has asked us not to publish her name.)
According to allegations contained in an affidavit of probable cause filed by a Malvern police officer in Chester County Court, police arrived at the woman's home just after midnight on October 16, 2016, to find her bleeding from the nose, head and face. The woman told police that Feldman had punched her several times in the face and head with a closed fist, according to that affidavit, and she was taken to Paoli Hospital for treatment.
"It's a lie," Feldman told us when we originally asked him about it on Tuesday. "I never hit her. I'm not a mean guy."
He declined to comment further pending consultation with an attorney, but later sent a text saying that he did hit her but that he didn't remember it, adding that he had been drinking and depressed.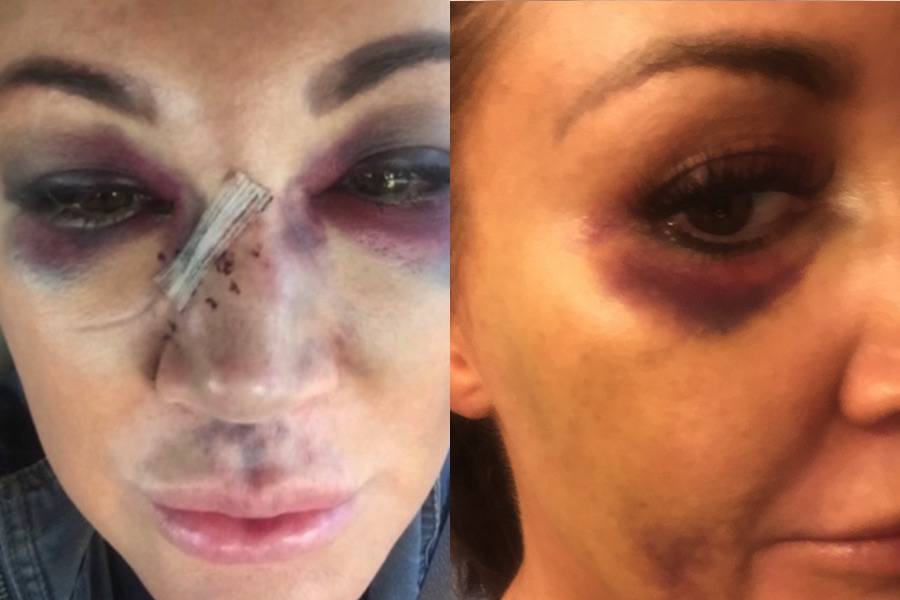 The woman provided very graphic images of her injuries to Philadelphia magazine for publication. The photos — seen above — show severe bruising around her eyes, other bruises on her face, and cuts on her nose. She says they were taken shortly after her encounter with Feldman.
Representatives from the Malvern Borough Police Department and the Chester County District Attorney's office reviewed the photos that the woman sent to us, and both said that the photos are consistent with photos in their files, which they say they cannot release to the press.
The police officer who was dispatched to the home went on to state in the affidavit that the woman's son, who was six at the time, told the cop that Feldman had punched the son in the foot area with a closed fist. (The woman says that her son did not sustain any injuries.) There were also allegations that Feldman had destroyed the son's bedroom door by striking it and that Feldman had shattered a television screen.
While police were at the woman's apartment conducting their investigation, Feldman showed up out front. According to the affidavit, Feldman told police that there had been a physical altercation between Feldman and the woman inside the apartment and that she sustained her injuries when he threw her off of his back, causing her to fall down the stairs. The cop who swore to the affidavit wrote that the "evidence on hand" did not "match" Feldman's statement, and the woman now tells Philly Mag that she "never fell down the stairs."
Feldman was immediately arrested. He was originally charged with one felony count of aggravated assault as well as misdemeanors and summary offenses that included endangering the welfare of children; two counts each of simple assault, harassment, and recklessly endangering another person; and criminal mischief.
In the end, Feldman made the plea deal after the Chester County District Attorney's office consulted with the woman, and all of the charges but one count of simple assault and one count of recklessly endangering another person were withdrawn. In addition to probation and the time in jail, Feldman was ordered to pay restitution of $4,200 to the woman and to have no contact — direct or indirect — with the victim or her family.
The grade of simple assault that Feldman pleaded guilty to indicated that he "attempted to cause or intentionally, knowingly or recklessly caused bodily injury to another," according to Pennsylvania law, as opposed to a lower grade that indicates that the two parties were engaged in "mutual combat."
"I wish I went with a trial," says the woman today.
The woman says she is currently pursuing civil litigation against Feldman over the incident.
---
---