News
Reminder: The Broad Street Line Is Free on Sunday
For the fifth season in a row, SEPTA is offering service along the subway line at no cost for the Eagles home opener.
---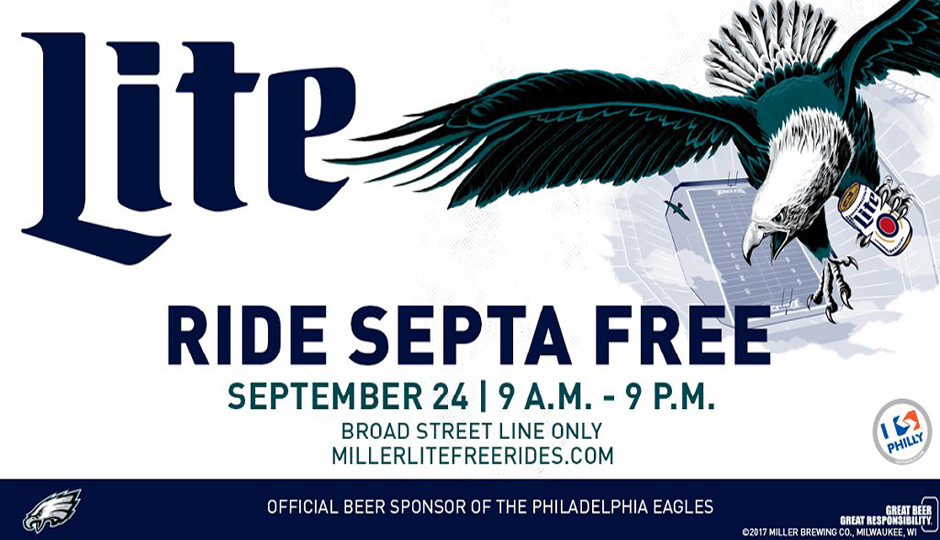 What's better than just going to the Eagles home opener? Getting to the stadium for free, of course!
For the fifth year in a row, SEPTA, Miller Lite and Muller Inc. have partnered to offer service along the Broad Street Line at no charge to commemorate Sunday's first game of the season at the Linc. Knowing the history of Birds fans and their notorious thirst for booze, the promotion was initially launched with the safety of traveling fans in mind.
"As a company, MillerCoors believes that drunk driving is preventable and is committed to making sure football fans in the Philadelphia community can enjoy Miller Lite and game day responsibly," Diane Wager, alcohol responsibility manager for MillerCoors, said in a release. "Through continued partnerships with SEPTA and Muller Inc., the Free Rides program lets fans enjoy games while providing a safe and free transportation alternative."
Fans can enjoy free rides on the BSL from 9 a.m. to 9 p.m. on Sunday. To accommodate the expected increase in ridership, SEPTA is supplementing its regularly scheduled service with an additional 10 express trains to ATT&T Station (I still call it Pattison, but whatevs). Eagles-Giants kicks off at 1 p.m.
"We're always excited when we can partner with Miller Lite and kick-off the start of the football season with free-rides on our Broad Street Line, ensuring that our fans enjoy game day responsibly," said SEPTA General Manager Jeff Knueppel.
"We are pleased to partner with Miller Lite and SEPTA on a program that delivers safe, free and convenient transportation to the home opener," said Eagles President Don Smolenski. "With thousands of Eagles fans taking the Broad Street Line to Lincoln Financial Field, the Free Rides program will be a nice way for them to appreciate the benefits of SEPTA and enjoy the game day experience on Sunday, September 24."
Follow @jtrinacria on Twitter.
---
---