G Philly's Top 10 Stories of 2016
From Gayborhood racism to some awkward celebrity encounters, we rank the biggest LGBTQ stories of the year.
---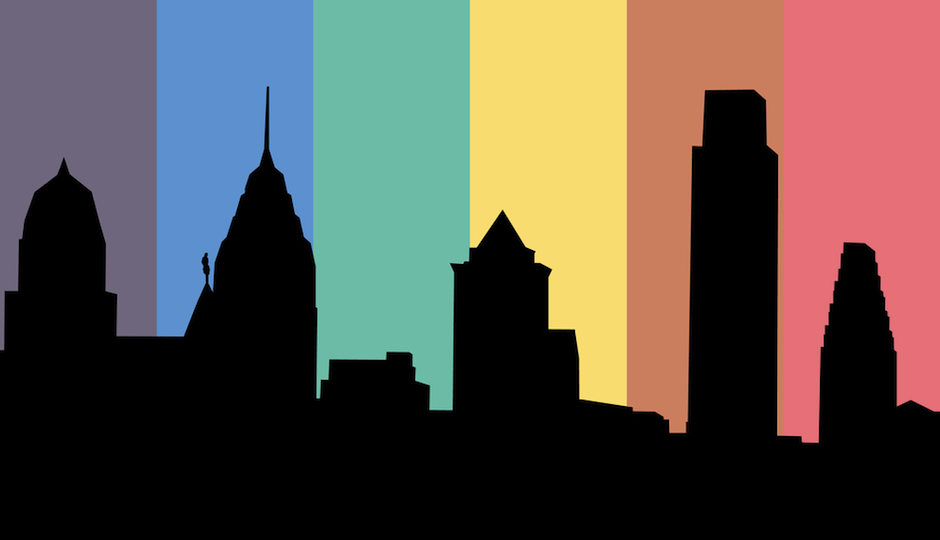 It was an incredible year for LGBTQ news in Philadelphia, with both inspirational times and some very controversial moments. Here, we rank the top 10 stories that rocked the community in 2016.
10. Public Pressure Forces GOAL to Drop Philly Pride Honor
After a newly formed LGBTQ police group hit the scene, some thought they were ready for the honor of being crowned Grand Marshals of Philly Pride. Community activists thought otherwise.
9. Transgender Visibility Rises in Philly
While the transgender community faces many unresolved hurdles, 2016 saw some major victories as well. Philadelphia had the only black trans woman delegate at this year's Democratic National Convention, and we saw more faces shine all year round.
8. Philly 4 Pulse Raises Money, but Not Without Diversity Concerns
The tragedy of the Orlando Pulse shooting shook the nation to its core. Gayborhood bars took the initiative to host an epic fundraiser for the victims. Only problem: Many Latinx LGBTQ groups felt excluded from the planning, even though the Pulse death toll was predominately Latinx.
7. Empire Actor Plays a Not-So-Accepting Part in Real Life
"The straight rapper doth protest too much?" So was the case for actor/rapper Yazz the Greatest, known for his role on TV's Empire. His alleged disinterest in taking a photo with popular local drag queens had folks whispering for days.
6. 50 Cent Was "In Da Club": Gayborhood Edition
In one of the most bizarrely random stories of the year, we got the tip that rapper 50 Cent was at Voyeur Nightclub in the heart of the Gayborhood. No, not to dance and frolic with residents — but to promote his Effin vodka.
5. Great Wall of Love Blocks Westboro Baptist Church's Hate
When hate comes knocking on Philly's door, love comes slamming it. So was the case when controversial hate group Westboro Baptist Church came to the Gayborhood to condemn LGBTQ Philadelphians during the Democratic National Convention. Community members responded with a peaceful artistic demonstration and shut down the naysayers within minutes.
4. Gayborhood Racism Gets Exposed
Racism in the city's LGBTQ community was revealed as fact in more ways than one this year. Activist groups such as the Black and Brown Workers Collective called out bar establishments and nonprofits on questionable practices. From suspicious dress-code polices that raised a few eyebrows to a public hearing that led to legistlative action, the skeletons came out of the closet in our community in a very sobering way.
3. The Office of LGBT Affairs Faces Major Opposition
The Office of LGBT Affairs and its director, Nellie Fitzpatrick, faced harsh criticism for alleged negligence in addressing issues pertaining to racial discrimination within the community. From direct actions protesting Fitzpatrick's leadership to calls for the Mayor to replace her, things haven't been pleasant for the highest-ranking LGBTQ official in the city.
2. Gay Man Attacked After Trump Is Elected
After the presidential election victory of Donald Trump, attacks on various marginalized groups instantly hit Philly. So was the unfortunate case for a gay man in South Philly who was attacked viciously as he was simply walking down the street.
1. The Fall of ICandy
The winner of "Worst Year in the Gayborhood" is ICandy nightclub. The controversy surrounding its alleged "no Timberland boots" dress-code policy sparked an ongoing debate about Gayborhood racism that was initially dismissed as a big misunderstanding. But on September 27, 2016, when an anonymous source posted a video in the G Philly comments section of ICandy owner Darryl DiPiano repeatedly referring to a former black employee as a "nigger," there was no doubt that something wasn't right with the once-popular bar. Boycotts and protests became commonplace at the establishment as members of the community took a stand against racial discrimination in the LGBTQ community.
So as we ring in the new year, we're left with several questions: What will be the fate of ICandy? What can we expect from the Gayborhood racism report due in January from the Philadelphia Commission on Human Relations? Will the Office of LGBT Affairs change its approach? How will the LGBTQ community be affected by Donald Trump presidency?
Only time will tell. Stay tuned for answers to these questions and more right here at G Philly.
---
---