Union Protest, 3 Inflatable Rats Close Down Spruce Street
Scores of union members jammed the corner of 13th and Spruce this morning to protest the apparent non-union rehab of the Parker Spruce Hotel.
---
A protest by scores of building trades union members closed down Spruce Street during the morning rush hour on Friday. The protesters were outside the old Parker Spruce Hotel, a 1920s-era hotel that was for decades a notorious flophouse. It's currently being redeveloped into a "boutique" Fairfield Inn by the Wankawala Organization, which owns the hotel and managed it for four years before the purchase.
Neighbors complained in October about conditions of the worksite, with some residents of the nearby John C. Anderson apartment building saying dust was getting into air conditioning vents and making them sick. Unions have been protesting outside the building since last year; an inflatable union rat was blocking the bike lane on Spruce for several days in November. Union members moved Scabby the Rat after cyclists complained.
This was the largest action yet outside the old hotel. Boxes of coffee for protesters were scattered along a barrier outside the worksite. Three giant inflatable union rats — and the ratmobile — were outside the worksite as a man yelled into a megaphone. John Dougherty, business manager for IBEW Local 98, was even on site; he declined to comment to Philadelphia magazine.
Did you ever want to see more union rats in one place than you've ever thought possible? You are in luck.
---
Union Protest at Parker Spruce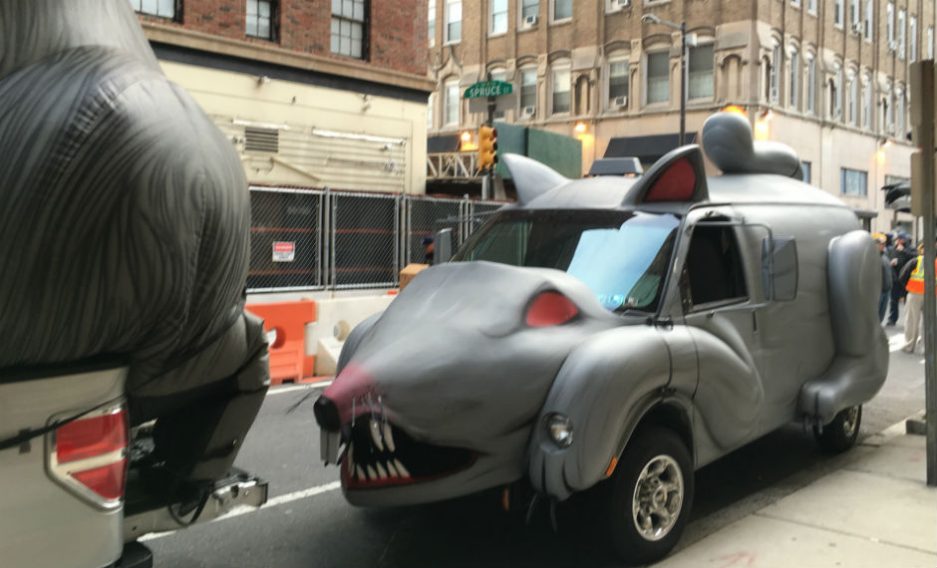 ---
Mihir Wankawala, managing director of the Wankawala Group, declined to comment. Spruce Street was closed between 12th and Broad streets this morning.
Follow @dhm on Twitter.
---