Q&A: Martha Graham Cracker Celebrates 10 Years
---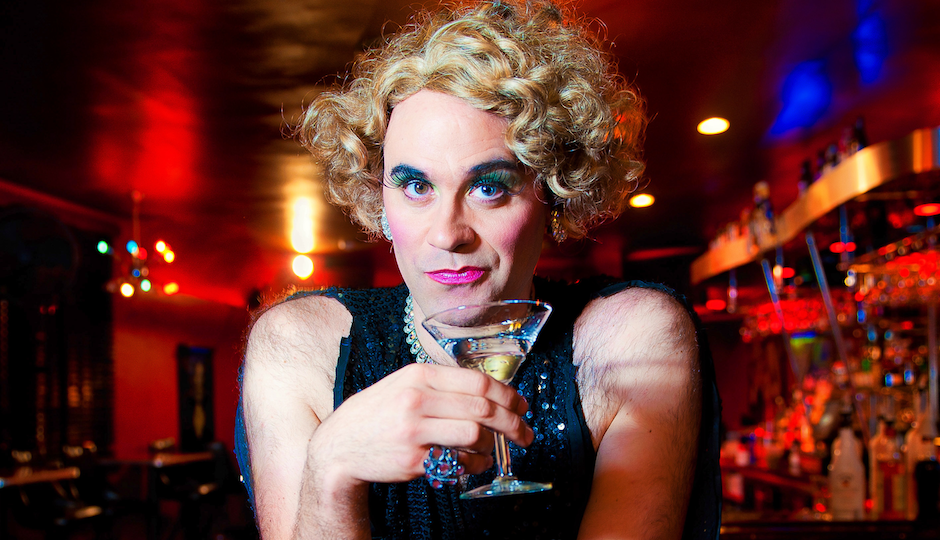 In drag queen years, she's Betty White.
The delightful, insightful, and totally amazing Martha Graham Cracker turns 10 this month, and she's not slowing down. She'll be playing a packed show at New York City's famed Joe's Pub, and will return to her home town to celebrate her birthday at L'Etage next week. There's no doubt that Martha is a different breed of Queen: She's talented, got a full band to accompany her, and holds her audience captive through her daredevil musical routines. I was lucky enough to steal a few minutes from the high-in-demand lady to pick her brain about what makes her cabaret act so universal (and so darn fun).
When you first started the cabaret, did you ever imagine you'd make it to 10 years? Not at all. I took it one day at a time, or at least one show at a time, and I cannot express my gratitude enough to Jimmy and David, owners of L'Etage (and now the gorgeous Tavern on the Green in NYC!), who took a risk on me ten years ago and gave me the beautiful home-base/experimental-lab/launch-pad in the form of a monthly forum to find and refine Martha. The character, the interactive nature of the show, the astoundingly tight and responsive band….all those elements got better and more specific over that substantial period of time. And my styling has definitely improved. Martha was kind of disastrous aesthetically at first. Thanks to my wonderful style maven Max Brown, I can hold my head high whenever I hit the stage. Also Victor F. has been quite the shepherd and producer as well as pianist and first conceiver of many reimagined arrangements for pop tunes. I really couldn't have done it without him.
There's so many drag shows that are all over the city. What makes Martha a little different? I dunno. I think the feeling of a drag queen plus a whole band making music is unusual. And Martha is such a specific character now, so full of herself, so ridiculous, so endearingly flawed, so graceful AND clumsy at the same time…..and she wants the audience to love her so badly that I think she's a character that people empathize with.
It might be hard to narrow down, but what's your favorite, let's say, top three performance moments as Martha through the years? My favorite things in general are the total unexpected moments or the big old mistakes. Those make me very happy and are the moments that make it continually fun and challenging, keeping me on my toes and awake to what's happening in the room.
There are so many! I have 5!
1) The first time I remember singing our slowed-down version of "Ticket to Ride" (part of our crazy Beatles medley) and I felt that Martha could be deeply sad as well as angry or funny or imperious or whatever.
2) When I played Joe's Pub and one of my idols, Joey Arias, an incredible drag queen who is funny as all get out and also can channel Billie Holiday and who inspired me to want to be a drag queen in the first place, joined me for a duet of "Why Don't You Do Right?"
3) We had a disastrous tour date to DC one year that involved a snowpocalypse, some terribly shoddy sound equipment that kept feeding back, an angry couple sitting in the front row that just wouldn't play along with me, and there was blood on Victor's keyboard.
4) Playing for the closing of the FringeArts with a string quartet made up of members of the Philadelphia Orchestra, singing to truly astounding arrangements by band members Andrew Nelson and Rich Hill. I felt like I was flying.
5) Whenever I've gotten up on the bar at L'Etage and found a way to pretzel my body into a new shape. Or when I've found a way to punctuate a dramatic moment in a song with a sly opening of the dishwasher behind the bar and a puff of steam rises like a fog effect in a Stevie Nicks video.
I think the live music element of your shows is one of the more unique parts of Martha. Talk a little bit about your band. My band is incredible, Recently we have been delving more deeply into harmonizing together….but one of my favorite things to do, during a show, is just to start singing a pop song, a TV theme song, or some ditty that happens to be in my head — Martha announces this segment as "Stump the Band" — and then I see if the band can join in, in the right key, and come along with me. There have been some amazing ones, and when we end the song triumphantly, all together, it reminds me of how lucky I am to have a band as willing and able as they are.
Martha at 20 years: what's she going to be doing? I wonder sometimes, as my Martha shenanigans are often quite acrobatic and daredevilish, if I will start slowing down with age. But so far, with yoga and foolhardiness on my side, and amazing older drag queens like Dame Edna inspiring me, I plan to keep going until I break a leg or maim an audience member. Maybe I will be playing hotel lobbies with a bevy of backup dancers/singers who will make me look snazzy as I slowly raise one arm.
You can catch Martha and all of her antics at her 10th Birthday Celebration at L'Etage on August 13th. For tickets and more information, click here. Or, if you're too busy to celebrate Martha's anniversary (for shame!), she's also playing a big gig at Union Transfer on August 22nd. Info on that show can be found here.
---