Tie-the-Knot Tuesday: Steve Seminelli + Joe Parisi
---
Every Tuesday, we are featuring a recently wed Philadelphia-area LGBT couple. Today: Steve Seminelli and Joe Parisi from Philadelphia. The pair had their wedding in late October, but were one of the first gay couples to get a marriage certificate from City Hall in May, when the landmark marriage equality ruling was handed down.
Names: Steve Sminelli and Joe Parisi
How long have you been together? 6 years
When did you get married? October 25, 2014
Tell us about it: With the surprise law change back in May, Joe and I were one of the first gay male couples to get a marriage license in the city of Brotherly Love. We made it official in October with a religious ceremony at one of the most historic churches in the country: Christ Church. With our family and friends in the same pews where Benjamin Franklin and George Washington once sat, we took our vows before God and each other.
After the ceremony, with a wedding party of 11 of our nearest and dearest, we traveled 10 blocks west to the city's first skyscraper, now the Loews Hotel, where we celebrated our union as the sun set. After cocktails, we continued the party in the former bank floor of the PSFS building. Under soaring 50-foot ceilings and a giant Cartier clock, we danced our first dance. The rest of the evening was a great success, with beautiful toasts, memorable moments—including a special dedication to a groomsman who had passed away to cancer not long before the wedding.
Were there any local businesses that were helpful when you prepared your wedding?: We used many local vendors after carefully selecting the ones that were LGBT-friendly. Those who did help us were fantastic and supportive. We had an especially great time using the Jonathan Adler store on 3rd Street as a backdrop for many of our fun photos!
---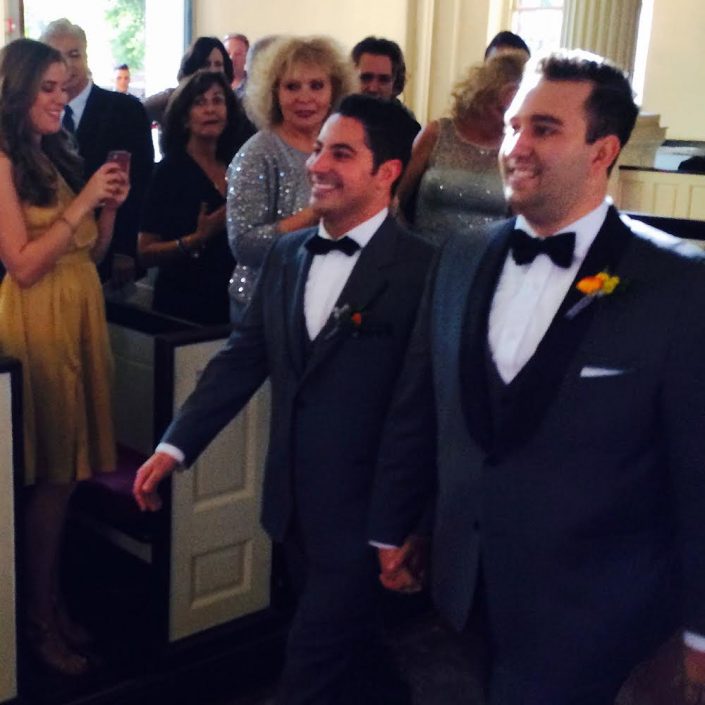 ---
Want to be featured in a future Tie-the-Knot Tuesday? If you're a gay or lesbian couple married in Pennsylvania, we want to hear from you. Take our brief survey!
---