The 5 Worst Wawa Parking Lots in the Philly Area
We love your hoagies. We love your coffee. Your parking lots? Not so much.
---
Oh my dear Wawa. I love your coffee. I love your hoagies. I love that I can leave my house and be at two of you within 10 minutes.
But you're far from perfect. I hate that you closed down some of your shore locations because they couldn't sell gas. I hate that you took so long to repair those shore Wawas after Sandy.
But most of all, I hate Wawa parking lots.
I'm not talking about the super Wawas with gas pumps.
I mean the old, original Wawas. Great stores, but we'd like to know what genius designed their attached parking lots. Because right now, they're an awful lot like navigating the ninth circle of hell.
Here are the five worst:
5. Audubon, New Jersey
If I'd written this story six months ago, the Audubon Wawa wouldn't have made the list because back then it was located next to a Wachovia bank. Spill-over from the Wawa's tiny lot — which has two rows of spaces — simply parked in the bank's lot. The bank lot also had a calming effect because drivers could see that there was another way in and out of the lot by driving around the back of the bank to another street.
But now? That building is becoming an urgent care facility. It's not even open yet, but construction trucks taking up the overflow spaces have already created a clusterfuck. This Wawa's location on the White Horse Pike — close to, but not quite at, the light — doesn't help. If I'm on the White Horse Pike in that area, I usually skip this Wawa and drive one town west to Oaklyn. It's not a super Wawa, but it does have a big, supplemental parking lot.
4. South Philly at Columbus Boulevard
It's not that the parking lot here is small. It's just that it's used for a lot of other things, including a car wash — both automatic and self serve. And cars try to turn off Tasker and Water streets to cut through the car wash parking lot to get to the Wawa, adding another layer of chaos.
Possibly the biggest reason this Wawa is lot is such a mess: It's more or less right on top of the on-ramp to I-95. The lane to exit Columbus and get onto I-95 crosses right in front of the Wawa's entrance/exit, so traffic in and out of the lot mixes with cars gunning to get onto the highway. For extra fun, that traffic also contends with cars trying to park in the back lot of Club Risqué and/or take a shortcut to Target. Talk about a mixed crowd. But, hey, everyone needs their Wawa coffee.
3. Headhouse Square

If you're going to this Wawa, please please please don't drive. I don't know why you would. I live in New Jersey and never drive to or in Center City (yes, really! A suburbanite who doesn't really drive! Hooray PATCO!)
There's not really a parking lot here. This Wawa is on the list because people drive here then try to park/stand on the Headhouse while they get their coffee and smokes and get back before the PPA attacks; that adds congestion and confusion to an area already riddled with both. Especially on Sundays: I can tolerate cramped lanes at the farmers market and will squeeze around those who've decided it's not a massive breach of etiquette to push a stroller or a dog through. Because, produce.
But cars that then try to bust through those crowds and other cars, on streets lined with cobblestones and trolley tracks, because they can't be bothered to walk to get their coffee? Forget it. Stop.
If you're on your way to another place and want coffee for the road, get it on the road. This Wawa is meant for walking.
2. Sea Isle, New Jersey

If you went to this Wawa right now, ducky! It's quiet, serene even. I love stopping here in the off season. But in the summer? In the morning where everyone wakes up hung over from the OD or the Carousel or the Springfield? Forget it. Walk. Bike. Even if you're coming in from Strathmere.
Putting the Wawa here seems to make sense: It's on Landis Avenue, the main road in town, and a quick walk to the beach. But it creates its own traffic hazard, with cars trying to get in and out of the lot on an already busy road. (And just look at that tractor trailer wedged in there in the overhead shot!) It's especially bad when the lot is jammed with people trying to get into town for their week's vacation, or go home before traffic backs up on the Garden State Parkway — which is right around the time that all those hungover people are swarming to the Wawa like the walking dead.
Think you're going to park on the street? Good luck. This Wawa is near where the meters end, but that doesn't help. In the full flush of summer, all of those free spots are taken up by renters and Shoobies. My tip: In season, go to McGowan's, which is only open in the summer, and not far from the Wawa. It's worth it just to see the T-shirt collection on the walls.
1. Bala Cynwyd, Pa.
---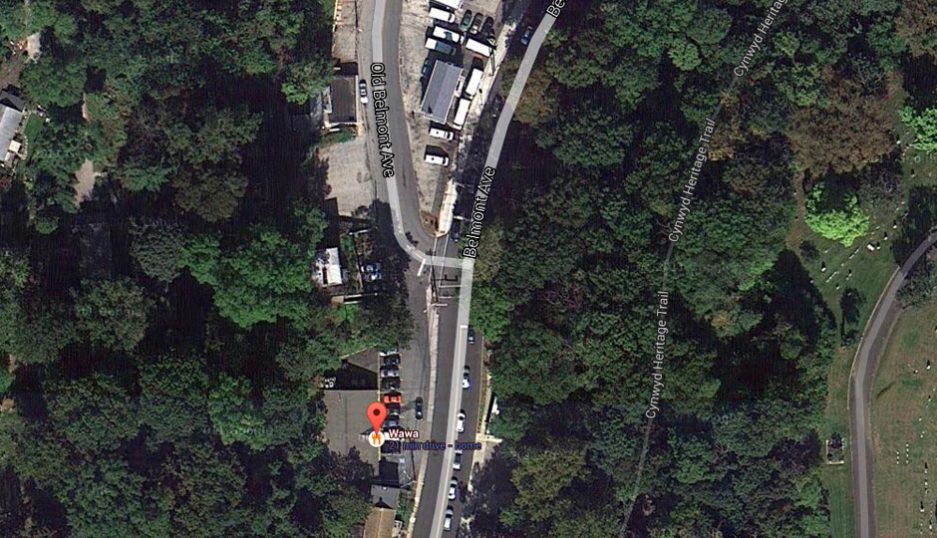 ---
Oh, dear Lord. Whiskey Tango Foxtrot. This parking lot is an abomination: a slip of a space with a handful of parking spots, but also just enough space for motorists to improvise, both on the lot and in paved spaces nearby owned by… who knows. The made-up spots are all bad: Cars and trucks park in unmarked spaces that make it almost impossible to back out of your legal space if you get one. Plus, there's a telephone pole that's greeted the trunks of many cars trying navigate out of the actual marked spaces.
A Wawa with a lot like this couldn't be in a worse spot: Right at the Belmont exit of 76 and the entryway in and out of Manayunk. One of my clients is located near this Wawa, and just gave up and decided to drink the office sludge. It's a small price to pay to avoid backing into a telephone pole, or running into someone's fist over parking rage.
We know there are more bad Wawa lots. Add your own nominations to the Google map at the bottom of this post. Just log into Google, click on the map and you'll be allowed to search for and add other locations.
Follow @byJenAMiller on Twitter.
• Get Phillymag.com's Daily Newsletters
---