Guides
Eagles Jewelry for the Philly Fan Who Has Everything
Understated need not apply; elevate your style with these Birds baubles.
---
Some game days, even an elusive kelly green jersey isn't enough of a sartorial flex. These are the days you need to sparkle — to make your friends stop and register that, yes, you dropped hundreds to proclaim your fandom in silver and gold. Understated need not apply; elevate your style with these Birds baubles.
Clockwise from top:
First up is a stackable — and very sparkly — Eagles tennis bracelet ($48 at BaubleBar). BaubleBar actually has a whole Eagles collection, including earrings, a Mickey Mouse charm for some reason, and more. I also kinda love this "Fly Eagles" bracelet of theirs.
For those who wish to commemorate the Birds' 2018 victory, the Super Bowl LII Score enamel lapel pin ($12 at Papa Jawns), is an ideal choice. This miniature masterpiece not only captures the essence of that unforgettable game but is also perfect to wear around your Pats fan frenemy to remind them exactly how much they lost by.
The silver and gold-plated Philly Special pendant necklace ($300 at Safian & Rudolph, Washington Square West) showcases the iconic trick play that secured the Eagles' victory in Super Bowl LII. I'm not sure if a playbook formation has ever been immortalized in precious metal before, but this one is certainly worthy of that honor.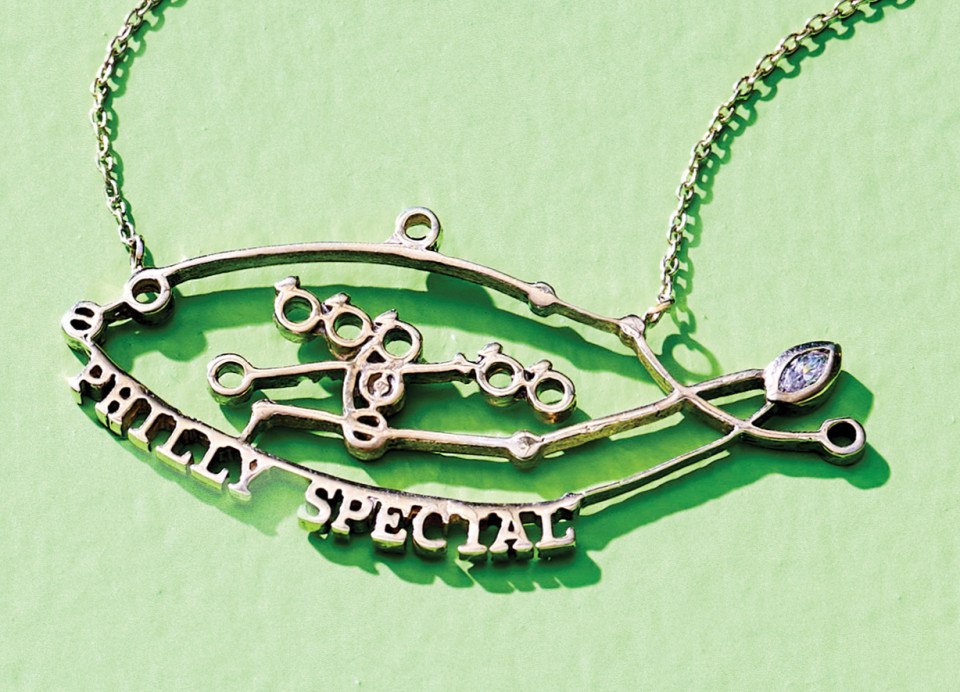 For something a little more understated, the Spiritual Beads bracelet in Sterling Silver/Green Onyx (from $425 at David Yurman, King of Prussia) should fit the bill. David Yurman also makes a version of their signature Renaissance bracelet in green aluminum, so do (or buy) what you want with that information.
Those looking to infuse their formal attire with some fandom flair need look no further than the Philadelphia Eagles cufflinks ($77 at the Eagles Pro Shop). These let you subtly display your team pride, ensuring you're always repping the Birds, even in the most formal of settings. For even more options, Retro Philly carries cufflinks made from game-used footballs and seats from the Vet.
Okay, I'm done with subtlety. Because now it's time to discuss Safian & Rudolph's "It's A Philly Thing" silver pendant necklace ($395). It can also be made in gold or platinum upon request, in case you were wondering. It's a bold declaration that you're an Eagles fan, and that you were especially an Eagles fan last season. We're still waiting on a "No One Likes Us, We Don't Care" pendant.
And finally, we are in love with these Philly Love Charm Hoops ($88 at John Wind). An homage to Wind's hometown, these earrings feature footballs alongside other Philly icons like the Liberty Bell and soft pretzels, and even include some vintage parts from the jewelry-maker's archive.
A version of this article was published as "Emerald City" in the September 2023 issue of Philadelphia magazine.
---
---