News
How to Access Cutting-Edge Cancer Treatments and Clinical Trials in Philly
Take a look at the medical marvels being pioneered right here.
---
So you've heard those three words: You've got cancer. The journey from diagnosis to the bell-ringing celebration can be a whirlwind. There's so much to learn in so little time: What type of cancer do you have? What are the survival rates? What treatments are available, and where can you go to receive them? If your cancer doesn't respond to treatment, what are your options?
In Philly, you do have options. Your best bet for accessing the latest, most advanced personalized care is through a dedicated cancer treatment center, such as the National Cancer Institute-Designated Cancer Centers. There are just 71 of these NCI centers in the country — and four of them are in Philadelphia: Abramson Cancer Center at the University of Pennsylvania, Fox Chase Cancer Center, Sidney Kimmel Cancer Center at Jefferson Health, and the Wistar Institute Cancer Center. These and Philly's numerous other cancer-focused treatment centers are known for developing innovative approaches to cancer prevention, diagnosis and treatment and are often the best places to access novel clinical trials. The innovations they're working on today could completely revolutionize the way cancer is treated in the future. Here's a look at some of the latest developments.
Get a Faster, Less Invasive Diagnosis With a Liquid Biopsy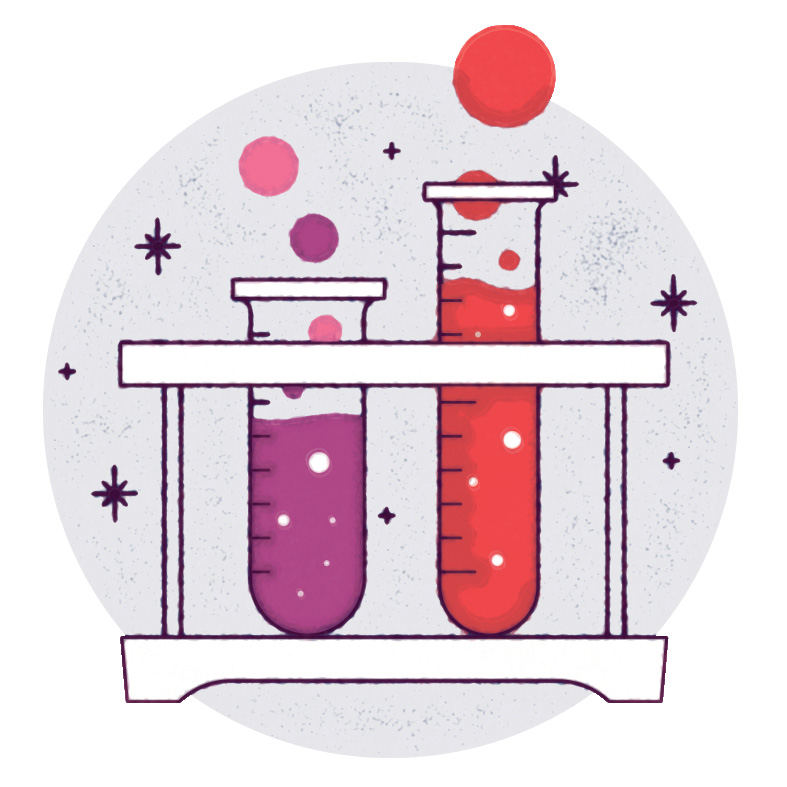 A cancer diagnosis almost always begins with some type of surgery or procedure. For doctors to learn whether a tumor is benign or cancerous, they have to perform a biopsy in which portions of the tumor are removed for study. Depending on the tumor location in the body, these surgeries can be invasive and may require a brief hospital stay. Up until a few years ago, this was the standard of care.
Erica Carpenter, research assistant professor of medicine and director of the Liquid Biopsy Laboratory in the division of hematology/oncology at Penn's Perelman School of Medicine, says recent FDA approval of liquid ­biopsy — a less-invasive diagnostic test — for lung cancer is informing the way all cancers are diagnosed and treated.
"Liquid biopsy is a way of getting diagnostic information from a tube of blood where historically, we would have had to perform a surgical procedure to get the piece of that patient's tumor," Carpenter explains.
Liquid biopsy allows doctors to use a small blood sample to look for cancer cells or pieces of tumor-cell DNA circulating in the blood. But the benefits go far beyond avoiding surgery. Liquid biopsy can often help doctors identify the right treatment for a patient's particular type of cancer faster than a traditional diagnosis would.
Isabella de la Houssaye, 56, of Lawrenceville, New Jersey, is living proof. In 2018, she underwent a traditional biopsy after X-rays revealed tumors in her lung, brain and spine.
Doctors had to perform surgery — during which de la Houssaye's lung ­collapsed — to get a sample from the tumor there to determine if it was cancerous. But as with most tumor analyses, it would be weeks before the traditional biopsy results would return from the lab. "It was traumatic," de la Houssaye says. "Every day that we waited was one day closer to some permanent damage."
Her doctors at Penn decided to try a liquid biopsy. Within seven days, the results confirmed that de la Houssaye had stage-four lung cancer that had spread to several other parts of her body. The liquid biopsy also revealed that she had a specific cancer mutation: EGFR-positive non-small cell lung cancer (NSCLC), which fuels growth of abnormal cells. With this information, doctors at Penn were able to quickly pair her with a clinical trial for Tagrisso, a now-FDA-approved targeted therapy that was then being studied to treat her specific cancer mutation.
"Immediately, things got better," de la Houssaye says.
Since then, doctors have used quarterly liquid biopsies to track how well the therapy is working and monitor her for new mutations. In May 2020, when a routine liquid biopsy identified a new mutation, doctors were able to adjust de la Houssaye's treatment, adding a second drug to help treat it.
"With the power of plasma, we can identify more patients and harness the information that's available in anyone's circulating bloodstream and apply it to improve their cancer management," says Charu Aggarwal, an assistant professor of medicine in the hematology-oncology division at the Perelman School of Medicine. "This has really transformed the way we treat patients."
Faster diagnosis and a clearer path to the right therapies is just the beginning of what liquid biopsy can do for cancer treatment, according to Carpenter. Because Penn is one of few places in the region to integrate liquid biopsy in its clinical treatment pathways for thoracic oncology, doctors there have begun using the test for other cancers, too.
"When an approval came through for a PI3K inhibitor" — a class of medicines that prevent cancerous cells from spreading — "for breast cancer patients," Carpenter explains, "our breast cancer team was able to very rapidly deploy clinical liquid biopsy testing to identify the patients who could benefit from that new drug approval."
"As a patient, when I think about the future of early diagnostics, this is what gives me hope," de la Houssaye says.
Find a Treatment Plan That's Unique to You Through Precision Medicine
For much of its history, cancer treatment has focused on universal methods of care: Researchers investigate new treatments, and once they're proven safe, those treatments are doled out to patients en masse, regardless of any hereditary differences between them that might determine whether the treatment can successfully combat their cancer.
Precision medicine aims to do the exact opposite. This evolving approach to cancer treatment involves multidisciplinary teams who use advanced genomic testing to help patients access the therapies that are most likely to be successful in treating their cancer type.
"Cancer is very complex," says Ankur Parikh, medical director of precision medicine at Cancer Treatment Centers of America (CTCA). "Not all cancers are the same even within the same site of origin, not all cancer treatments are equal, and not everyone is going to respond to the same therapy. We think about why that is. And with genomic testing, we try to identify mutations, which may help us find targeted therapies that may help a particular patient or avoid therapies that won't work."
CTCA Philadelphia has established a robust precision medicine program that includes genomic testing (to discover DNA alterations that may be driving the growth of a specific tumor), genetic testing and counseling (to identify patients and their family members who may have inherited gene mutations that put them at a higher risk of developing cancer), and access to targeted therapies that address specific cancer mutations or immunotherapies that empower the immune system to attack and kill cancer cells.
Patients at CTCA Philadelphia are seen by a team of doctors and clinicians who collaborate on a treatment plan that's personalized to fit their individual needs. And when other treatment options have failed, that team can advocate for patients to gain access to investigational therapies through cutting-edge clinical trials. As Parikh explains, "Our unique medication acquisition program, or MAP, helps remove operational and administrative barriers around obtaining the targeted therapies our patients need when they've exhausted all standard-of-care options but remain good candidates for treatment."
For patients like Fern Rock resident Rhonda Bey, 68, whose rare form of stage-four appendiceal cancer failed to respond to standard care in 2016, this meant access to a clinical trial for Keytruda, an immunotherapy developed by Merck, before it was approved by the FDA for the treatment of more than 20 types of cancer. For Bey, not having to wait was the difference between life and death. "At the first place I was going to, the treatments weren't working, and the tumors were still growing," she explains. "I was lucky to have a CTCA in the City of Philadelphia. For the type of cancer I had, which is very rare, I needed the genomic testing, and I needed the immunotherapy I received to fight the cancer, or I wouldn't be here today."
"Most places that do genomic testing do it as a last resort," Parikh notes, "but at that point, sometimes it's too late. Patients are too sick to receive additional therapy. At CTCA, we try to use the testing up front to identify patients who might fare better with trials, as opposed to waiting until they might be too sick to derive any benefits from it." More than 150 patients, like Bey, have gained access to novel treatment options through MAP at CTCA Philadelphia.
Enroll in a Clinical Trial Near You Via Advanced-Care Hubs
Clinical trials are a critical component of cancer care. For researchers, they're the only way to determine whether certain cancer treatments work effectively in humans. For patients, clinical trials offer an opportunity to access new, potentially life-saving treatment options before those options make the lengthy voyage through FDA approval.
But many patients face challenges that prevent them from participating in clinical trials. One of the most common is the need to travel long distances to access such care. Philadelphia is one of just a few cities with multiple centers offering access to the latest clinical trials for cancer.
"People often don't recognize what a gem Philadelphia is for cancer care and what a major player our NCI-designated cancer centers are for cancer treatment discovery," says Karen E. Knudsen, executive vice president of oncology services at Jefferson Health and enterprise director for its Sidney Kimmel Cancer Center.
But even having clinical research hubs in your city doesn't mean they're necessarily convenient to where you live or offer trials that address the type of cancer you have. So instead of housing all its cancer-care services in one central location, the team at SKCC developed a strategy that delivers all the system's cancer services through advanced-care hubs located in neighborhoods in and around the city. In the past two years, Jefferson Health has opened three advanced-care hubs — satellite centers that offer cancer treatments and trials in Abington, Torresdale, and Washington Township in New Jersey, in addition to its existing services in Center City. SKCC experts and cancer specialists rotate through each hub as needed, and all four advanced-care hubs offer clinical trials that are specifically tailored to the needs of each community.
"We study the patient population and make sure we have clinical trials that match that patient population available at that neighborhood hub," Knudsen explains. In Torresdale, for example, which has a high percentage of smokers, SKCC offerings include tobacco-related trials for bladder and pancreatic cancer and low-dose computed tomography (CT) screenings and trials for lung cancer.
"I could have the greatest trial in the world, but if I'm only opening that trial in Center City, I'm not doing my job," Knudsen says. "If patients live in the Northeast, the answer isn't making them travel downtown because that's the only place we offer the cancer care or trials they need — it's offering those services right in their community."
This rang true for Horsham resident Mark Winnett, 63, who underwent surgery to have a portion of his prostate removed after he was diagnosed with cancer in March 2019 at Thomas Jefferson University Hospital in Center City. When a subsequent screening test couldn't rule out the possible spread of cancer cells to other parts of his body, Winnett pursued post-operative radiation therapy at the Asplundh Cancer Pavilion, Jefferson Health's advanced-care hub in Abington. The proximity to care mattered for ­Winnett not only because he'd have to visit the site for more than a month, but because his type of radiation therapy required that he have a full bladder at the time of treatment.
"It wouldn't be very practical to take the train downtown every single day, layering on top of that having to manage your bladder," he says. "To drive 10 minutes every morning to this modern facility with all the latest equipment and have top-notch surgeons, radiation oncologists, medical oncologists, and a lab right there — it's absolutely wonderful. It made a huge difference in my quality of life."
According to Knudsen, few cancer centers have the capacity to deliver care and trials through multiple hubs. Jefferson has managed the new method by meeting with community stakeholders and establishing a community advisory board to understand their needs as well as studying data on cancer incidence and mortality in different neighborhoods, so doctors can provide the right expert or trial at the right place and time.
SKCC is currently offering 17 first-in-human clinical trials for different types of cancer. Patients can get general information about clinical trials at SKCC by contacting the Sidney Kimmel Cancer Center Clinical Research Organization at 215-955-1661.
Speed Up Radiation — and Reduce Side Effects — With FLASH
For many patients, radiation therapy is a lengthy and inevitable part of the cancer treatment journey. To receive a complete course of the high-energy photons, electrons or X-rays that destroy cancer cells, patients are typically required to visit a treatment center daily for three to nine weeks. Radiation therapy is designed to kill cancer cells only, but often, it affects healthy cells as well, causing a range of side effects from headaches, nausea and vomiting to long-term problems like heart damage and loss of memory or speech.
Researchers at the Abramson Cancer Center of the University of Pennsylvania believe they've found a way to deliver an entire course of radiation therapy in less than a second (yes, you read that right), with fewer side effects than traditional radiation. It's called FLASH radiotherapy, and it uses powerful accelerator machines to deliver protons (positively charged particles) that destroy cancer cells by damaging their DNA. Penn is home to one of 96 proton therapy centers in the world — 37 of which are in the U.S. — and it's the only one of its kind in Pennsylvania. In January, Penn's team became the first to publish findings showing that using protons at the quick FLASH speed is less toxic than traditional proton radiation but is as effective at tumor reduction.
The technology could have a tremendous impact on cancer treatment as we know it. According to Penn cancer researcher James Metz, 60 percent of people who are diagnosed with cancer will undergo radiation at some point in their treatment.
Metz, who serves as the chair of radiation oncology at the Perelman School of Medicine and associate director for clinical services and programs at the Abramson Cancer Center, is leading a team of researchers that hopes to demonstrate the safety of FLASH in human clinical trials by 2022.
The team has already studied the treatment in mice and is currently in partnership with researchers at Penn's vet school, conducting clinical trials for dogs diagnosed with osteosarcoma, an aggressive cancer that appears in the bones of large-breed dogs. So far, these animal studies indicate the treatment can destroy malignant cells while limiting damage to surrounding healthy tissue.
"What we're seeing in the animal trials is that the tumor responds in the same way as with conventional radiation, which is important. But we're also seeing a significant reduction in side effects, even though we're delivering it all in this very rapid course," Metz explains. "Being able to do this with fewer side effects than we would see with traditional radiation — that has the potential to be a huge game changer."
When All Else Has Failed, Access a Brand-New Treatment Through the Power of Light
For decades, oncologists have been testing the use of photodynamic therapy (PDT) to treat various types of cancer. The treatment involves administering a drug called a photosensitizer through the veins and into the bloodstream or on the skin, then exposing the treated area to specific wavelengths of light. When the drug is exposed to light, it produces a form of oxygen that kills nearby cancer cells.
PDT works just as well as surgery or traditional radiation therapy in treating some types of cancer, but it has its share of limitations. One major constraint is that it can only treat areas of the body that light can reach. It's most useful for cancers that develop on or just under the skin or on the outer linings of certain organs; it can't be used to treat cancers that develop deep within organs or those that have spread to many places in the body.
Researchers at the Fox Chase Cancer Center at Temple Health are pioneering the use of radiodynamic therapy (RDT) to treat a range of cancers located anywhere in the body. RDT employs the same reactive drug used in PDT, but rather than light, it directs Cherenkov radiation, a type of high-energy electromagnetic radiation that can only be produced using a specialized accelerator machine called a racetrack microtron.
Fox Chase Cancer Center is home to the only racetrack microtron in North America. Researchers there are using it to conduct studies in mice with hopes of proving that Cherenkov radiation is capable of penetrating beyond the areas of the body that PDT can reach. Their latest study found the treatment was successful in delaying tumor growth in mice that had been injected with human prostate cancer cells.
In May, the researchers and clinicians began enrolling patients in a phase-one clinical trial to determine the ideal doses of both the drug and the radiation for RDT to be safe and effective. The trial is open to anyone with a recurrent cancer in the head, neck, chest, abdomen or pelvis that hasn't responded to standard or other investigative treatments. (Patients interested in participating in or getting more information about eligibility for this trial can call Fox Chase Cancer Center at 215-214-1515.) The Fox Chase Cancer Center team's study is the first American investigation of the treatment in a formal clinical-trial setting. The treatment has otherwise only been tested at a medical facility in China that the Fox Chase team visited and where they reviewed unpublished data showing that it has been tolerable in as many as 1,000 patients. If proven safe, says Eric Horwitz, chair of the department of radiation oncology at Fox Chase Cancer Center, RDT would be a leap forward for cancer treatment in general and a particularly encouraging option for patients with few to no treatment options left.
"Even though the radiation is very high-energy, it actually doesn't require that much radiation to activate the drug," Horwitz says. "And we believe that even if patients had previous radiation, they can still take advantage of this, because it actually uses very low doses of radiation. Even if they're told, 'Your cancer came back,' it's important for people to know there are still options. This could be one of those options."
Published as "Cutting-Edge Care Is Changing Everything" in the "How to Conquer Cancer in Philly" guide in the November 2020 issue of Philadelphia magazine.
---
---