Ask Foobooz Anything
Want to know where to take your in-laws when they're in town? Want some date night ideas? Let us be your guide.
---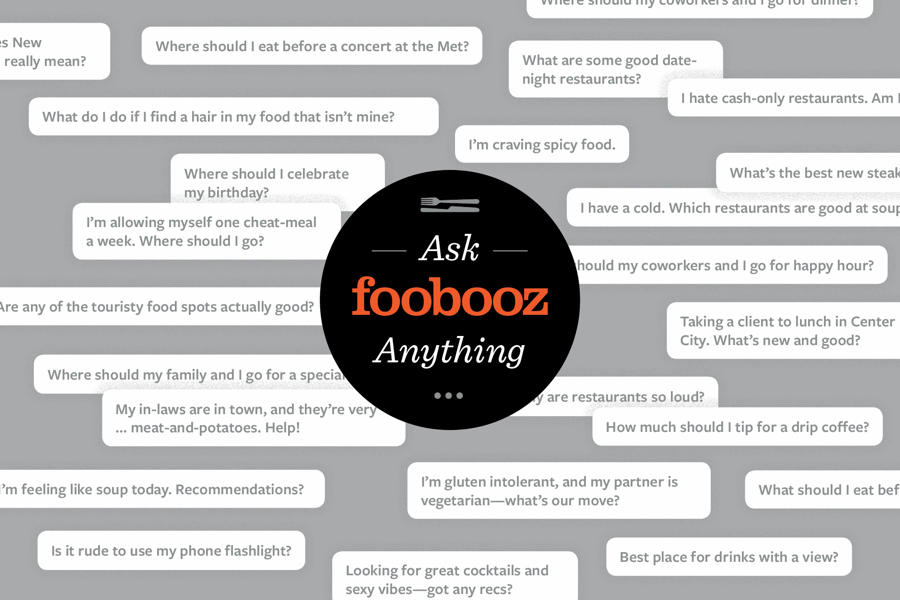 Do you have a specific question about restaurants in Philadelphia that you're dying to have answered? Need a restaurant recommendation for a specific event? You're in luck. Starting this Thursday, the Foobooz team will answer your questions each week, so you never have to spend hours on Google trying to find an appropriate restaurant for the occasion.
Here's how it works: Send us your questions via Instagram message, then check our Instagram story on Thursday afternoons to see if we answered your question (we'll tag you in the story when we answer your Q). If you miss it, we'll save past questions in our highlights, so they'll be available longer than 24 hours. Make your questions as specific as possible — let us know about food allergies and neighborhood preferences, price points and cuisines you're interested in. You can also ask us for dining advice, like when it's appropriate to send food back, or how to order a good bottle of wine.
Why are we doing this? Because we want to offer our readers more specific, tailored restaurant advice that will help you enjoy the food Philadelphia has to offer. We're the people that our friends always ask about where to eat for every occasion, and now we're hoping to offer that expertise to a wider audience. Not all heroes wear capes.
---