News
First Look: K'Far, CookNSolo's Bakery and All-Day Cafe in Rittenhouse
Take a peek inside and check out the menu at the new bar and restaurant helmed by James Beard winner Camille Cogswell when it opens later this week.
---
K'Far, Michael Solomonov and Steve Cook's long-awaited cafe and bakery, has an opening date. The 76-seat all-day restaurant, helmed by executive chef Camille Cogswell, will open in the Harper at 19th and Chestnut on Wednesday, July 31st.
The concept — its name means "village" in Hebrew — was inspired by Israeli bakeries; Solomonov's first kitchen job was at a bakery called K'Far Saba in his hometown, just outside Tel Aviv. Cogswell, who in 2018 became only the second pastry chef ever to win the James Beard Foundation's Rising Star Chef Award for her work at Zahav, will head up K'Far along with chef de cuisine Troy Wilson.
Along with baked goods like rugelach, babka, borekas, and sticky buns, K'Far will serve grain bowls and salads on its all-day menu, with challah available to purchase on Fridays. The cafe will also offer toasts and sandwiches on Yemenite kubaneh bread and long, oval-shaped Jerusalem bagels baked in-house. Coffee drinks will be made with beans sourced from local roaster Ox Coffee.
For now, K'Far will serve the all-day menu at the counter during morning and afternoon hours only. Midday and evening service, along with a slate of entrees — like Turkish stuffed eggplant with coffee-braised beef, pine, nuts, and tehina and a lamb shank braised in sour cherry juice and served with pickled rose petals, pistachios, and saffron rice — will roll out later in August.
At that point, the all-day menu will be available until 3 p.m. A separate midday menu will be available from 3 p.m. until 5 p.m., when dinner and table service kick in. Drinks-wise, the bar will pour low-proof, aperitif-style cocktails.
Also in progress from the CookNSolo crew: Laser Wolf, an Israeli grill in Kensington, and Merkaz, a sandwich shop on the 1200 block of Sansom Street.
K'Far is located at 110 South 19th Street. To start, hours are 8 a.m. until 3 p.m. daily. Once the midday and dinner menus roll out, it'll be open Sunday through Thursday from 8 a.m. until 10 p.m. and 8 a.m. until 11 p.m. Friday and Saturday. Check out the all-day menu below (click to embiggen).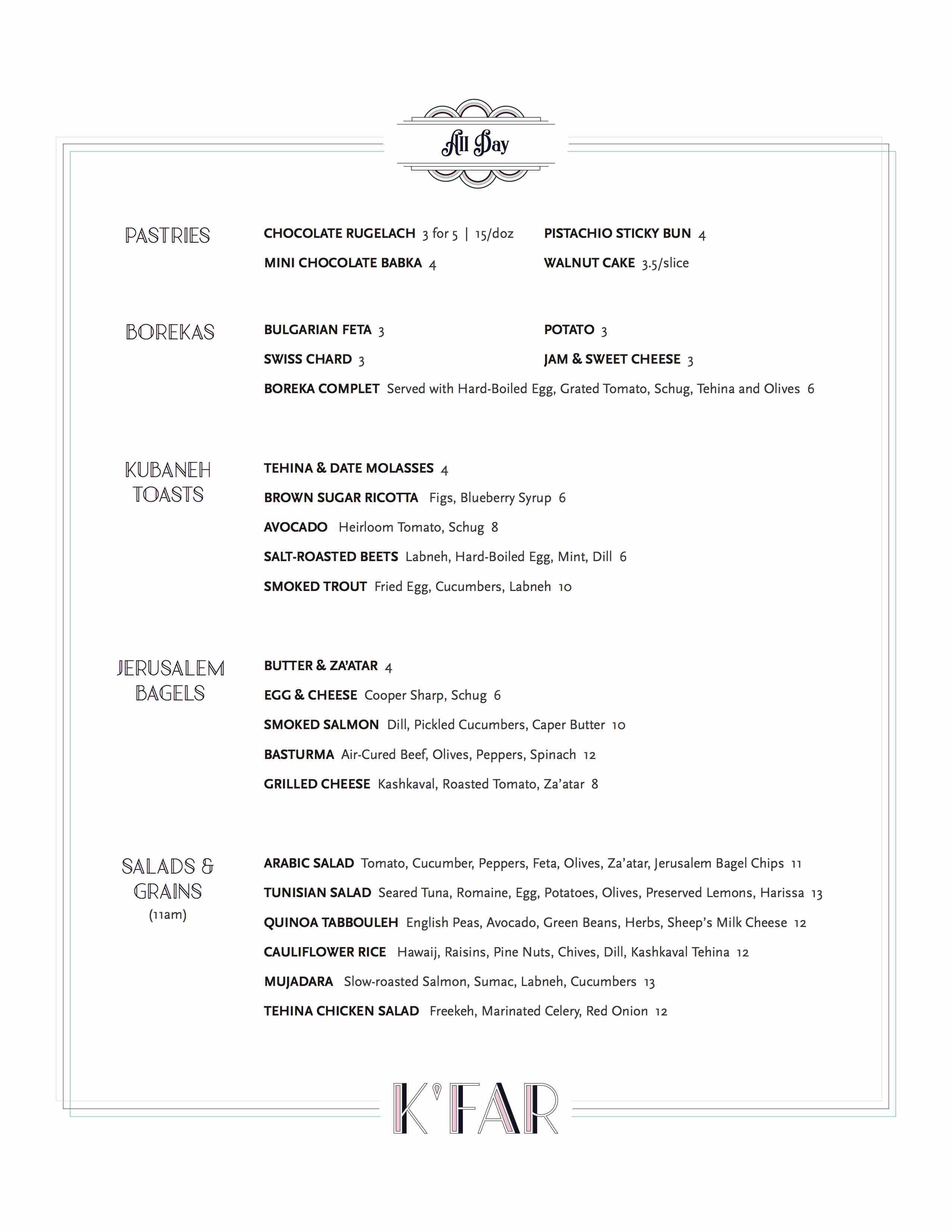 ---
---