News
Center City's New Pink, Plant-Filled Wine Bar and Restaurant Is Ready for Your Instagram
Get a peek at the menus and interior before Blume opens with natural wines and draft cocktails, street food-inspired small plates, and vegetable-forward takes on classic dishes later this week.
---
Last month, we told you that Blume, a natural wine and cocktail-focused bar and restaurant, would replace cider-heavy sports bar Cinder (1500 Locust Street). Now, Blume will open, in all its pink-and-purple, flower-emblazoned, Instagram-ready glory, at 4 p.m. this Thursday, April 25th.
Blume's 2,400 square-foot space features a 35-foot bar, with seating for just under 100 inside and 12 sidewalk seats during warm weather. Owner Teddy Sourias of Craft Concepts Group had the Blume concept ready when he temporarily closed Cinder for renovations earlier this year; once the crew started making changes, they decided Blume would be the best fit for the space.
Every surface at Blume not decked out in Millennial-friendly blues, purples, and pinks is covered with flowers, whether they're printed on the ceiling, painted on the plates, or — like more than 2300 velvety, pastel pink faux roses — clustered on the walls amid jewel-toned mirror panels. Tongue-in-cheek wallpaper printed with flower bouquets that include security cameras set against yet more pale pink covers one section of Blume's east wall. A giant butterfly decal graces the front window.
Cinder's host stand has been replaced with a small lounge area enclosed by a low wall, with a huge U-shaped banquette in the center of the space. Purple lights illuminate around 200 potted plants hanging from the light fixtures, walls, and ceiling, where they're interspersed with two installations of the restaurant's name spelled out in lights. Victorian-themed prints in gold frames line the walls, and even the bathroom stall doors are covered in alternating lilac and turquoise paneling.
This Instagram-ready look comes from Anne White, who also designed Tinsel and did the forthcoming redesign of Craft Concepts' Uptown Beer Garden. While Blume rejoices in colors and flowers rather than an over-the-top holiday kitsch, it's hard not to think of the restaurant as Tinsel, but for some combination of Easter and Earth Day.
The space still includes an open kitchen, where head chef Aila DeVowe, a veteran Philly chef whose resume includes work for David Ansill, Stephen Starr, and Peter McAndrews, has built out an eclectic menu of street food-inspired small plates, flatbreads, and hearty classics balanced with veggies and whole grains.
The menu's not quite finalized yet, but entrees include ricotta gnocchi with cauliflower, chilis, and pine nuts over saffron celery root puree, a creamed strip steak with braised greens, and salmon with quinoa, beets, and a horseradish vinaigrette.
At the bar, they'll pour exclusively natural wines, with four varieties on draft and an extensive selection by the bottle or glass, plus eight draft cocktails. Twenty beers and a handful of ciders round out the list.
Blume opens at 4 p.m. on Thursday, with hours from 4 p.m. until 2 a.m. Monday through Thursday and noon until 2 a.m. Friday through Sunday. They'll roll out a daily lunch program, weekend brunch, and happy hour in the coming weeks. Check out the dinner and drinks menus below.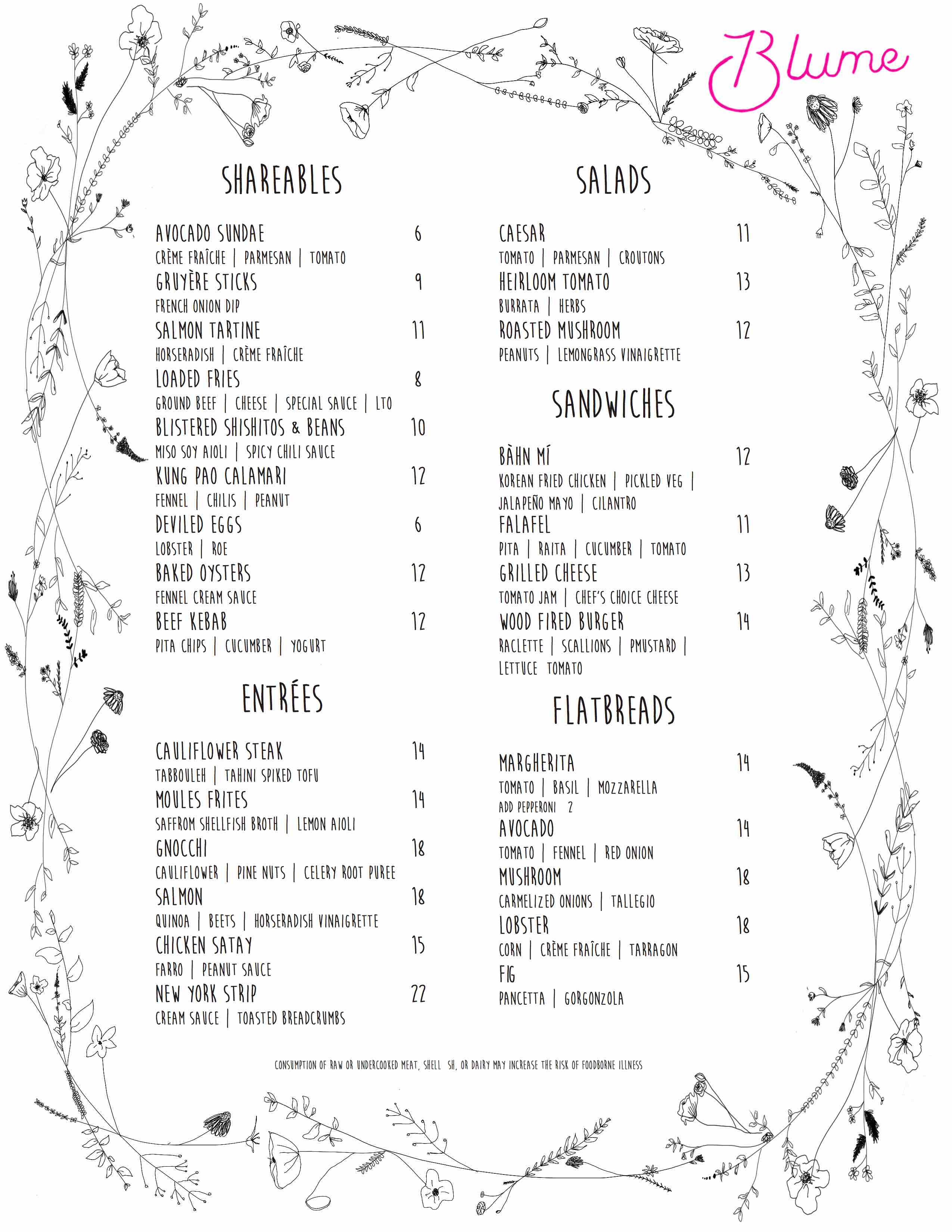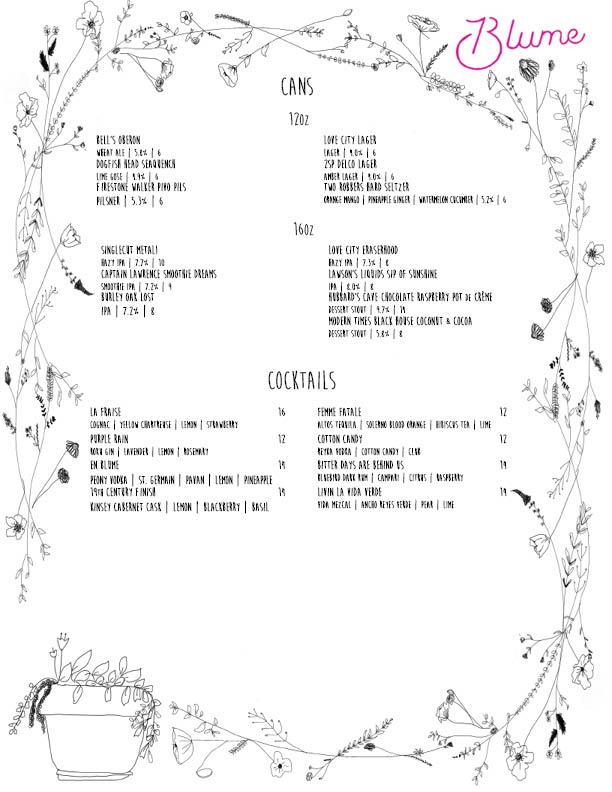 ---
---