Lalo's Neal Santos Brings a Filipino Party to the Next Hungry Pigeon Cookbook Dinner
Santos will present dishes from Milk Pigs & Violet Gold, Bryan Koh's tome on Filipino cuisine, in the next installment of our collaborative cookbook dinner series later this month.
---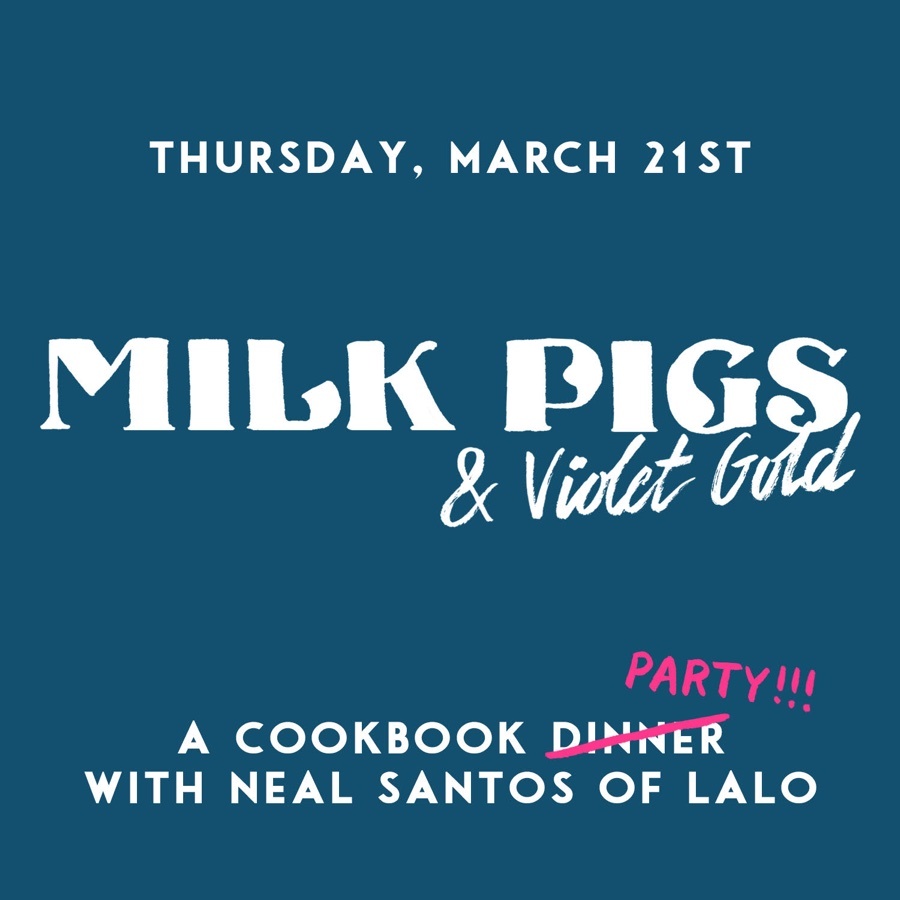 All winter long, the Foobooz crew has been teaming up with Hungry Pigeon to present a series of collaborative dinners featuring some of Philly's top chefs serving menus from their favorite cookbooks. Next up is Neal Santos, photographer and one-third of the team behind Lalo, who's spotlighting recipes from a favorite Filipino cookbook.
On Thursday, March 21st, Santos and Hungry Pigeon are throwing a cookbook party featuring dishes from Milk Pigs & Violet Gold, an award-winning deep dive into Filipino cuisine by Singaporean author and bakery owner Bryan Koh. It's a rare volume printed in the Phillippines that you can't get here without paying exorbitant shipping fees (an updated and expanded version that clocks in at more than 500 pages, Milkier Pigs & Violet Gold, comes out in April.)
A percentage of proceeds from the evening will be donated to The Red Whistle, a nonprofit in the Phillippines promoting increased awareness of the HIV/AIDS epidemic among queer youth and communities through education and social media.
Check out the full menu for March 21st below (the bar will be serving some fun cocktails to go along with it). Dishes will be served à la carte and there are no reservations for this cookbook party, so we recommend showing up early to grab your seat.
MILK PIGS & VIOLET GOLD
A Cookbook Dinner Hosted by Neal Santos of Lalo
SMALL PLATES
PAN DE SAL
TORTANG TALONG
egg-battered eggplant
SISIG
fried pig head salad
ESTOFADONG PATO SA SABA
soy-braised duck with fried saba
GINATAANG LANKA
green jackfruit cooked in coconut milk
ENSALADANG TINANGKONG
sweet potato leaf salad
KINILAW NGA TANGUIGUE
spanish mackerel civiche
KINLAW NGA PUSO NG SAGING
banana heart salad
LARGE PLATES
all served with yellow rice & green papaya pickle
INSARABASAB
marinated char-grilled pork
ADOBO SA GATA
chicken adobo with coconut milk & turmeric
NIBULIHAN
seafood cooked in coconut milk with corn
PASTRY
ENSAÏMADAS
coil buns with salted duck eggs
PILIT ITIM
sweet black rice pudding served with mango ice cream
---
---