Eat Here Now: SuGa
At this point, almost a year after a one-star review, SuGa might be one of the most creative restaurants in Philly.
---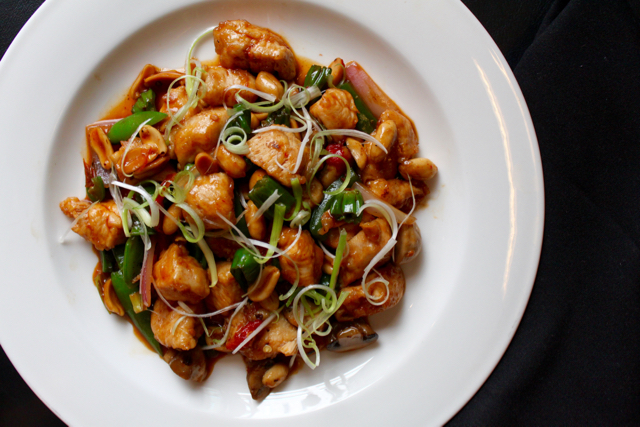 I did not like SuGa when I reviewed it almost a year ago. I gave the place a single star and described it as, in part, "dated Asian fusion cuisine that harks back to the glory days of Susanna Foo mixed with an incomplete vision of an International/Italian/Asian fusion cuisine mars the return of one of Philly's most celebrated chefs."
It was rough. And I debated that single star for a long time. But what ultimately made up my mind was that while Foo is a pro and the restaurant itself was highly polished and completely on its game, the food coming out of the kitchen felt (and tasted) like an as-yet unfinished experiment in modern fusion or a culinary journey for which there was no real map. In the moment, I walked away disappointed, confused and a little bit depressed.
And yet.
I couldn't stop thinking about the place. Or talking about it. For a year, I've been fascinated by what I've come to see as a bold and risky attempt by Foo at forging something as new and as groundbreaking as her French-Asian fusion cuisine was decades ago. It's kinda crazy, and I respect the hell out of that. It's also one of those things that might be amazing if it ever succeeds.
So anyway, while I'm not saying that SuGa has suddenly become one of the city's great restaurants, I am absolutely saying that it is a place worth keeping an eye on – particularly if you're interested in that ragged intersection between culture, food and desire. And there are even some things on the menu right now that are totally worth eating. So if you were as disappointed with the early days at SuGa as I was, here are a few reasons why it might be time to give the place another chance.
1. The past is the past.
First things first. This was the nut of my problem with SuGa a year ago:
"There was a time when Susanna Foo (the restaurant) was one of the hottest destinations in the city, when Susanna Foo (the person) was rewiring the brains of Philadelphia gastronauts who were just wrapping their heads around the notions of Chinese as an upscale cuisine and Asian fusion as a thing. She made kung pao chicken famous in Philly, turning it into something she owned the way Han Dynasty does dan dan noodles or Sweetgreen does vaguely disappointing salads. And while, reading that sentence now, you might think no one should be lauded for making kung pao chicken famous, you're wrong. Foo pioneered French-Asian fusion and refined Chinese food at a time when every other chef of note in the city was ignoring pretty much everything in the world east of Venice and Strasbourg. The problem is, she's still doing the same thing today."
And all of that is still accurate — except the last line. The current menu at SuGa still has kung pao chicken and shaking beef, but those old Susanna Foo dishes are now like a history lesson, overshadowed by newer, weirder attempts at forging a connection between Chinese and Italian cuisines, between Chinese and Thai, Chinese and Mexican, Chinese and everywhere.
2. The dish.
The popcorn pork ravioli in brown butter sauce are still worth going for all on their own. Seriously, I could eat a bowl of these things every day for a week and still come back on the eighth day and ask for more. This very-un-Chinese appetizer was the thing I loved most at SuGa a year ago, and remains one of my signature arguments in defense of letting this kitchen experiment today.
3. SuGa has a killer happy hour.
Two of them, actually. Monday to Friday from 5-7 p.m. and Friday and Saturday from 10 p.m. to midnight. We're talking $4 beer, $5 Junmai Ozeki sake (if that's your kind of thing), dan dan noodles for $7, wasabi hummus with wonton chips for $5, and the aforementioned popcorn pork ravioli? They're on the board, too, for just a five-spot.
4. Oh, and brunch, too.
A dim sum brunch on Saturdays and Sundays which, again, stretches the idea of both dim sum and brunch by offering everything from wild mushroom dumplings with truffle emulsion and yellowfin tuna tacos with avocado and chile, to an English cucumber salad with brined edamame or Maryland crab egg fu yung with asparagus and shitake mushrooms. And honestly? Those aren't even the strangest dishes on the menu.
5. Something new.
One of my big complaints about where we are as a food city right now is the amount of sameness in our scene. Go out to eat often enough and you're going to start running into the same dozen dishes done the same way by kitchen after kitchen after kitchen. Crudos, things with egg on top, badly done Thai food — all of these are things that have become staples of Philadelphia dining. As a city, we find things we like and then over-do the hell out of them. Remember back when all anyone wanted was a ramen shop in Philly? Or how about when retro American cuisine became a thing for about five minutes? Exactly. But at SuGa, I can guarantee you that you'll find something unique. Something daring. Something that might be terrible, or nonsensical, but that will also be absolutely original. More than half of what's on SuGa's menu, I've never seen anywhere else. And that, my friends, is badass. And worth supporting.
SuGa [Foobooz]
Eat Here Now [Foobooz]
---