First Look: Clarkville
---
There is no shortage of pizza in Philly, but pizza is kind of like a park. It inspires loyalty, kids love it, and no matter how many there are in the city overall, each neighborhood is a better, happier place because it is nearby.
Just a few weeks ago Brendan Hartranft, Brendan Kelly and Leigh Maida opened a pizza shop at the corner of West Philly's most beloved park. Clarkville is the light-flooded result of taking the former Best House Pizza (and the apartments above it) at 43rd and Baltimore—just across from Clark Park—down to the studs and starting afresh. Brighter than their nearby gastropub, Local 44, the new space is expansive, family-friendly, and definitely plays to their strengths.
Chef Justin Bennett, also the longtime chef at Local 44, is putting up pizza after pizza with a pilsner malt-infused dough in the new space. The resulting 6-slice pies are a great value at $11-14 bucks each. The farmer pie matches cheddar, mozzarella, and pecorino with broccoli rabe. There's the pork pie with spicy guanciale sauce, peppadews, ricotta, oregano and chili; the white pie has whipped garlic ricotta, roasted mushrooms, and lemon; and then there are pies with classic flavors like the Sal's famous with tomato, pecorino, and aged mozzarella. Order a pie with fresh mozzarella and you'll get cheese stretched in-house, or, if dairy isn't your thing, and this is West Philly, after all, opt for vegan Daiya cheese instead. They've also just added a 12-inch no-frills kids pie for 7 bucks to please the littlest pizza-lovers.
Bennett's got moves beyond the pizza, too, and his shareable small plates are where you see a little more sophistication. The picnic board features a rotating collection of snacks such as pickled shrimp, pig head terrine with dill pickles and dijon, and tiny pimento cheese sandwiches. Make a meal of a pizza and a big salad either of chicory with blue cheese or cauliflower with kale, radish, pickled onion, and black pepper vinaigrette. You wouldn't think that a humble bowl of spaghetti with pork ragu could be brag-worthy, but Bennett's version, a homely lump topped with grated pecorino will put any weeknight supper of jarred pasta and spaghetti into deep, deep shame. Not about that carbohydrate life? Keep things light with citrus-loaded spicy grilled shrimp with pickled fennel, preserved orange, arugula, and chili oil.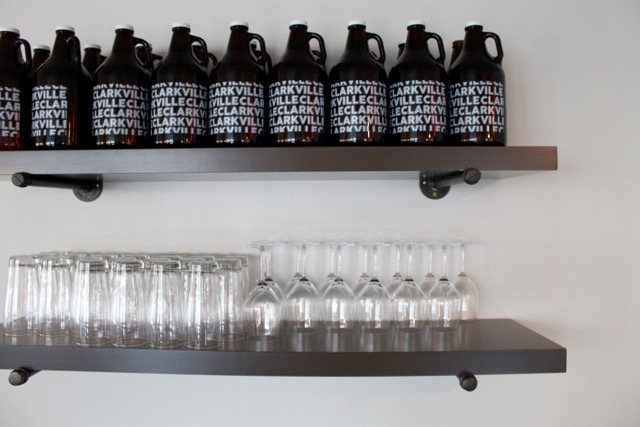 The taps, as always at Hartranft and Maida's places, are impressive, and Clarkville is poised to be a comfortable home-away-from-home for many a West Philly resident. Starting this weekend they're adding brunch as well, so stop by for a skillet of garlic-tomato shakshuka, a brunch pizza with bacon, arugula, and hollandaise; or a caramelized onion omelette for two.
When you're done? Take a walk in the park. Like the pizza at Clarkville, you'll be happy its there.
Clarkville [f8b8z]
---