New Fast-Casual Spot Vegan-ish Offers Healthy Alternatives in West Philly
Vegan-ish is on a mission to make finding plant-based food in West Philly just a little easier.
---
At Vegan-ish, just north of Girard Avenue on 52nd Street, you can order delicious veggie options like a chickpea burger samosa, fried brussels sprouts, and buffalo cauliflower. (For you pescatarians out there, you can also get a savory blackened salmon burrito.) The restaurant, which opened last month, has inviting, minimalist decor, with a Muhammad Ali quote on the wall and pretty wood and stonework on the walls.
Philadelphia resident and owner Llamar Ingram's vision was to bring quality fast-food options to the West Philly community. Ingram, who has been a vegan for the past three years, had long ago cut beef, pork, and chicken from his diet following a high school bout with illness after eating a cheeseburger. Since he lives a plant-based lifestyle himself, he wanted to provide more options for others to do the same — and still feel like they were indulging.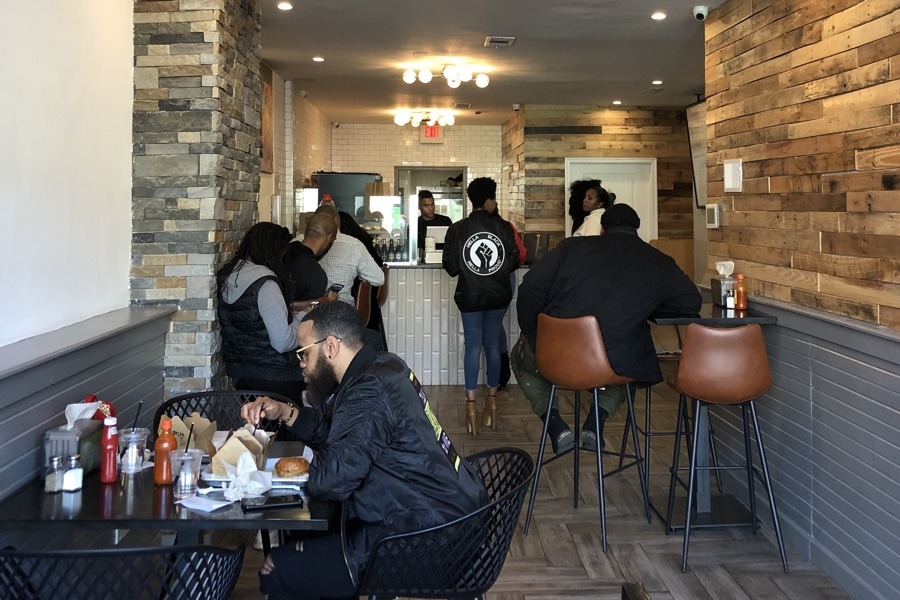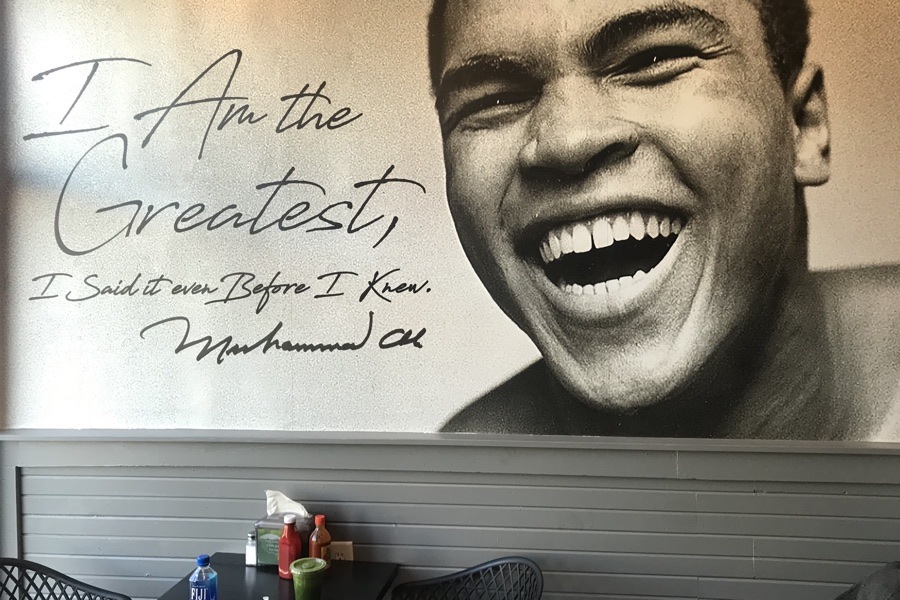 So what exactly constitutes as vegan-ish, you ask? Well, to reach a larger audience, Ingram decided to include pescatarian options on his menu. The Bangin' Blackened Salmon Burrito (caesar salad, shaved radish, salmon, and fried capers on a flour tortilla) is just one of the four options containing seafood. So, it's vegan — kinda. The only thing that isn't vegan on the salmon burrito is the seafood itself, which has a complete kitchen separation from the other entirely-vegan dishes.
The menu also includes sandwich options like the "Philly Special" (which includes long hots, caramelized onions, and non-dairy cheese on an Impossible Burger), the Fried Cod Fish Sandwich, and the Chesapeake Crab Cake Sandwich.
View this post on Instagram
"We want a quick burger and fries but we don't want to feel guilty after the last bite," the restaurant's mission statement reads.
Other options range from the Bella Mushroom sandwich to "giant avocado toast" to a Vietnamese hoagie made with grilled eggplant. For even lighter orders, salads, fast snacks, and "Green–ish" (spinach, black kale, banana, apple, pineapple juice) smoothies and shakes are also available. Everything offered is relatively affordable (that Vietnamese hoagie? $8!) and leaves you feeling satisfied.
Vegan-ish is open from 10 a.m. to 8 p.m. weekly and can be found on Instagram at @veganishphilly and on 1214 N. 52nd St. Oh, and important to note: there are vegan cupcakes. Because who doesn't love cupcakes?
Want to hear more from us? Join Be Well Philly at:
FACEBOOK | INSTAGRAM | NEWSLETTER | TWITTER
---