Why You'll Be Glowing When You Walk out of This Manayunk Spray Tan Studio
Sasha Fedunchak, owner of Vacay Beauty, makes sure the spray tan experience empowers and bronzes you.
---
The first thing I notice when I step into Manayunk's six-week-old Vacay Beauty is a rainbow of color.
The couch is eggplant purple, the plush rug an Easter egg blue. A part of the wall that's covered with fake grass is the emerald green of a golf course that's just been watered. The walls, and the backdrops of the photographs featuring real Vacay Beauty clients with dimples and wrinkles and tan lines, and the fridge owner Sasha Fedunchak splurged on from Walmart.com are all various shades of pink — cotton candy, magenta, rose.
When I step into the back room, where Fedunchak runs her spray tanning operation, though, it's all the nakedness that stands out. There's a neon sign shaped like a butt. Prints of butts and boobs hang on the wall. Leaning against one wall is a tall selfie screen collaged with subversive images and phrases, like "I have cellulite and I'm hot" and "Get naked" and "A woman on her own isn't waiting for you." A few squares over, Barbie smokes a cigarette, and Frida Kahlo flashes some breast.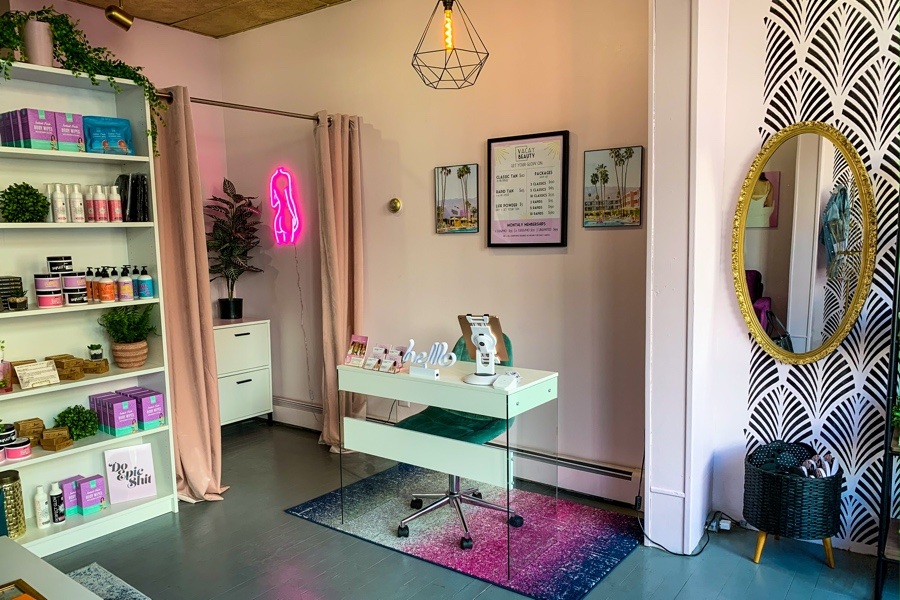 "A lot of what you see from spray tanning is the same thing — the Instagram model, perfect bodies, things like, 'Help me, I'm pale' — all this bullshit that I never bought into," Fedunchak says. We're sitting on her vibrant furniture sipping rosé, an amenity she offers to all her clients, as the 31-year-old East Falls resident explains her gripes with the stereotypical spray tanning experience. "If I was going to do something like this, which is totally outside of my comfort level (I'm not a beauty girl, I'm not a spray tan girl), I thought I wanted to do it in a way that's really going to speak to a different audience and be more about empowerment and education than just about superficial aesthetics."
Fedunchak could be your standard spray tan girl — her wavy blonde hair and bronzed skin lend a grown-up Coppertone girl vibe, and her background in communications and marketing means she knows how to sell herself and her business. But it's clear she has a transgressive streak. She got a sleeve of tattoos, which peeks out beneath her slouchy hunter green sweater, because she initially wanted to be the person with the big corner office who could also rock some serious ink. And just a few minutes of conversation reveals an interesting dichotomy: It seems like she both cares deeply about spray tans and doesn't care at all.
For instance, Fedunchak nerds out about the science behind the whole spray tan process. "The reason people turn orange or used to turn orange is that the sugar water could be chemically derived or very low-quality," she says. She's talking about dihydroxyacetone (DHA), the simple sugar that temporarily stains your skin to create the spray tan effect, and explaining why those who come to Vacay Beauty shouldn't have to worry about looking like Ross in that memorable episode of Friends when they step out from behind her curtain.
"If it's mass manufactured and super low-quality, that's why you turn crazy colors," she says. "Another reason you could overdevelop or get that orange tint is if you get too much. If a first-timer came in and said, 'I want to be ultra dark,' and say I didn't know what the hell I was doing and was like, 'Sure, Mary Clare,' your skin would be like, 'Whoa, whoa, whoa, that's way too much.'"
Yet Fedunchak mostly talks candidly about empowerment and how "it's OK that you want to feel beautiful or you want to feel good, whatever adjective you want to use" and how she can create a space where "no matter what you look like, what you've got between your legs, how old you are, you're welcome here."
"I guess, having been a person who, like many women, deals with perfectionism, has dealt with eating disorders, has dealt with body dysmorphia, the whole gamut when it comes to putting our worthiness on what we look like," Fedunchak says, "I wanted this to be about empowering not just women but anyone who comes into my store or lets me spray tan them. I became more passionate about the brand and the opportunity to share that message than I ever really cared about a spray tan itself."
At this moment, I should have pulled on the thread attached to the more personal details of her life that she'd dangled. But it's getting dark out, and I am tired, so I ignore the hint. We talk instead about how much Fedunchak hated the corporate world; how a friend who'd had a few drinks suggested she start a mobile spray tanning business, which eventually became this brick-and-mortar shop; and how she creates an experience for her clients through the detailed pre-treatment instructions she gives as well as thoughtful gestures like wiping off her clients' fingernails and providing nose plugs.
Or why she uses the product line, Perfect Glow, which mixes naturally derived DHA squeezed from sugar beets with nourishing botanicals like white and green tea extract to pamper your skin instead of just color it. (There's even a clear version for those who are allergic to colored dyes that Fedunchak plans to stock up on soon.) It's not exactly to her specifications — she hopes to eventually develop her own line of spray tans — but the variety of shades and the number of clean ingredients makes her confident that it'll help her clients feel beautiful.
This makes me wonder about all the reasons why people might get spray tans. Fedunchak says lots of folks come in before a vacation or a big event like a christening or a wedding. But some simply like a healthy artificial glow. "They want to feel better for a certain occasion," Fedunchak says. "Sometimes that occasion is just life."
We start wrapping up, and I say what I always say at the end of interviews: "Is there anything else that's important for me to know?" Fedunchak hesitates, and then the barrier between her professional and personal sides completely falls away. "I personally am an immigrant to this country," she says. "We came over from what was Soviet Union, then Ukraine, when I was about five years old. My whole life we've lived in tiny apartments or we've been homeless or we've lived in a car. I have the typical immigrant-used-to-eat-cereal-with-water story, which I won't bore you with… But we've always had nothing.
So, this space to me feels like home, even though it's so DIY. That's why I wanted a couch, why I wanted a fridge, is 'cuz I wanted people to come here and feel like they're in someone's house and really taken care of in that way. When I thought about how I would do [the spray tan business] differently, I would do it to make people feel like they're accepted and at home — I guess because, for most of my life, I did not feel that way."
I cock my head, take a deep breath, and thank the reporting gods that this courageous woman has done my job for me today. As Fedunchak takes me around Vacay Beauty and points out various items — the old mirror her mother gave her that she spray-painted gold because it was a weird color, the chic containers she bought at a thrift store to hold chocolates and trinkets, the ceiling she hand stenciled herself — I understand for the first time, even though she'd told me repeatedly in different ways, that Vacay Beauty is not just a spray tan studio.
Embedded in the paint and the glitter and the bright colors are all the times Sasha Fedunchak was bullied for her skinny frame and large head and unfamiliar accent and the fact that she lived out of a Honda Civic for a while. The smoking Barbie is a middle finger to all the power that was taken away from her and the years she tried to get it back by not eating enough and the subsequent years of therapy and job jumping it took to find a calling that made her feel fierce and strong. The "Always on Vacay" napkins on her bar cart represent the time when her brothers got in a terrible car accident and she realized she could die tomorrow so why isn't she doing something that lights her up and makes her feel as good as she feels when she's on vacation and goddamn now that's she found that peace with herself, what she'd do to actually have let herself feel that way for the first 30 years of her life.
All of this comes out over the next hour and a half as I listen to Fedunchak's real story. When she asks, I feel compelled to share some of my own trials and adventures, and we sit there way too late on a Wednesday, our glasses of rosé long drained, our voices sore from vulnerability. As I leave the small store, the rainbow flag out front flapping in the night, one of Fedunchak's lines pops back into my head: "It's such a silly thing 'cuz it's a fricking spray tan. But for some reason it's so magical."
---
---