What They're Saying About the Eagles
---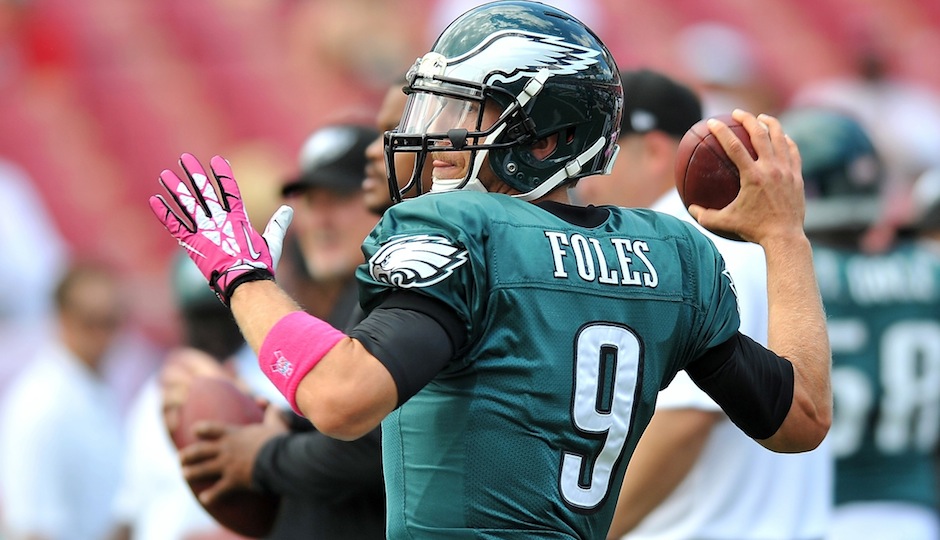 Here's a roundup of what the national media are saying about Chip Kelly, Nick Foles and the Eagles this week.
Peter King of TheMMQB.com thinks Foles could win the job with a good performance against the Cowboys:
One of the biggest misconceptions about Chip Kelly as a coach is that he has to have a mobile or running quarterback in order to win. He doesn't. He needs a quarterback who can run an offense at a fast pace, even if that quarterback isn't a runner. What it will come down to for Kelly, I believe, is which quarterback he feels gives him the best chance to win, while turning the ball over the least. If Foles plays well against Dallas on Sunday and doesn't turn it over, I think it could be tough for Kelly to give back the starting job to Vick.
King has the Eagles 14th in his power rankings:
Finally, some impact plays from DeSean Jackson.
Chris Burke and Doug Farrar of SI.com debate the Eagles' QB situation. Burke takes Vick's side:
Vick also lets Kelly keep more of his playbook on the table — one of the main reasons he was the clear No. 1 quarterback for the Eagles coming out of the preseason. Foles' passing numbers have been impressive thus far, but Vick has almost 300 more rushing yards. Obviously, Kelly can work his offense around a less-mobile Foles. Why do that, though, when Vick makes so many more options available?
ESPN.com has the Eagles up four spots to No. 17 in its power rankings:
A good day rushing opened up play-action for Nick Foles on Sunday. Foles was 9-of-12 on play-action passes, including a pair of touchdowns thrown deeper than 35 yards downfield.
Gregg Easterbrook of ESPN.com tags the Eagles for his best block of the week:
At City of Tampa, LeSean McCoy picked up 44 yards on a routine screen action when offensive linemen Jason Kelce and Todd Herremans hustled 20 yards downfield to make blocks. Looked like the kind of downfield blocking Chip Kelly got at Oregon.
Elliot Harrison of NFL.com has the Eagles ranked 18th:
The two deep balls tossed by Nick Foles on Sunday were things of beauty. No offense, but you don't see that brand of downfield touch from Michael Vick. Said it over the summer and will say it again: There's no reason Foles can't play for Chip Kelly or start over Vick. With the latter suffering from a Miles Austin — I mean, a hamstring injury — Foles has the opportunity to prove it.
Pete Prisco of CBSSports.com has the Eagles 15th:
That offense is moving the football, no matter who plays quarterback. Should they stay with Nick Foles?
Brian Billick of FoxSports.com has the Eagles 17th:
The Eagles have won back-to-back games for the first time this season and will host the Cowboys on Sunday. With a win, they will take control of the NFC East.
Mike Florio of Pro Football Talk has the Eagles 14th:
Three years after Mike Vick supplanted Kevin Kolb while he was injured, Nick Foles could be doing it to Vick.
Frank Schwab of Yahoo Sports' Shutdown Corner has the Eagles 18th:
I don't see any good reason for Chip Kelly to turn back to Michael Vick at quarterback. Nick Foles is better for the future, and probably better now too.
Football Outsiders had Foles' performance ranked No. 1 among Week 6 quarterbacks:
Foles used a steady series of jabs to set up a small number of knockout blows. He threw ten passes in the first quarter, none more than 15 yards past the line of scrimmage. He then threw one deep ball in each of the next three quarters, but he made them count, completing them all for 100 yards and two touchdowns. His receivers also helped him out a lot. Riley Cooper and LeSean McCoy each turned passes caught within 5 yards of the line of scrimmage into 40-plus-yard plays.
Follow Sheil Kapadia on Twitter and e-mail him at skapadia@phillymag.com.
Become a fan of Birds 24/7 on Facebook.
---