These Women Winemakers Are Changing How We Think About Wine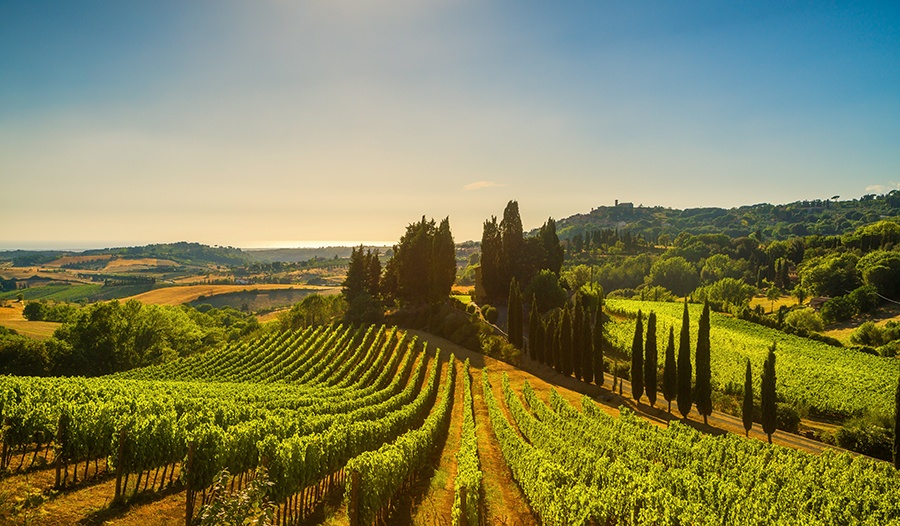 Women have always had a vital role in the history of winemaking. In 2020, they're taking the lead. Here, a closer look at these wine experts pioneers.
Madame Barbe-Nicole Clicquot
Veuve Clicquot, Legendary Owner and Winemaker
IN 1798, BARBE-NICOLE PONSARDIN, the daughter of a wealthy French textile merchant, married François Clicquot, son of her father's competitor and a vineyard owner. (The marriage was an attempt to solidify the union of the two family businesses.) During their brief marriage, François taught his wife the ins and outs of the champagne business and production process, and when he died suddenly in 1805, she broke social barriers by taking over the winemaking enterprise.
The 19th century was not a welcoming time for women in business, but Madame Clicquot exceled thanks to her intelligence, savvy and audacious spirit. She successfully grew the company into a global business and bettered the wine through new production techniques— including her invention of the table de remuage, or riddling table, to clarify champagne, as well as her introduction of the first rosé champagne. She eventually earned the title "Grande Dame of Champagne." Today, Veuve Clicquot—which means "widow Clicquot"— remains a leading champagne brand that's coveted worldwide.

Margo Van Staaveren
Chateau St. Jean, Winemaker
SINCE THE 1970S, SONOMA COUNTY'S CHATEAU ST. JEAN has been a forerunner in vineyard-designated wines, a practice that has been embraced by its current winemaker, Margo Van Staaveren. Celebrating her 40th harvest at the winery in 2020, Van Staaveren has evolved both her career and her expertise here. As the head winemaker, she oversees the final blend and style that's required to produce consistent, high-quality wines in the super-premium and luxury categories.
This includes Chateau St. Jean's extensive portfolio, from vineyard- designated wines to limited-production reserve wines. In 2008, she was named "Winemaker of the Year" by Wine Enthusiast.
Van Staaveren graduated from the University of California, Davis, in 1979 with a B.S. in fermentation science. She launched her career at Chateau St. Jean as a laboratory technician in 1980 and held a number of positions before being named winemaker and general manager in 2003. At the heart of her winemaking philosophy is the art of blending—creating a wine style that remains consistent from vintage to vintage while still allowing the uniqueness of a growing year to shine. Chateau St. Jean wines are appellation blends of a particular varietal, which allow Van Staaveren to blend the distinct characteristics of subappellations to make the best possible wine. She explains: "I find that blended wines from the diverse Sonoma County region are even more explosive in their intensely forward fruit flavors."

Indira Bayer
Wines of Illyria, Founder
ORIGINALLY FROM THE FORMER YUGOSLAVIA, Indira Bayer immigrated to the United States in 1996. Twenty years later, she founded Wines of Illyria, an import company dedicated to bringing wines from the Balkan Peninsula to the U.S. Her goal in starting the company was to create jobs for unemployed youths in Bosnia-Herzegovina, as well as to stop the "brain drain," a critical issue for the country at the time. Bayer also seeks to bolster the region's wine- growing reputation and showcase its long winemaking history. (Illyria is the ancient name for the region.)
Bayer works with wineries large and small throughout the peninsula that craft wines from native grapes like vranac, blatina, plavac mali, zilavka, malvazija, pošip, tamjanika and trnjak. She introduces U.S. consumers to these wines at wine shows, tastings and educational seminars that delve into the region's 2,000-year-old winemaking tradition.

Elena Adell, Clara Canals and Irene Pérez Gutiérrez
Campo Viejo, Winemakers
ELENA ADELL, CLARA CANALS AND IRENE PÉREZ GUTIÉRREZ make up the seasoned trio of winemakers at Campo Viejo in Spain's Rioja region. Led by Adell, chief winemaker and tempranillo expert, these winemakers craft unique wines that add an extra touch to any occasion.
"I believe wine is something to be enjoyed with company," Adell says. "It's an essential part of many celebrations, whether it's sharing joyful occasions or a quiet dinner with friends. I want to make wines that make you feel like drinking another glass." Adell has been involved in winemaking since 1985 and has been working with Campo Viejo since 1998. The granddaughter of a grower, she studied agricultural science in college, specializing in viticulture and oenology. Canals has worked in wine regions around the world, including Australia, South Africa, Argentina, New Zealand and, of course, Spain. Gutiérrez originally set out to be a pharmacist, but her passion and deep appreciation for wine, traveling and the Rioja region brought her instead to Campo Viejo.

Katie Vogt
Louis M. Martini Winery, Associate Winemaker
THE CHANCE TO WORK A HARVEST in her senior year of college led Katie Vogt down the winemaking path. After cutting her teeth in Paso Robles, Vogt brought her winemaking skills to Louis M. Martini Winery in Napa Valley in 2015, where she has earned a reputation for crafting world-class cabernet sauvignon. She was instantly impressed by the valley, the extraordinary vineyards in the region, and the exceptional resources and winemaking at Martini, where she continues to advance her winemaking skills to this day.
This post was produced and paid for by Fine Wine & Good Spirits
---