We Found Your (Luxury) Solution to Short-Term Housing Needs
Whether you're relocating, in town for a consulting gig, or find yourself in transition from a home renovation or divorce, we've found your new digs… and they're dreamy! If you're in the market for comfort, style and a sweet location but not quite ready to commit — try testing the waters at The Franklin Residences in historic Washington Square West. Each of their apartment-sized suites is full of everything you need to settle in and stay a while. Trust us, with this many amenities it's hard to feel homesick.
Here's what makes The Franklin Residences feel like your home away from home:
Fully Furnished Spaces
The last thing you want to worry about when making a temporary move is furniture. It's either an inconvenience to transport your own home goods into your short-term lease or way too expensive and wasteful to purchase intermittent fittings for your new space. Thankfully, the suites at The Franklin Residences are fully furnished with all of the comforts of home. But they aren't just filled with run-of the mill furnishings, they're chock full of luxe features like Egyptian cotton linens, Sony flat screen TVs, stainless steel appliances, granite countertops, sleek hardwood floors and modern furniture. May as well temporarily live like you're on vacation, right?
Cool and Convenient Location
Nestled in Washington Square West, The Franklin Residences is within walking distance to all of the local wonders. A short stroll down Chestnut Street ends at historic landmarks like the Liberty Bell and Independence Hall and you're mere footsteps from theatres, world-class restaurants and a bustling nightlife. Plus, the actual building you're residing in is a piece of history. The Franklin Residences is the former Benjamin Franklin Hotel. Built in 1923 by famous Gilded Age architect, Horace Trumbauer, the hotel is full of grandiose architecture like a historic ballroom. Fun fact —you might even recognize the ballroom from Academy Award-nominated film, Silver Linings Playbook. Disclaimer– leases do not come with a Jennifer Lawrence or Bradley Cooper meet-and-greet, but feel free to recreate their epic dance routine!
Amenities that Enhance Productivity
Once you've finished marveling at the grandeur of your surroundings, get to work! The Franklin Residences blends the old and ornate with the innovative amenities available today. With a multitude of business spaces accessible throughout the building, you can host a meeting from the comfort of your own home! There's also business centers with computers, printers, fax machines and media theatres. But the amenities extend far beyond work life. The front desk is equipped with team members 24 hours a day to assist with package acceptance, valet dry cleaning, reservations, and local recommendations, and there's a state-of-the-art fitness center open 24/7.
Local Eateries
As if the sweet amenities aren't enough to seal the deal (… or lease), The Franklin Residences also plays host to a plethora of local beloved eateries like DiBruno Brothers. Chow down on some of their gourmet meats and cheeses or snag one of their ready-made meals to skip cooking for yourself. You can also dine in at their new casual dining space called Bottle Shop. The evolving menu features craft beer, wine, snacks, cheese pairings and small sampling plates. It's a great place to catchup with colleagues or spend a relaxing night in. In the mornings, you can swing by Passero's Coffee Roasters, also situated in the lobby, for a selection of baked goods, juices, coffees and teas.
Onsite Events
Extended stays away from home can get lonely fast, and it's hard to make friends in a new city once you're beyond your college dormitory days. That's why The Franklin Residences regularly host onsite events to help you forge a bond with some of your neighbors, who are probably in the same boat. Mingle over mocktails, chat over cocktails, or spend your evenings unwinding in the relaxed atmosphere of the historic space.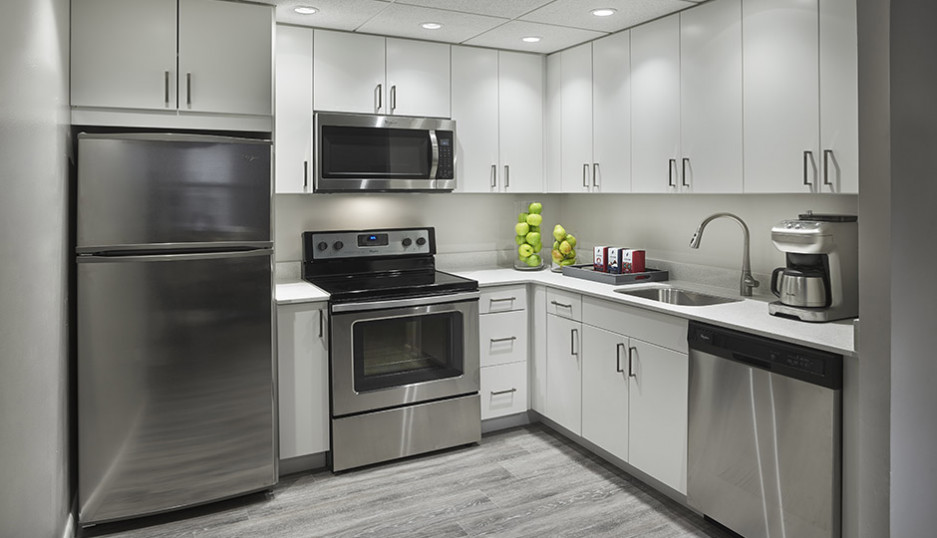 Ready to book your new home away from home? Visit franklinresidences.com
This is a paid partnership between The Franklin Residences and Philadelphia Magazine's City/Studio
---