This Philly Physician Uses Tiny Valves to Greatly Improve Lung Function Without Surgery–A Gamechanger for Patients with COPD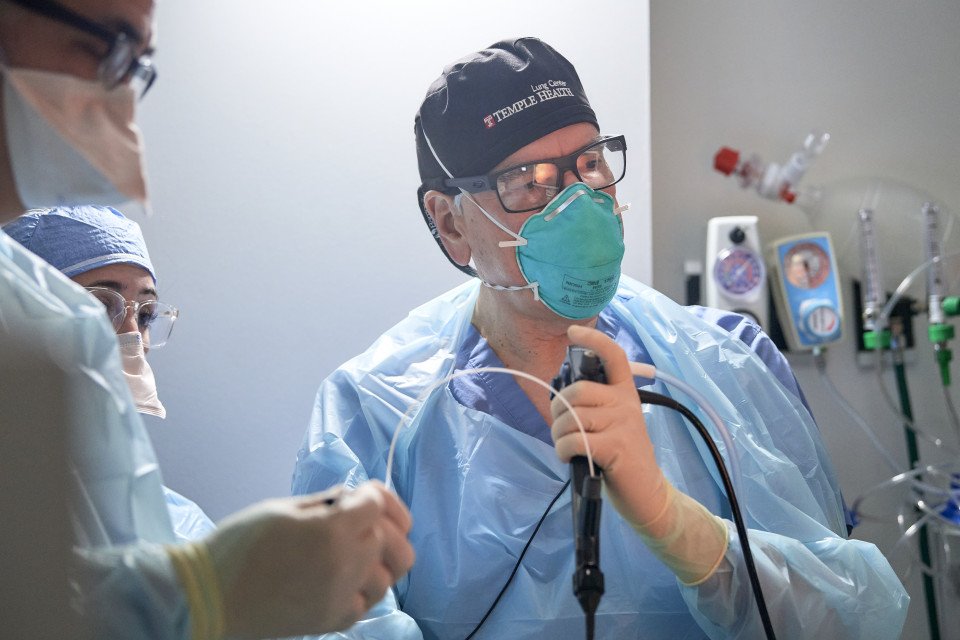 Grocery shopping, doing laundry, going up the stairs, showering—it's these minuscule, mundane activities that, without us giving them much thought, make up most of our days.
That thoughtlessness is something we take for granted. For the millions of Americans affected by emphysema–a form of chronic obstructive pulmonary disease (COPD) that robs patients of their ability to breathe and dramatically impacts their quality of life–those daily actions require careful calculations and conscious struggle, making every move an effort.
It's a problem so fundamental for a subset of patients with advanced COPD–the condition affects every breath, after all–that for decades, they had no choice but to pursue treatment through a potentially complex invasive surgery. But in just the past few years, a physician at Temple Health in Philadelphia has pioneered a technique that places a tiny valve into patients' lungs using a bronchoscope (a thin tube passed through the windpipe)–and has managed to achieve life-changing results on the level of surgery without ever making an incision.
The physician–Dr. Gerard Criner, director of the Temple Lung Center–was the one who led the research that preceded the revolutionary solution, and he's now treating hundreds of patients from across the nation right here in Philly. As Criner trains physicians at hospitals across the country, it creates a big shift in the way that COPD is treated–and could eventually make all those little daily movements easier for thousands of patients in the U.S.
The Struggle to Breathe
Since Criner treats patients across the nation, it's fortunate for Bernice Shah that, living in New Jersey, it wasn't a big trip to get access to the Temple Lung Center, which has the most experience with this new procedure.
Recently retired, she had been diagnosed with COPD and began using an inhaler decades ago, as well as oxygen occasionally in the morning. A world traveler (she and her husband met in Brazil), she had learned to live with her condition and was looking forward to an increase in vacation time with her husband, when COVID-19 forced her to stay home. This not only prevented her from traveling, but the lack of exercise made her condition worse. She struggled walking up the stairs to her home's second floor. Going to the grocery store was a chore; she became out of breath to the point where she couldn't speak to the cashier. Just picking up the paper from the driveway and even showering became difficult, requiring several minutes of rest afterward.
"That seemed like the bottom," Shah says. She went to the doctor for a check up, and when the test results confirmed that her lung function had significantly deteriorated, suddenly she was crying, yelling.
"I'm not a crier," she says. "I think it was the words and knowledge that my health had been really taking a turn for the worse, and stopping me from doing just normal, household activities."
That's when she told her doctor that she had recognized her condition in a magazine profile of one of Dr. Criner's patients. Her doctor agreed that the procedure was worth exploring. He referred her to Dr. Criner at the Temple Lung Center.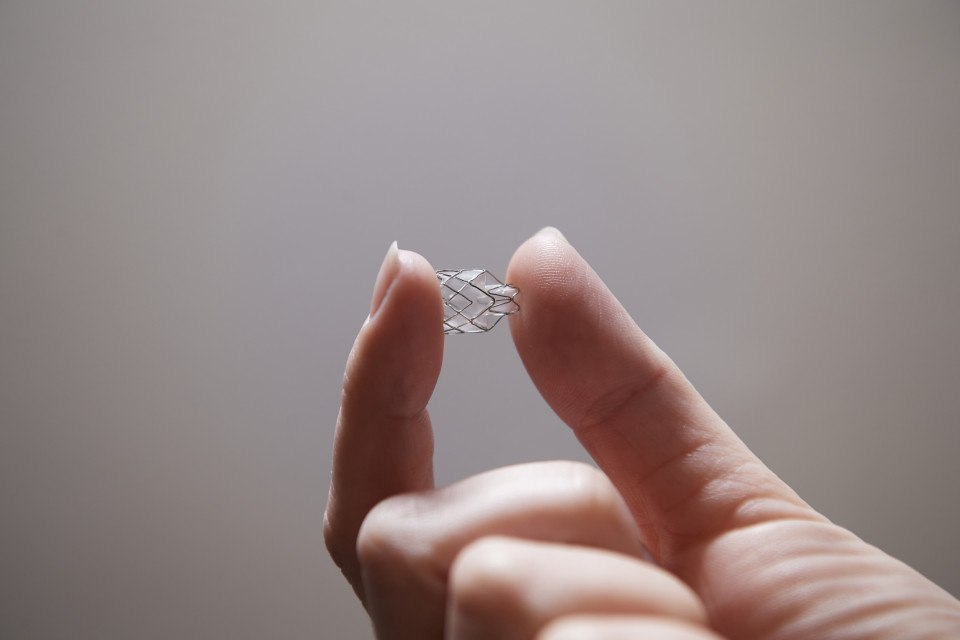 A Little Valve That Can Change a Life
The reason why Shah was struggling to breathe was due to a diseased part of her lung. The problem is called hyperinflation, where a damaged and diseased lung, unable to process oxygen, fills up with gas and prevents patients from getting a full breath.
"It's like two balloons in a shoe box," explains Criner. "If you blow up one one of them very large, it compresses the other." In other words, the damaged portion of the lung over-inflates, leaving less room for the other parts of the respiratory system to function, from the healthy lung to the heart.
Criner was practicing medicine in 1993 when a surgical procedure was developed to correct for that problem. The solution was, at least in concept, straightforward: Get rid of the diseased portion of the lung, and the rest of the system has the room to function correctly. Of course, operating on a lung is a major surgery, and it can require a greater recovery time for patients.
Criner thought they could do better–he wanted to be able to offer a nonsurgical approach. The Temple Lung Center is unique in the U.S. in the breadth of surgical options it offers, combined with the diagnostic capabilities to direct patients to those treatments. That's thanks to a research-driven approach, where Criner has continually improved his knowledge of both diagnostics and techniques throughout his career.
"It's pretty much the way I was trained as a medical doctor, and as a pulmonary fellow, here at Temple 40 years ago," Criner says. "I was always taking the approach that I'm trying to embed clinical research into the clinical program to make myself a better doctor, to offer better treatment and novel treatments for patients throughout my career."
That's why he worked with medical tech developers to create a valve-based solution–the bronchoscopic lung volume reduction procedure (BLVR). BLVR inserts small, one-way endobronchial valves into the airways to block off the diseased parts of the lungs. Air can go into the lungs, but can no longer get trapped in the diseased part of the lungs. And trapped air escapes through the valves until the lung volume is reduced–all without surgery.
"With surgery, your potential for air leaks due to cuts in the lung, or pneumothorax, is higher. Your pain is greater because you're making incisions in the chest wall. With this procedure, there's less, and less severe, complications," Criner says.
After years of investigational trials at the Center, in 2018, Criner performed the first commercial procedure. And even though the program's growth has been stalled by COVID, he has since performed more than 200 at the Temple Lung Center. Already, patients have come from Florida, Oklahoma, Chicago, Arizona, Las Vegas and even from Quebec, Canada for Criner's help.
Breathing a Sigh
Criner estimates that about 30 percent of emphysema patients are appropriate for the procedure, a number he can't treat all by himself. That's why Criner is traveling the country, training other physicians on how to use the procedure. At Temple, he hopes to see several hundred more patients per year, and predicts that soon, other major lung centers will perform the treatment at similar rates.
That's good news, as the effects of the procedure can be dramatic for the patient, just as effective as surgery.
"Their quality of life is significantly improved. And it's mainly improved because their shortness of breath is improved, and it's throughout the day and night so they can sleep better, be more socially interactive, have better function, and less shortness of breath," Criner says, adding that there's evidence it helps overall health in the long term.
Shah confirms that it has a drastic impact. After her procedure, she's still in physical therapy, but her lung function has improved drastically. She can walk twice as far as before the procedure, staying on the treadmill for 40 minutes at a time.
"They're upping the numbers every week," she says. And her improvement isn't measured just by distance–it affects every part of her life.
"10 days after, I was off the oxygen, and I haven't used oxygen since," she says. "My friends even tell me that my voice sounds better, that I look better…I think it was one of the best decisions I've ever made," adding that her husband and kids were in tears at Thanksgiving dinner over how much she'd improved.
It's what Criner sees all the time in his patients. The procedure affects not just their overall health, but how they live each day.
"It's the little things, or the things that you take to be little, that can be traumatic for patients with COPD," Criner says. "Those things that you don't think of when you look at lung function and X rays, those quality of life things are what patients value the most."
For Shah, above all, it means she's back to traveling. And while Criner advised against climbing Machu Picchu, the alternative is pretty good.
"I asked, 'Then what about walking a mile in Paris?'" Shah says. "He said, 'Oh, you'll walk a mile in Paris.' Well, you know what? Paris is fine by me."
This is a paid partnership between Temple Health and Philadelphia Magazine's City/Studio
---