Next Stop, Free Dental Care: A Broad Street Dentist Offers Hope by the Subway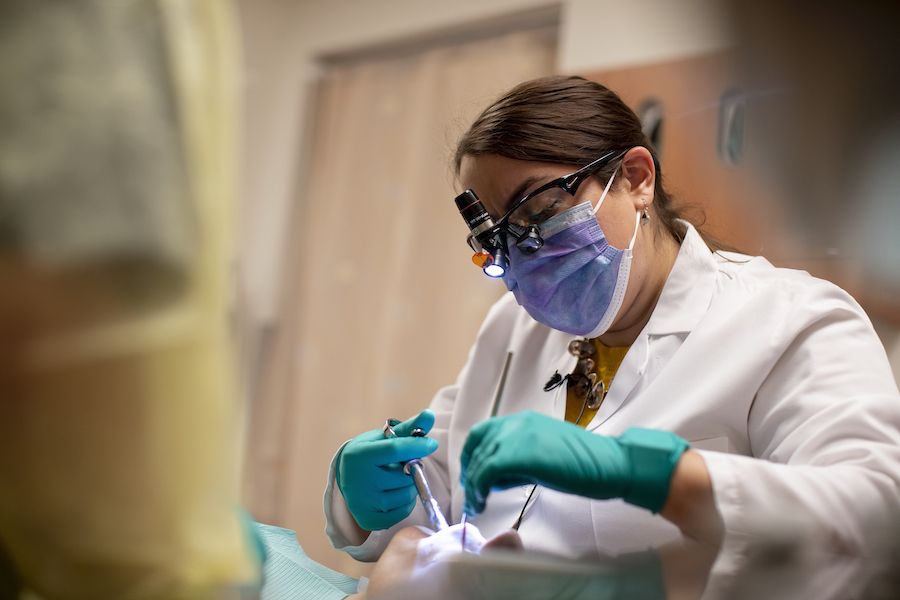 Duck into the concourse under Suburban Station and you'll find more than just the usual snack stalls and shops. A nonprofit dental clinic located within the underground network provides free or reduced cost healthcare to Medicaid or uninsured patients that walk in its doors. It's just one of many services offered by Project HOME, a Philadelphia organization serving people experiencing homelessness.
"There aren't a lot of private practices that accept Medicaid because the reimbursement isn't really that high," explains Janine Musheno Burkhardt, DMD, Project HOME's dental director and recent Temple University 30 Under 30 honoree. "Because it might be hard for somebody to find a dentist where they can actually get in for treatment, they might go for years and years without ever seeing one."
Insufficient dental care affects homelessness in more ways than one. Intense tooth pain can push people toward opioids or other substances, Dr. Burkhardt explains. Tooth loss or decay can also affect patients' confidence, holding them back in an employment search or day-to-day job performance.
At Project HOME, no client is turned away due to an inability to pay, no matter how much work is required. "Some people might come in once for the exam and only need a cleaning or one cavity filled," Dr. Burkhardt says. "Then there are other patients that I am almost working on every tooth in their mouth." To meet the extensive demand, the program now operates across two Philadelphia locations and will soon include three dentists. The clinics provide a wide range of procedures, such as cleanings, fillings, X-rays, extractions, crowns, bridges and root canals.
Many patients come to form a close rapport with the nonprofit's staff. In addition to receiving medical, dental and behavioral healthcare, clients may stop by for a hot shower, warm meal or access to laundry facilities. Project HOME—which stands for Housing, Opportunities for Employment, Medical Care and Education—aims to supply comprehensive services. It launched the dental program nearly five years ago at the Stephen Klein Wellness Center in North Philly before expanding to the Hub of Hope location at Suburban Station in December 2018.
Dr. Burkhardt's work to grow the dental clinic recently earned her recognition as one of Temple University's inaugural class 30 Under 30 honorees in 2019. After a brief stint at a private practice following graduation, the Kornberg School of Dentistry alumna has now found her niche helping underserved Philadelphians.
"You kind of become their family, especially with some people who are coming to see you pretty frequently," she says. "Or it might just be an emergency walk-in and you're able to take care of their pain … The most rewarding part is just knowing that you've been able to help them in some way and provide some relief for the day."
Create change in our community at Temple University, an innovative institution committed to making a real, positive impact in Philadelphia and beyond.
This is a paid partnership between Temple University and Philadelphia Magazine's City/Studio
---