The New Suburbia: How This Plymouth Meeting Development Is Defining the Future of Work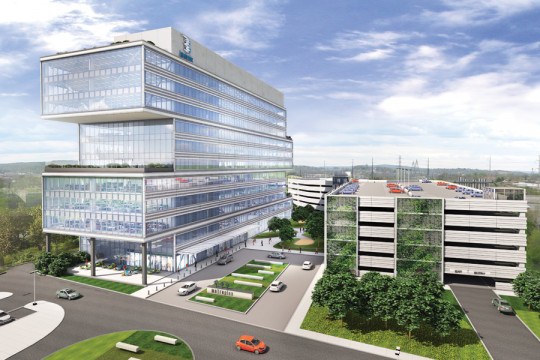 It used to be that you had to work downtown to experience all of the best perks: dining and cultural options within walking distance, easy access to transit, and modern office spaces with human-focused design. Today though, the best experiences in this region are no longer confined to the city. As the next generation of talent is increasingly drawn to amenity-rich environments, it's become common to see some of the city's best elements translated to the suburbs. In turn, companies are taking notice and looking to set down roots outside the city in areas that align with employee demands.
The Changing Face of the Suburbs
Transportation hubs within easy commuting distance of the city, like Montgomery County, are experiencing accelerated growth. Plymouth Meeting alone has grown by almost 20% since 2010, compared to just 2% in Pennsylvania overall, while the rate of residents with bachelor's degrees or higher has climbed to 55.9%, compared to 31.6% across the state. People in the suburbs are demanding the amenities of an urban environment, and Brandywine Realty Trust, one of the nation's leading real estate companies, is delivering by introducing bold urban designs adapted for a suburban locale.
Urban Design in a Suburban Setting
In the Philadelphia area, Brandywine is setting the bar with Metroplex Two, a new 11-story development located in Plymouth Meeting. At Metroplex Two, the best aspects of urban and suburban life are synthesized into a new kind of work environment. According to Brandywine's President & CEO, Jerry Sweeney, "Plymouth Meeting is one of the most sought-after suburban markets in the Greater Philadelphia area. With proximity to growing residential areas and transportation hubs, there is significant opportunity for creating developments that could attract large, forward-thinking brands, as we saw through the success of Metroplex One. As an extension of the same well-designed, amenity-rich complex, Metroplex Two will deliver a thoughtful urban design situated in a suburban setting."
The building itself is surrounded by greenery on all sides, featuring terraces and a roof deck for people to unwind and enjoy the views, or take a meeting outside for some fresh air. The complex provides bike racks and direct access to nature trails for a mid-day change in scenery or to get those happy endorphins flowing. Inside, the offices are designed with open floor plans and floor-to-ceiling windows to maximize natural sunlight, and in turn, fuel productivity and health. Beyond the lush campus, Metroplex Two is well-connected to a variety of shopping, dining and lifestyle destinations. With all of these key elements and more, Metroplex Two introduces a new standard of suburban development to the market.
A New Kind of Work-Life Balance
As the work day continues to shift away from the standard 9 to 5, it's more important than ever for office spaces to incorporate lifestyle and entertainment features. At Metroplex Two, the building and its surrounding campus are designed to support a meaningful and tight-knit work-life community by leveraging design concepts typically found in Center City and bringing them to full expression in the suburbs. A large fitness center and a private park for hosting events allows for mingling after work. Communal fireplaces and televisions encourage people to talk, connect, and collaborate. A café and an outdoor patio create a shared dining space, while food trucks run by local, independent artisans bring the culinary variety of the city on a rotating schedule.
Putting the Philly Suburbs on the Map
Developments like Metroplex Two represent a new way of life. They take advantage of Pennsylvania's strong commuting system, its idyllic landscape, and the wealth of talent and opportunity quickly growing in the region As Philadelphia continues to gain prominence on the national stage, developments like these make the city and its suburbs the next home to the nation's most forward-thinking brands and companies.
Interested in seeing the design in action? Check out the new Metroplex Two at metroplexpa.com.
This is a paid partnership between Brandywine Realty Trust and Philadelphia Magazine
---