An Inside Look at How These Philly-Area Couples Lived Their Wedding Dreams at this Stunning Local Venue
Couples of all interests and cultures call Philly and its surrounding suburbs home, and choose to celebrate the biggest night of their lives—their weddings—here.
To serve our vibrant population, wedding venues in the Greater Philadelphia area need to be as beautiful as they are flexible: The ideal venue helps couples amplify their personalities and story. For three stand-out married couples in the Philly area, infusing charm and character into their special days was essential. Though each couple brought unique ideas and touches to their weddings, they all shared one thing in common: their venue, Springfield Country Club. In choosing Springfield Country Club, these couples embraced their cultural and familial influences, large guest lists, and design elements that represented pillars of their relationships—and they did so in elegant fashion.
The stunning look of Springfield Country Club has earned it a title as a regional hot spot, but its personal feel is what sets it apart. Here's an inside look at how the country club's team brought these three romances, visions and designs to life for some of the Philly-area's dreamiest weddings.
Divya and Karthik
Divya and Karthik's story began with bonding over shared backgrounds, careers, values and passions—and years later, they integrated all these and more qualities into not one, but two exuberant ceremonies at Springfield Country Club.
The couple's story starts with a blind date in 2015: Divya's first-ever blind date. She was a pharmacy student at Temple and had been talking to Karthik, a medical student at Jefferson, online. During the date, the pair talked until the restaurant closed, finding common ground in their shared love of family, food and—though Karthik will deny this one—High School Musical. The blind date turned out to be not only Divya's first, but her last.
In January 2021, Divya and Karthik were each in medical residencies, spending most of their time away from family and loved ones because of the pandemic, but Karthik didn't let that inhibit his proposal. In a gazebo overlooking the skyline, he proposed to an elated Divya before they danced to a track from High School Musical. When the fiances popped a bottle of Champagne to celebrate, Karthik surprised Divya again with a Zoom call to loved ones, some all the way in India—sharing the special moment with loved ones who couldn't be there.
For the wedding in May 2022, Divya and Karthik wanted to honor their South Indian backgrounds (Divya is Malayali and Karthik is Tamil) and share their special day with loved ones in-person. This meant that they needed a venue with easy access to overnight accommodations, since a large number of guests would be traveling into Delaware Valley for the wedding. And because they would celebrate their special day in two ceremonies—a Hindu ceremony in the morning and a Catholic ceremony in the afternoon, followed by the reception—they also needed a large event space with room for performances and activities.
That's where Springfield Country Club came in. The spacious, high-ceiling venue, with access to an adjoining hotel, was perfect on paper for these lovebirds—and only became a better fit as they got to planning and executing the wedding. Springfield Country Club organized the long, busy day and honored Hindu wedding traditions, like rice throwing and a ring-fishing contest: a fun post-ceremony game that has the bride and groom compete to find a hidden ring in a pot of liquids and petals. "It was spacious enough for all our guests and for all the events in our itinerary, including the multiple Bollywood dance performances and breaking it down on the dance floor," says Divya. "The Hindu ceremony was so fun … the day went more perfectly than what we could have ever imagined."
Behind the scenes, that seamless experience for the bride, groom and guests was thanks to Springfield's team. They worked with the couple's design influences to transform the space into a modern Indian aesthetic with a dreamy mandap and color palette of pinks, greens and whites. Springfield Country Club also recommended and facilitated various vendors from food to drink to entertainment, and held an afterparty at the adjoining bar and restaurant. Even personal touches the venue handled with care: They hosted the choir from St. Jude's Malankara Catholic church, the Philly-area church that Divya was brought up in, to perform at the second ceremony.
"The day was a marathon for us with all our outfit changes and transitions between events," explains Divya. But thanks to Springfield Country Club, what she and her husband will remember most about her wedding is how magic it felt to celebrate their relationship and pay homage to their cultures amongst their loved ones. Their only regret? Being too busy taking stunning photos and spending time with loved ones to eat enough of the delicious food.
Colleen and Ryan
Colleen and Ryan were raised with similar values, one of which is a deep love for their friends and families—a love that was spotlighted in the couple's elegant wedding, which prioritized those connections even beyond the guest list.
The pair were both student-athletes at Shippensburg University when they met, and they quickly realized how much else they had in common: Their work ethics and personal interests were also aligned, and ultimately drove their hobbies as a couple. "We are a couple that values our family and friends and likes to have fun," says Colleen.
Ryan's proposal reflected their shared qualities, too—he proposed about a quarter-mile into a morning run the couple went on, while Colleen was training for the Pittsburgh marathon. Friends hid along the route, near a gazebo decorated with flowers and Champagne, and popped out to photograph the moment that Ryan dropped down on one knee.
When it was time to plan the wedding, Colleen and Ryan wanted to keep things simple, yet refined. "We wanted to make sure that the wedding felt like ourselves," explains Colleen. "Springfield Country Club was beyond amazing in helping us execute that."
Because they chose Springfield Country Club, the couple achieved a warm, inviting ballroom atmosphere with candles and greenery, enjoyed food and drinks provided by the venue, and kept the dance floor packed all night—but these weren't the only details important to the couple.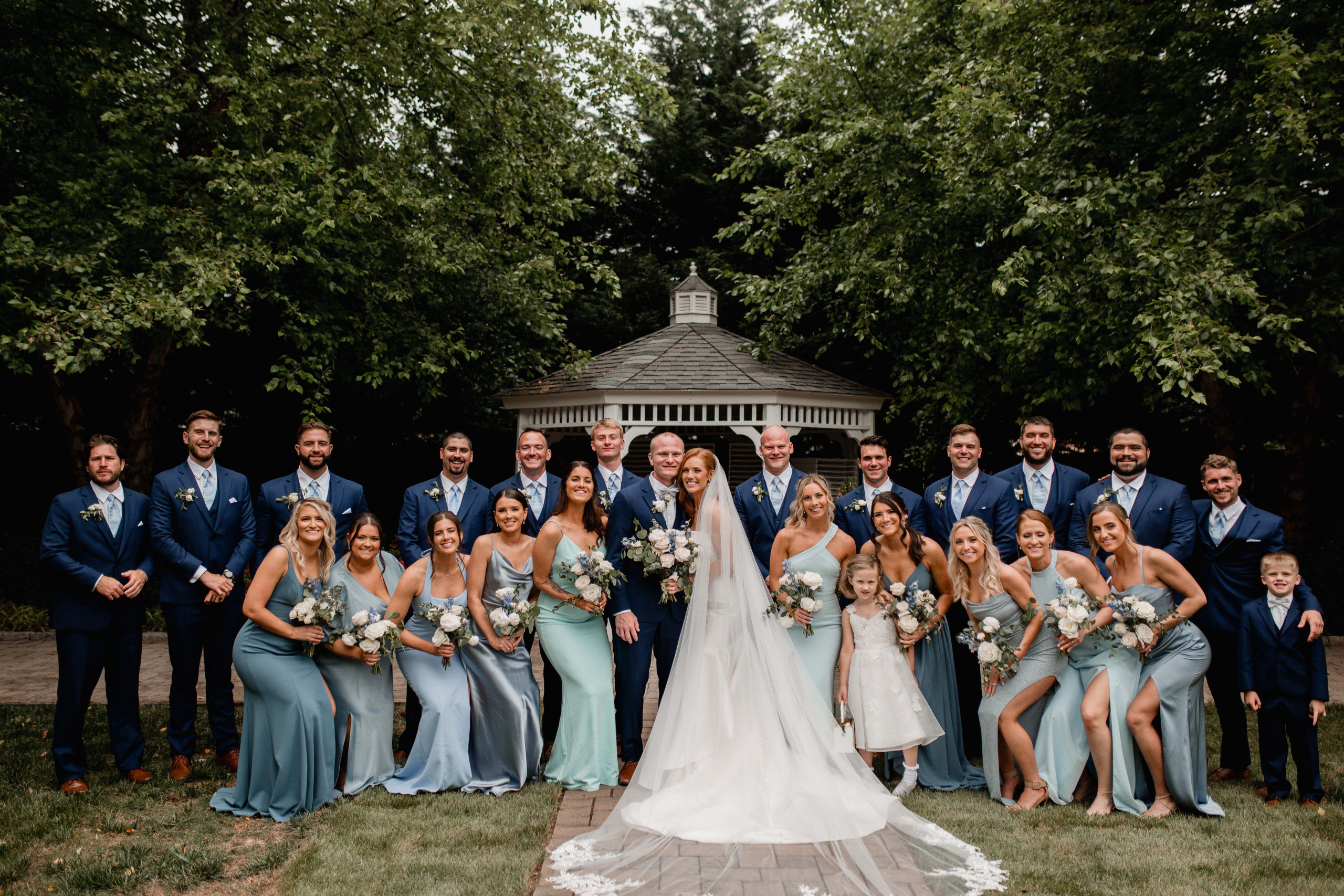 In addition to celebrating with loved ones in person, Colleen and Ryan wanted to make sure that those who couldn't be there were still included in spirit—loved ones like Ryan's father and Colleen's brother—by giving them an honorary table at the wedding. "The morning of the wedding, I gave Ryan a photo of him and his father to wear on his tie, and we had an extremely beautiful heaven table on display at Springfield Country Club," says Colleen. That, she says, helped the couple feel the presence of their deceased loved ones.
That special care is one reason why Springfield Country Club was so perfect for Colleen's and Ryan's special day—and it's one of many reasons why the couple will remember this day forever. "From cocktail hour, to the amazing food and drinks during the reception, to the afterparty at the outside bar area and the hotel right on-site, it was a perfect place for our wedding," the bride explains. "We are so happy we chose Springfield Country Club."
Brittany and Kevin
When beach-lovers Brittany and Kevin got married at Springfield Country Club, they didn't bring their ceremony to the beach—they brought the beach into their ceremony, and made the stunning venue feel like home.
Growing up, Brittany spent a lot of time at her family's house in Long Beach Island—time that's documented through a lifetime of photos of her and her sister on one special bench by the beach. Now, that same bench is the backdrop for annual photos of Brittany's nephews, but that's not the only significance it has to their family. During a vacation at the house, Kevin decorated that same bench with Champagne and roses and proposed in front of it—a romantic surprise to which Brittany, of course, said yes.
That beautiful moment reflected many of the couple's shared qualities and was important to their vision for the wedding. They wanted their ceremony to represent their love of the beach, their families and their friends. With Springfield Country Club, all that and more was possible.
Springfield Country Club's on-site hotel allowed all of Brittany's and Kevin's loved ones to stay on the premises for the whole weekend, so that the couple could enjoy a full weekend of celebrations with their guests. Brittany's bridal party, including close friends from Penn State, were able to stay on-site, as were her childhood friends and family who traveled from New Mexico. "We were excited to have all of our loved ones in one room and party," Brittany says.
That party continued even after the ceremony into a next-day brunch that Springfield Country Club also hosted, complete with the couple's custom centerpieces. "Springfield Country Club was hands down the best decision we made," the bride says, calling it the best night of their lives.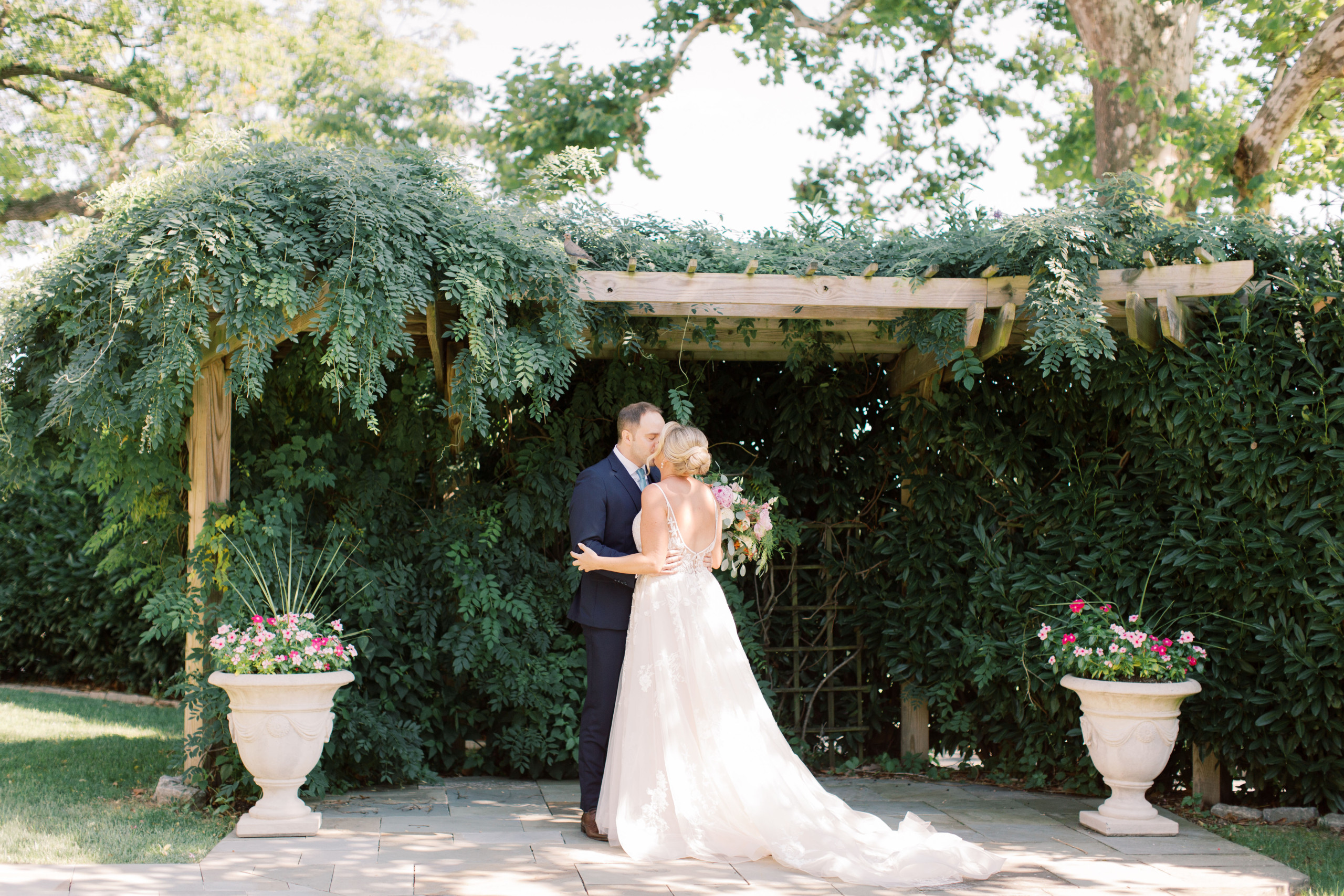 The venue gave Brittany and Kevin the freedom to lean into their own beachy designs and special touches, like the sea glass that craft-lover Brittany inscribed each guest's name onto and used as seat designators, and the photo of Kevin's dad, who couldn't be at the wedding, lovingly fastened to Kevin's tie. But the team at Springfield also made sure that the couple didn't need to worry about organizing these special touches day-of. "They really brought our vision to reality," says Brittany. "This helped me feel so stress-free, knowing they were taking everything off my hands and creating exactly what we wanted!"
From the start, Springfield Country Club was interested in getting to know Brittany and Kevin as a couple to make sure that their wedding would make them as happy as possible—and with their love story captured so perfectly, it's safe to say that it was a success.
Springfield Country Club is open to the public with no membership requirements and conveniently located at 400 W. Sproul Rd, Springfield PA 19064. To learn more about Springfield Country Club or to set up a tour of the venue, please visit www.springfieldcc.net.
This is a paid partnership between Springfield Country Club and Philadelphia Magazine
---