With a Drive-In Theater and Virtual Screenings, Philly's Film Festival Returns This Month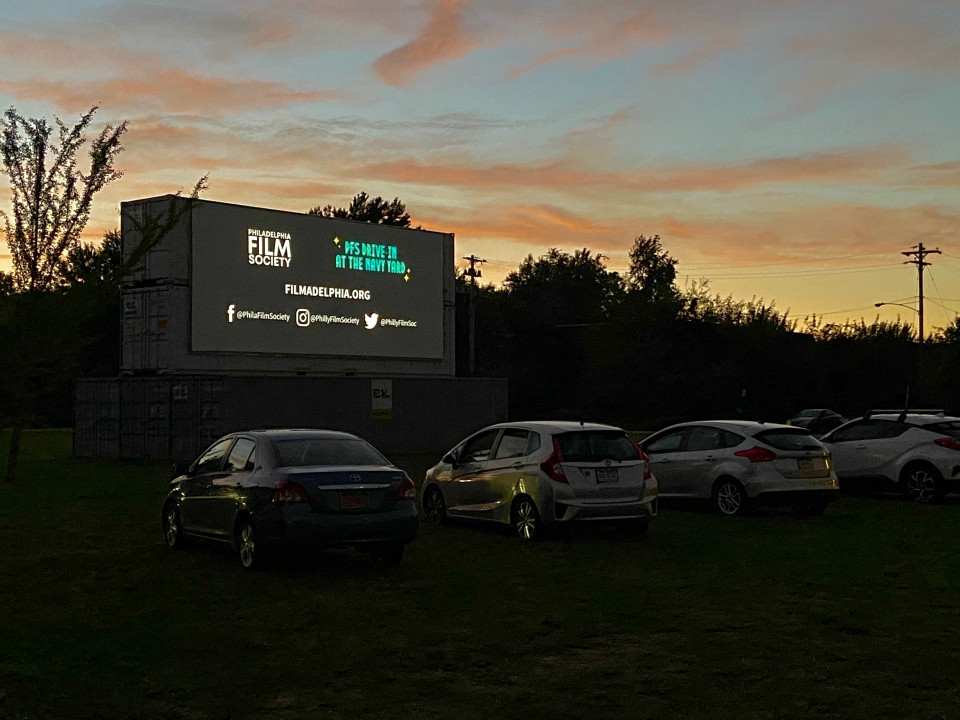 Safe opportunities for festivals in 2020 are few and far between. It's been so long since we've had one in Philly, it can be easy to forget what it's like to gather together with like-minded strangers to celebrate a common passion, or share an experience with the whole city.
That's why many of us, and not just us cinephiles, breathed a sigh of relief when the Philadelphia Film Society announced it would hold its 29th Film Festival as scheduled. The Philadelphia Film Festival is a perennial highlight of the art world in the city, and it'll be running its full 11 days, from October 23rd to November 2nd.
Excitingly, the festival's adaptations to the pandemic have resulted in a special, one-of-a-kind experience. This year, we're getting the best of both worlds—a hybrid festival that features both a drive-in movie theater in the city, plus virtual screenings you can enjoy from your home, whether you're in the 'burbs, across the state lines in Jersey, or right in Center City and just don't like leaving the apartment. Romantic date night at the drive-in with forbidden love on the English coast playing out on the big screen? Check. Late-night chinese-takeout-and-sweatpants screening of a Taiwanese zombie flick? Check.
To find out everything you need to know about how to snag a drive-in spot, what's on view this year and, of-course, COVID-proofing, the Philadelphia Film Society gave us a behind-the-scenes look at everything they have planned for this year.
The Drive In
The drive-in will be both a special nostalgic highlight of the festival, as well as a safe, practical way to have a true movie-going experience again. It features two different screens at the Navy Yard and has the capacity to fit nearly 200 total cars in its lot, with screenings every night of the festival.
Getting in is easy and safe thanks to a touchless ticket-scanning system (there's no box office, so customers will need to purchase tickets ahead of time.) For a classic drive-in feel, viewers will be able to tune into a local radio station for audio, but of course there's also an app for it. There might not be a popcorn vendor going window to window, but there will food trucks serving local faves. According to J. Andrew Greenblatt, CEO and executive director of the Philadelphia Film Society, it all makes for a night to remember.
"The drive-in will feature some of our favorite films, and we hope people can come out and enjoy a screening with other people for the first time in a long while," Greenblatt says. "The evening screenings are special, with some of the best sunsets I've ever seen in the background."
Viewers can buy tickets to individual screenings, or can purchase a combined digital and drive-in pass. A certain number of free tickets will be available on select screenings, so make sure to keep your eyes peeled as you're registering online.
Digital Screenings
The festival will be more accessible than ever before, thanks to virtual screenings that extend to the 'burbs, New Jersey and Delaware. A large digital library of movies available only for the festival will be made available through their website and apps, usable on Apple TV and Roku, for individual purchase or an all-access pass. There's no licensing restrictions on devices, so feel free to stream it on your smart TV or break out that HDMI cable. There are a limited number of streams however, so you will have to make sure you buy your virtual tickets before they sell out, and make sure you get watching within the required window.
"We're trying to recreate a true festival experience, with people watching together at the same time, even if they're apart. So we do recommend you tune in at the set premiere time. We're really glad we can bring that festival experience to people who might not have been able to venture into Philadelphia for it before," Greenblatt says. "That said, there will be some flexibility, so for once you don't need to make a choice between two movies showing at the same time that look promising—you can just save one for later."
One of the most exciting features of the screenings will be the opportunity to take part in virtual Q&As with influential and up-and-coming filmmakers following many of the screenings. Participants will enter their questions into a chat to be asked by the moderator. As the festival has built up this year's line-up, it's actually proved to have some unexpected advantages over live Q&As: because of the convenience of digital, the festival is getting some bigger names than previous years, with filmmakers calling in from all over the world.
The Line Up
The festival staff prides itself on watching a countless number of movies over the course of the year to make their selections. This year's slate of films includes 90-plus titles ranging across genres, styles and budgets, and will offer traditional film blocks like animated shorts as well as the crowd-favorite Filmadelphia category, which puts a spotlight on top talents from the region. Main features will include new favorites from Cannes, Berlin and more.
Many of the festival's highlights, what the PFS is calling its marquee screenings, will play at the drive-in, including Venice Film Festival's Golden Lion winner Nomadland, starring Frances McDormand and directed by Chloe Zhao, and Ammonite, with Kate Winslet and Saoirse Ronan, and Black Bear starring Aubrey Plaza. Major documentaries will appear on the big screen as well—40 Years a Prisoner follows a son's attempts to free his parents from prison after their involvement with Philadelphia revolutionary group MOVE, while MLK/FBI examines recently declassified information about the U.S. government's surveillance of Martin Luther King Jr.
The festival's 69 digital screenings will feature lauded critical darlings as well—the collection's headliners include Berlin's Golden Bear winner There Is No Evil by director Mohammad Rasoulof, Sundance-award-winner Minari, and Sound of Metal starring Riz Ahmed, as well as all of the festival's 20 short films.
The vast majority of these will be premiering for the first time in Philly, so it's a good opportunity to catch future hits-in-the-making. Even more importantly according to Greenblatt, for some of the films, once they're gone, they might be gone for good (at least for an American audience).
"Some of the films we show will never reach wide release, and some foreign and indie titles may never be released in the U.S. at all," Greenblatt says. "So this may be your only opportunity to view them."
Ready for the ultimate movie night? To book your ticket or buy a pass for the 29th Philadelphia Film Festiva,l visit filmadelphia.org/festival.
This is a paid partnership between Philadelphia Film Society and Philadelphia Magazine's City/Studio
---