This Fishtown Restaurant Has Mastered the Art of Healthy Breakfast, Lunch and Dinner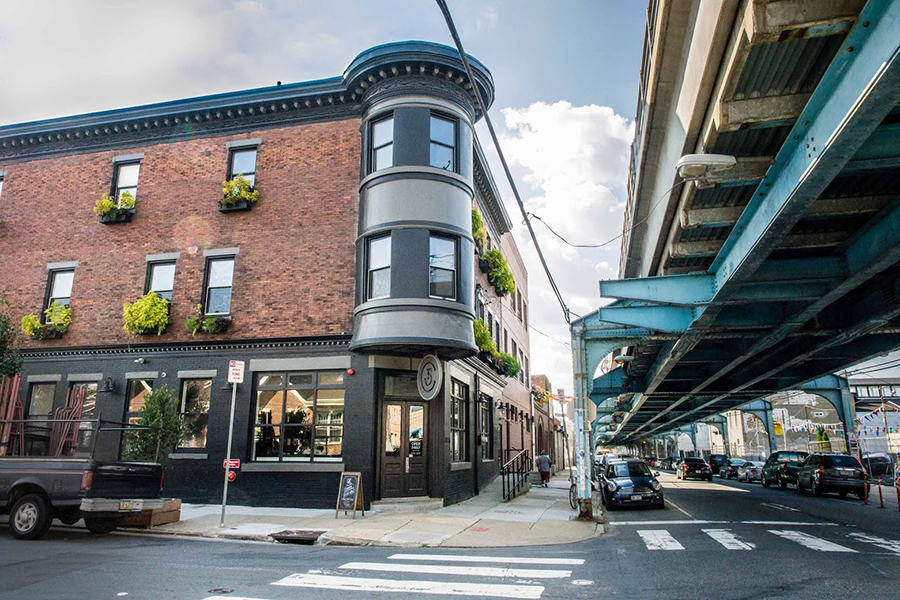 When Front Street Café first opened in Fishtown, it started with serving grab-and-go breakfasts, fresh juices and smoothies to the A.M. crowd by Girard Station. Four years later, the neighborhood mainstay has expanded from charming café counter to an expansive two-floor hangout. Stop in on your commute for matcha lattes and vegan donuts or swing by later for evening cocktails and late-night bites.
Head chef Andrew Petruzelli's forward-thinking approach now covers a plant-based line-up through breakfast, lunch and dinner. At this restaurant, special menu icons denote meat- and cheese-inclusive dishes instead of the other way around.
"When you see the menu, you think, 'Fried mozzarella, let me try that," Petruzelli says, "hopefully not even noticing the fact that it's completely plant-based." That's right — the fried "mozzarella" small plate isn't really Italian cheese, but actually a clever cashew base with the same gooey, stretchy qualities you love about the original.
Smart swaps pepper the rest of the menu. The spaghetti and meatballs entrée uses lower-carb spaghetti squash in lieu of traditional noodles and black bean meatballs instead of the usual beef. The "parmesan" on top? That's really nutritional yeast and sunflower seeds — a combo that provides the same umami flavor and protein you'd get from cheese except in an allergen-friendly way.
A portobello Reuben sandwich employs its own wizardry. "We actually cure the mushrooms in a pastrami spice that we make here and then grill them to get that kind of charred flavor," Petruzelli says. The savory slices then get doused in plant-based Russian dressing before getting piled on top of caraway-seasoned bread with red cabbage kraut and coconut cheese.
Front Street Café didn't quite start out with such an experimental mission. But the more Petruzelli played around with different ingredients like beans and egg whites, the more he realized he could recreate pretty much any comfort food in an innovative way.
"My entire concept changed as time went by, as we started diving into what the possibilities were," he says. "Back when we started, I was just thinking, 'Okay, we're going to use a lot of grains and quinoa here and there,' but it's developed into a fun thing."
Case in point: the restaurant's now signature buffalo cauliflower recipe. Flash-frying the veggies and quickly tossing them in sauce results in a crispy snack that's pretty much a must-order. The latest innovation, however, pops up on the drink menu. "Floof" — essentially a vegan marshmallow fluff — now appears in several signature cocktails including an updated take on a Negroni. Like other menu favorites (such as the vegan cheesesteak!), it's proof there's no food or drink outside the possibility for reinvention.
"Eating healthy does not have to be bland," Petruzelli says. "There's no real rule book in this kind of cooking."
Try Front Street Cafe's menu for yourself at 1253 North Front Street, just off the Market-Frankford El at Girard Station. Front Street Café also offers a variety of private rooms for your next event.
This is a paid partnership between Front Street Café and Philadelphia Magazine's City/Studio
---