Why You Need to Start Planning Early for Retirement in Philly–and How to Do It Well
Planning for an active, exciting second act needs to start well before you throw the retirement party. No matter how old you are, planning your retirement lifestyle now, and finding the right strategy to support it, can make retiring well much easier–especially if you want to live in Philadelphia.
According to Elaine Kaiser, marketing director at Dunwoody Village, a continuing care retirement community located in Newtown Square, it's key to find a community that supports the lifestyle you envision as soon as possible because spots can be competitive. "I advise adults to start looking for a retirement community long before they retire," Kaiser says. "Finding the right community takes time, and you don't want to rush the process. Plus, top retirement communities can have wait lists that require finding a spot years ahead of time."
Fortunately, retirement also looks a lot more exciting than it used to, which makes the planning a lot more enjoyable. In order to help guide you through that process, we asked Kaiser how best to plan for retirement in Philly, and what activities, amenities and interests that Philadelphians should look for in top retirement communities. Here are five things to prioritize as you look forward to retirement—and how the right senior living community can help you live your best life.
Find a community that creates new experiences
.
It's easy to get into rigid routines as we age, but the increased free time that comes with retirement provides an opportunity to rediscover the joy of lifelong learning. Activities such as taking classes, learning a new skill or exploring a museum have been linked to improved cognitive function and reduced risk of age-related illnesses like Alzheimer's disease. Fortunately, Philadelphia offers an abundance of cultural attractions and activities, from concerts at the Kimmel Center to installations at the Barnes Foundation.
"Location is definitely something to factor in when choosing your new home," Kaiser says. It's also worth considering what learning opportunities are available in the community without leaving campus, such as language classes or book clubs.
"Dunwoody offers the best of both worlds," Kaiser suggests. "At Dunwoody, our 83-acre arboretum-style campus provides ample outdoor opportunities as well as many learning, recreation and entertainment opportunities. Yet our location on West Chester Pike affords our residents close proximity to Main Line shopping and dining."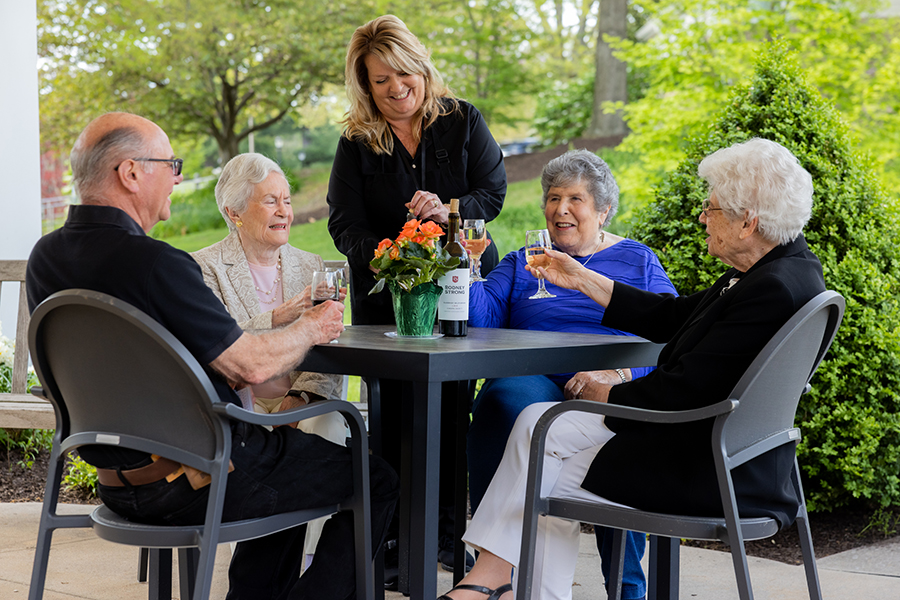 Build and prioritize strong relationships
.
Retirement is often seen as a time for relaxation and enjoyment, but stepping away from the built-in social interaction that work provides can also bring unexpected feelings of loneliness and isolation. A report from the National Academies of Sciences, Engineering, and Medicine (NASEM) found that nearly one-fourth of adults aged 65 and older are considered to be socially isolated. And being socially isolated is more than just unpleasant—it actually increases risk for diseases such as dementia.
Heading into retirement, it's important to make time to connect with others outside of work, whether that's through hobbies, volunteering or joining community groups. Many of the best senior living communities offer avenues to partake in all of the above, as well as more informal opportunities to make connections.
"When I walk through Dunwoody's campus, I see residents chatting in the dog park, or after a concert in our auditorium, or having a drink in our lounge," Kaiser says. "It's a chance to experience that built-in, vibrant type of community you may not have had since college."
Partake in a well-crafted diet.
It's no secret that eating healthy can be a challenge, especially in a world where turning to fast food and processed snacks is often more convenient than what we know we should be eating: fruits, vegetables, whole grains, lean proteins and healthy fats. But as we age, the importance of a balanced diet becomes even more crucial. A nutritious diet can help reduce the risk of chronic diseases such as heart disease, diabetes, and certain types of cancer, as well as improve brain function and boost immunity—all of which contribute to healthy aging.
If you already love to cook meals that help you feel your best, consider looking for a senior community that has condos or houses available with full kitchens. Or, if eating healthy has always been a struggle for you, a community with healthy, chef-prepared dining available may be the change you finally need to eat well. Many communities such as Dunwoody also offer options for special dietary needs, such as low-salt, low-calorie, low-fat, vegetarian or gluten-free.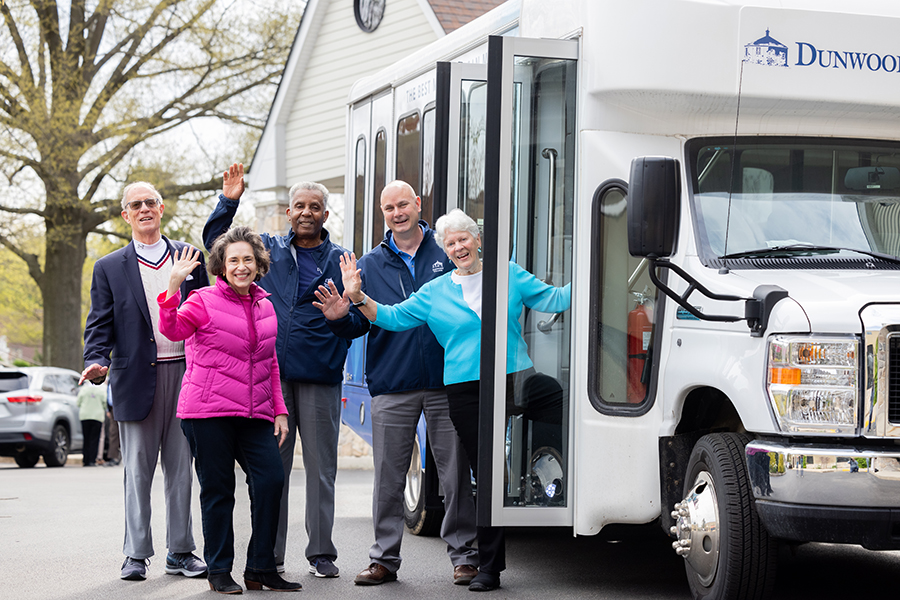 Stay active and build fitness into your everyday life.
Being retired may afford the most time you've had in years to get and stay in shape. Whether you prefer taking a walk along the Schuylkill or in Valley Forge Park or joining one of the city's countless fitness studios, movement is a crucial part of maintaining your health and mobility as you age. Numerous studies have shown that regular physical activity can prevent diseases such as heart disease and diabetes, as well as improve overall immune function, which is important for seniors as their immune systems are often compromised. While there are benefits to doing a balance of cardio and strength training, the best exercise is the one you will do.
"Find a community that provides opportunities to do the activities you already know you love and will prioritize," advises Kaiser. "For example, we offer walking trails in our nature preserve, yoga classes, an indoor swimming pool and a pickleball club."
Find support for creativity and fun.
If you've been focused on family, work and finances for the past 4 to 5 decades, you may have forgotten the magic of fun. Making space for play and fun carries numerous benefits: reduced stress, improved mood and cognitive function, opportunities for social connections, and increased creativity, all leading to a more fulfilling and youthful outlook on life. In short: Fun keeps you young.
The right senior living community can help bring some of that fun back into your life, whether through picnics, game nights, outings, clubs, concerts or day trips. "One of our Dunwoody residents actually set up a regular music-sharing group dubbed the 'jamwich,'" Kaiser says. "One of the other residents he recruited to join actually went to his grandson and said 'I'm going to need my guitar back–I'm playing music again.'"
This is a paid partnership between Dunwoody Village and Philadelphia Magazine's City/Studio
---