6 On-Trend Bathroom Designs That Will Elevate Any Home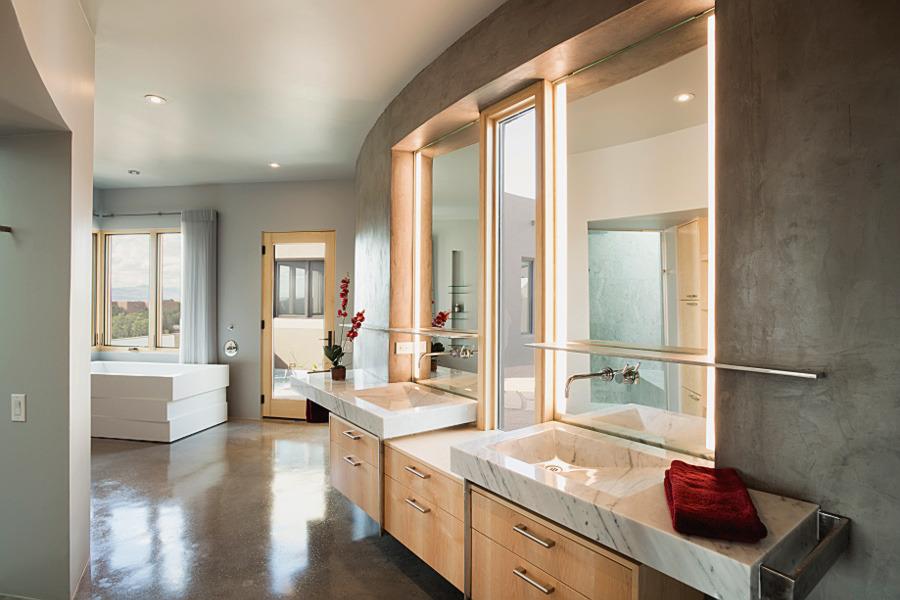 Some of the most stunning design pieces belong to the bathroom, from rain showers to marble floors to copper-plated faucets. But too often, the bathroom is the blind spot in a home's design. As long as you have fancy fixtures, they should strengthen your home design, not weaken it.
There are many fixtures styles, faucet finishes, paint colors and tile patterns that all come together to reflect your personal style. Traditional, transitional and contemporary styles are the most popular in 2020, but your personal taste might range from rustic, Victorian, midcentury or eclectic. Finding the combination that works for you can take a little bit of work.
That's why we sat down with Natalie Newnam, design specialist at Lavish, a bath and kitchen showroom on the Main Line in Ardmore, Pa.
"I work with each client to figure out what kind of design would work best for them, whether it's a modern or traditional feel, and discuss what would be ideal for their layout," Newnam says. "At Lavish we help create the style that is perfect for you, within your budget and designed to provide your lavish dreams." She'll even help clients pair their bathroom fixtures with other aspects of their home (farmhouse sinks in both the kitchen and bathroom are a popular option).
A bathroom is not just a bathroom. It's a place to relax and unwind. Whether it's your morning cleansing facial routine or a weekly soak in your beautiful freestanding tub, it's your tranquil retreat. To help you make a masterpiece, she explained to us the keys to crafting a complete bathroom in six different styles.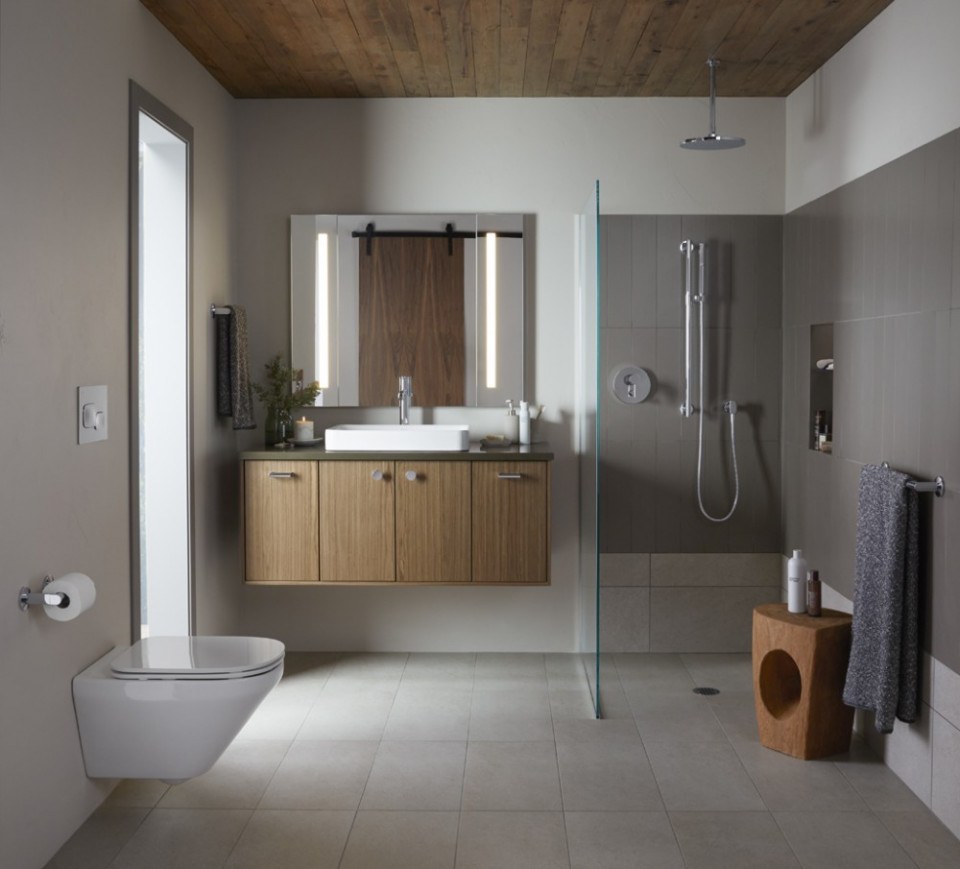 Contemporary
"When creating a contemporary look, many clients will also want it to look classic and timeless at the same time so that it will last through the years and fit their home," says Newnam.
To achieve that effect, Newnam often recommends warm but sleek-looking options. A contemporary design starts with clean lines and clutter free areas. White, grey, chrome and black are very popular colors and finishes within this category.
Wall mounted vanities and toilets provide an open space give a feeling of a spa like oasis. Brass and gold figure prominently, and are often combined with a pedestal sink and freestanding tub or even a smart shower. Marble floors anchor the style.
"I encourage clients to come in with a floor in mind or a tile selected. Everything else falls into place after that," Newnam says.
Traditional
"There are lots of older houses on the Main Line," Newnam says. "And you want a bathroom that fits your house's style." Even some of Newnam's younger clients on the Main Line will look to a more traditional style that can work in a modern context, as they are purchasing and renovating older homes.
This requires a classic design rich with furniture-style vanities, marble floors, showers and freestanding tubs to submerge yourself into relaxation. A large, classically styled tub can be particularly important in a traditional-style bathroom. White or peach offers a warm, neutral palate.
Newnam will recommend fixtures from a single line to create unity—their Kohler Memoir collection is particularly relevant. Ornate faucets imported from Italy and Paris shine in stained brass and many other finishes, giving you a homey and comfortable feel.
"With the traditional design, think spring and botanical flowers, a natural stone bench in a garden and dew drops glistening in the sun," says Newnam.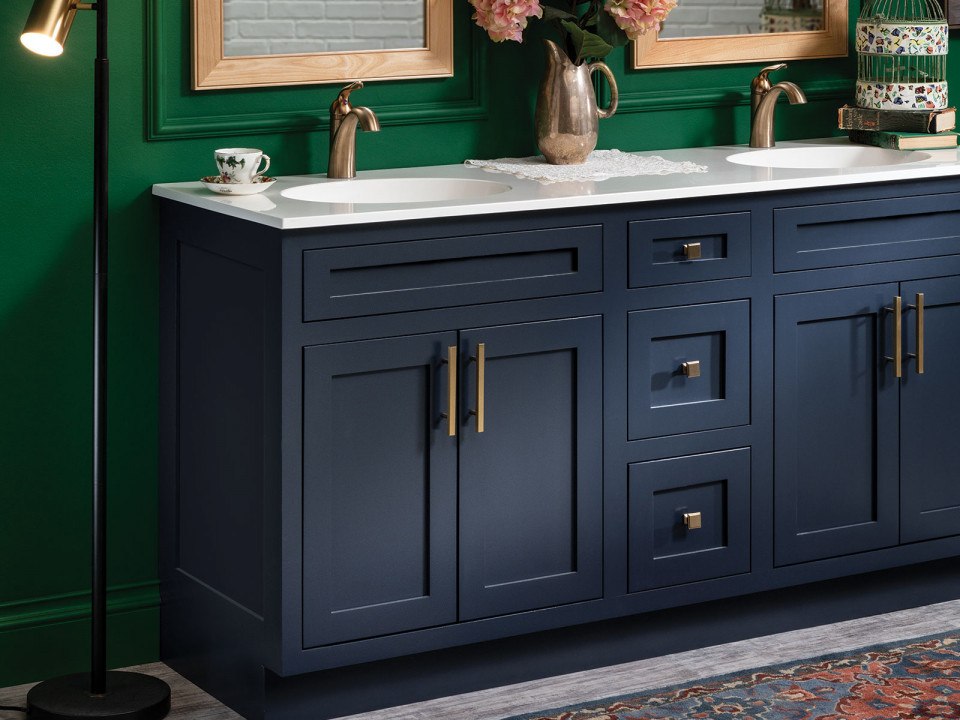 Bold
If clients want to stand out with their color palate and fixtures, Newnam will help them achieve balance overall in their bathroom.
"Cobalt blue is a great, strong color for your bathroom," says Newnam. "Then it's a matter of building around that choice." For the cobalt blue example, gold fixtures make for a good complement.
A bold look should also include less clutter, but with large simple furnishings. A large, up to six foot long vanity can pull the room together. Single lever faucets keep it distinctive but not overcomplicated. Newnam highly recommends natural light here, but hi-hats and sconces are important elements for lighting.
Luxury
If a client is seeking to take their bathroom up a level, Newnam can facilitate that too. Visitors might be surprised that the faucet is often the key ingredient in making a bathroom truly extravagant.
"A crystal handle faucet with a glass bowl can really elevate things, and is even worthy building the bathroom around," says Newnam. Brands like Lacava and Herbeau offer custom pedestal sinks to go with a mirror and sconces to complete the picture. The effect works well for an impressive powder room, but a master bath by the same brand can create a grand feel in an en suite bathroom.
Transitional
The transitional design provides the best of both worlds, mixing a little bit of old and a little bit of new. It lies in between contemporary and traditional, but is its own distinct style and can be a great choice that leaves flexibility for the buyer. Adding a shaker style vanity, a patterned tile floor and a sleek faucet works nicely for a shared bath (Jack and Jill) or a gentleman's bathroom–making the feel a smidge masculine yet not so modern.
"We'll work with you to choose brands that are consciously transitional in style—it's not enough to just mix and match," Newnam says.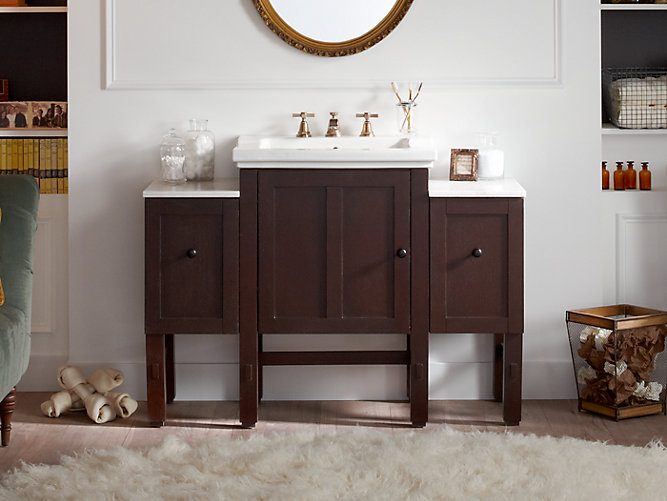 Price Conscious
From the rough-in for your shower, to the same flushing technology on either a one-piece or two-piece toilet, as well as a solid wood vanity, you get the most value out of every purchase.
"Whether you are remodeling a basement or shared bathroom on a budget, we offer similar products that provide the same function as our higher end brands," says Newnam.
Newnam recommends brands that offer a full range of styles and prices, so that you know you're getting quality, even if you're paying less. Kohler in particular offers several pricing categories, but at Lavish, Newnam features and recommends a variety of manufacturers for bathroom fixtures and faucets, supporting all design budgets.
To create your dreams, design your wish list or schedule an in-person consultation, please visit Lavish, a bath and kitchen showroom online at e-lavish.com.
This is a paid partnership between Lavish and Philadelphia Magazine's City/Studio
---