How Restaurant Week Helped Reinvent Philly as a Food City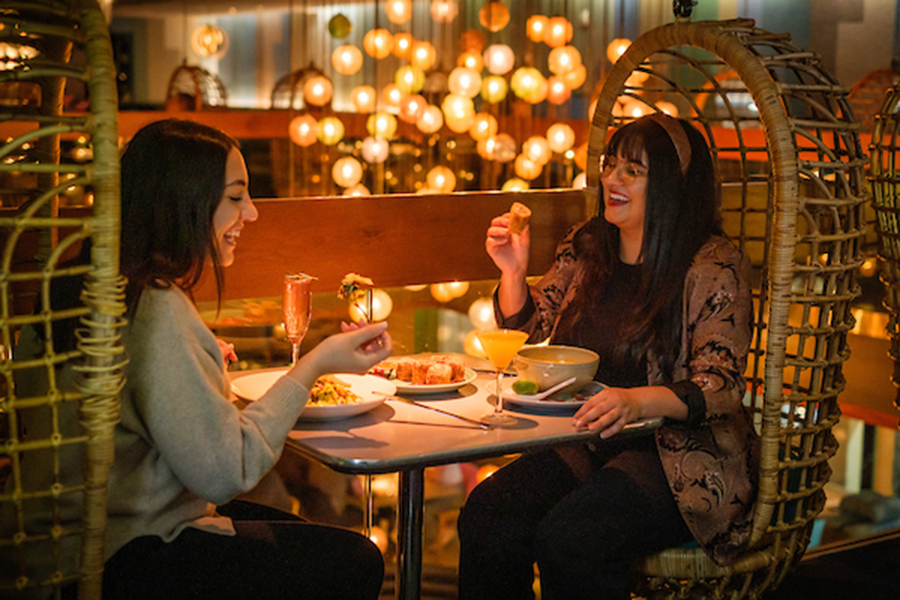 We all know Philadelphia is a proud city that loves its sport teams and unique food scene. Philly chefs and restaurateurs have racked up awards and expanded to other cities, changing the national food landscape while continuing to elevate the dining scene back home.
But it hasn't always been that way. While Philly has long had a beloved array of cultural culinary traditions and the roots of the renaissance date back to the mid-1970s, it's only in the past few decades that the city has emerged as an influential dining destination in the Northeast with national prestige and influence. And closely tied to Center City's rise as a hotbed of innovation was the development of Center City District's Restaurant Week, which is celebrating its 20th anniversary this year.
Restaurant Week, being held this year from September 10 to September 23, has grown alongside Center City's food scene as it expanded from 45 featured restaurants to a peak of 120, and has highlighted some of Philly's most celebrated and popular restaurateurs and chefs along the way. That makes understanding their 20-year story key to understanding the rise of Philly as a food city–and everything that goes into each bite when you come to dine in Center City.
The First Course
According to Michelle Shannon, Vice President of Marketing and Communications at Center City District (CCD), the first Restaurant Week was driven by some of the few fine-dining options that Philly had at the time, when the scene had yet to take off.
"We didn't have the innovation, and certainly not the diversity in terms of international food selection that we have now," Shannon says. "We had a nice selection, but not as robust."
Highlights at the time included the since-closed Le Bec Fin and Susanna Foo. The concept for CCD Restaurant Week was sparked by the managing partner of Smith & Wollensky, a high-end chain with another location in DC. The thought was that DC's successful Restaurant Week provided a model for Philly to raise its dining profile. An advisory council organized by Center City District loved the idea.
"We were looking for something that the whole restaurant community could get behind," Shannon says. "And the reasoning was that, not only would Restaurant Week drive sales, but it drove excitement. And it was a call to action for people to come in and dine, and a way for people to try more restaurants at a price that wasn't as intimidating."
The restaurant scene quickly embraced it. Even in that early group, Center City's distinctive dining profile could already be seen: the Rittenhouse Grill, Twenty Manning and Friday Saturday Sunday–which offer elegant dining experiences in comfortable settings–were original participants, as was the Oyster House, with its chic setting that still makes room for fun classics like lobster rolls and fisherman's stew. Other mainstays that have participated since the beginning include Devon Seafood Grill, McCormick & Schmick's, Caribou Cafe and D'Angelo's.
CCD quickly found that there was a real hunger for the kind of experience provided by Center City District Restaurant Week. The positive press still fills a binder in their office, and the first Restaurant Week was so popular that it was extended by three days. The feedback from restaurants was highly positive as well–one member credited it as giving them more than a thousand additional reservations.
Savoring Success
That success was no coincidence, but a matter of careful planning. From the beginning, CCD Restaurant Week was specifically designed to unlock the potential of Center City as a dining destination by making it easy to navigate for those less familiar with the city.
For diners coming in from the suburbs, convenient and affordable parking is important. So, CCD worked with the Philadelphia Parking Association and the Philadelphia Parking Authority to discount parking during Restaurant Week. To make the burgeoning food scene easier to access in itself, the CCD required all Restaurant Week's three-course, prix fixe menu prices across restaurants to be the same, approachable price (they also set up a website with a list of participants so member restaurants are easy to find.) The overall effect made it much easier to drive into the city and either head to a new restaurant that you'd been interested in, or even stroll Center City with an eye out for a place that looked exciting.
Since that initial, positive reaction, the influence of Restaurant Week, and Philly's role as a food city, has rapidly grown. CCD has made an effort to ensure that: Recruitment has been a key part of the Restaurant Week system. Restaurants don't simply apply–CCD reaches out to promising new restaurants that can live up to the Restaurant Week standard, and in turn benefit from the exposure CCD Restaurant Week provides.
That also helps to bolster innovative, diverse and ambitious restaurants that could use a spotlight. Philly acts as a great incubator of restaurant talent–it's a place where a chef can experiment and where people are willing to try new things. Chefs can come here and make a name for themselves, and CCD Restaurant Week seeks to support that.
The Restaurant Week boost is impactful enough that one major restaurateur–Shannon didn't want to name names–makes sure their new restaurants open during Restaurant Week to get them off on the right start. "​​People over the years have used it in strategic ways like that, to help get their restaurants off the ground," she says.
It's those chefs who have been pivotal in the development of Philly's culinary reputation. Now-famous restaurateurs and chefs who have participated in CCD Restaurant Week include Jose Garces, Stephen Starr, Marcie Turney, Michael Schulson, and Jennifer Carroll.
"There are several chefs that have really planted their flag here and made their names," Shannon says. "I don't know that many other cities, maybe other than New York, can say that they're a kingmaker, so to speak, in the dining industry."
Along with the city's increased culinary reputation has come economic development as well. It's helped develop the city's commercial corridors and created bustling communities, anchored by the city's growing outdoor dining scene, which has grown by more than 250 restaurants with outdoor seating specifically since CCD Restaurant Week's inception.
When it comes to developing a neighborhood, restaurants are often pioneers, and retail follows. So restaurants can help build a neighborhood and start attracting traffic to it. Midtown Village's flourishing is a good example, due to chef Marcie Turney's trailblazing restaurants.
A Twist on a Classic
The overall impact has been clear: The number of Center City restaurants has more than doubled since 2003, from 199 dining spots to 426. And now, even in its 20th anniversary, the CCD Restaurant Week format that helped spur so much growth is still mostly intact–with a few new twists on the format. For the first time, there will be two price options for restaurants–a $45 standard prix fixe and a premium $60 prix fixe. They'll also be hosting what they're calling a Restaurant Week Roadshow, which will be transporting a show throughout the city, featuring live music, performances, treats, and the opportunity to make Restaurant Week reservations.
Here are a few recommendations on how best to enjoy it this year. Start by checking if the menu is on the website, and if not, you can still call the restaurant to see what it is before making a reservation. You can also check parking while you're on the site, to make sure you're heading to a discounted spot. (Even after Restaurant Week ends, the site is still a useful tool–CCD now leaves their list of restaurants up on the site year-round, and people use it as a dining guide.) Consider a weeknight to beat the crowds, tip your servers, and don't be afraid to get a little adventurous.
"Do check out some of our little gems that you may not have tried before. This is the time to try something new," Shannon says. "It's a great opportunity to get together with friends and family and make it a social event. And just have fun."
This is a paid partnership between Center City District and Philadelphia Magazine's City/Studio
---