7 Ways to Add Modern Farmhouse Flair to Your Home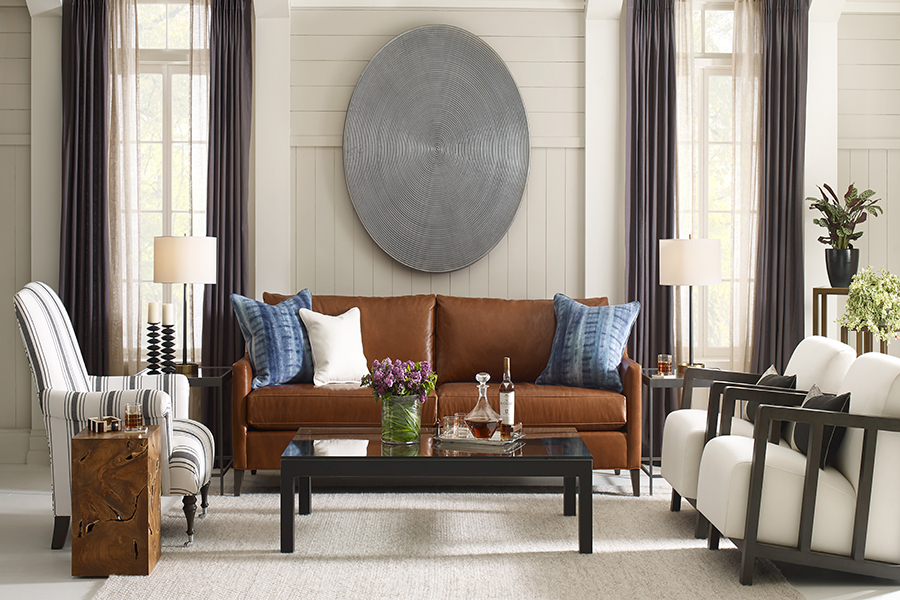 Gone are the days of all gray everything. This Fall, warmer tones and the revival of the farmhouse style (with a fresh new twist, of course!) will reign supreme. With homey-feeling hues like rich browns, beiges, bright whites and creams, it's easy to see why designers are making the switch to a more modern farmhouse feel. Comfy, cozy and full of charm, the modern farmhouse trend works well in any home—whether you're in the countryside or the center of a city. To help get your redesign off on the right foot, we spoke with Mitchell Gold of King of Prussia home and design mecca, Mitchell Gold + Bob Williams to gather the top ways to infuse a little farmhouse feel into your own home. Take notes!
Open Grain Everything
A staple of any farmhouse-inspired space is well-thought-out and well-placed wooden elements. But not just any wooden piece will do—hunt for one with an open grain. The visible
streaks of the wood's grain are a subtle yet sleek way of adding an outdoorsy vibe to any entertaining space. As Gold describes, you'll find the ideal farmhouse style with pieces that are "the intersection of comfortable and chic." The farm-to-table feel is perfect for any family that want a designated dining space that encourages guests to stay a while and strays from feeling too stuffy.
Timeless Leather Touches
Rustic meets refined with a structured and shapely leather sofa. The epitome of cozy warmth and calm sophistication is a richly-patinaed leather piece. Choose seating that centers the room but still makes a statement. "We know people are looking to their homes these days as a place for comfort and respite from a world that is filled with noise and controversy," says Gold. "This style creates that wanted feeling of comfort and home."
Leather, Linen and Denim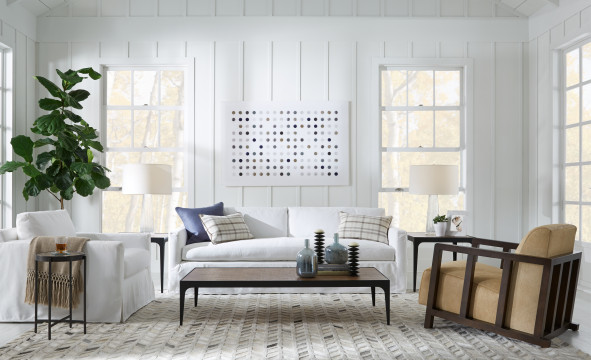 Forget fussy fabrics and intricate embroidery and instead opt for maximum comfort and versatility. "The Modern Farmhouse collection was created for real families to enjoy their home," says Gold. "We selected the best from the past but modernized for today's home." One of the biggest trends they're reviving? Slip covers! Choosing pieces with a slip cover allows you to include bright whites without the worry of kids and pets making a mess. The easy to maintain yet super stylish slip-covered piece complements any space and lifestyle.
Textured Accents
The simplest way to add a warm and personalized touch to your space is to accessorize! Choose objects that evoke the farmhouse feel by playing with pattern, fabric and texture. "The key to this style is bringing together a modern mix of richly textured materials like grained wood, raw steel and leathers, as well as beautiful textiles as a counterpoint," says Gold.
Statement Mixed Media Pieces
The Pickett chair (seen right) perfectly encapsulates the ideals of modern farmhouse flair. With its mixed
media structure (rustic woods and soft linens), it can be easily adopted into any living space. "It takes inspiration from its namesake-picket fences," explains Gold. "With its simplicity and graphic appeal, it adds an indoor/outdoor feeling to a room. Plus, it's very comfortable and made for relaxing."
Non-Rugged Rugs
The inclusion of oh-so-soft rugs and runners will not only enhance the cozy comfort you're searching for but also add some style. Choosing tonal floor coverings adds cool contrast to your space. Don't be afraid to play with pattern and color as well to elevate the space even more. For an extra dash of down-home comfort, add a cool farm figure to your space. This friendly addition adds a touch of ultra-modern flair that pairs well with the traditional farmhouse feel of your room.
Seating with a Simple Silhouette
A surefire way to add a farmhouse spin to your space? Include a timeless and classic wooden chair. Reclaimed and rustic, yet refined, a simple wooden chair feels like a cozy piece passed down from generation to generation and adds a well-loved warmth to any room. With a familiar feel and a classic elegance, American modern chairs are the perfect addition to the dining table, desk, or living room.
Add a farmhouse feel to your space today by joining the MG + BW Comfort Club. You'll receive 20% off everything, every day and a free in-home design service with one of their designers.
This is a paid partnership between Mitchell Gold + Bob Williams and Philadelphia Magazine's City/Studio
---