Living in Fairmount: A Neighborhood Guide
Also known as the "Art Museum area," this neighborhood was the first to become part of "Greater Center City." Other firsts include America's first waterworks and its first penitentiary.
---
Many of today's Fairmount residents may not know how their neighborhood got its name.
The name comes from the hill atop which the Philadelphia Museum of Art now sits. William Penn had originally planned to build his own residence atop the "Faire Mount," but that never happened; instead, he built a home along the Delaware in Bucks County.
Faire Mount later gained prominence as the site of the reservoir fed by the first municipal waterworks in the nation. Pumps at the Fairmount Water Works pushed water from the Schuylkill up the hill to the reservoir, where gravity sent it back down to pipes that distributed it throughout the city of Philadelphia. The base of the Art Museum incorporates some of the reservoir's walls.
Today's Fairmount began to take shape in the mid-19th century as the newly consolidated city expanded outward from its center. The neighborhood offers houses ranging from modest rows to grand mansions. It's mostly residential, but some of the city's best restaurants are scattered throughout it.
---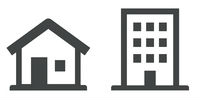 Fairmount Housing Prices at a Glance
Median single-family home value: $410,200
Median condominium value: $219,300
Median monthly rent: $1,715
---
What You Can Buy in Fairmount
New Construction Rowhouse with Hot Tub on Roof Deck
905 N. 30th St. | 4 beds, 4 full, 1 half baths, square footage unavailable, $800,000
Updated 2-Story Rowhouse with Large, Shady Rear Garden
742 N. 22nd St. | 3 beds, 1 bath, 1,160 square feet, $449,000
Rehabbed 3-Story Rowhouse on Tree-Lined Street
2411 Perot St. | 3 beds, 2 baths, 1,050 square feet, $445,000
---

Public Transportation in Fairmount
SEPTA Trolley Route: 15, on Girard and South College avenues at the neighborhood's northern border
SEPTA Bus Routes: 7, northbound via 22nd Street, Fairmount and Pennsylvania avenues, and 27th Street, and southbound via 29th, Brown and 23rd streets; 32, via Pennsylvania Avenue, 26th, 27th and Poplar streets; 33, via 19th and 20th streets; 48th, northbound via 22nd, Aspen, 27th and Poplar streets, and southbound via 29th, Brown and 23rd streets
(Some include the SEPTA Broad Street Line Fairmount station as serving the neighborhood. That station is located in Francisville's southeast corner, at Broad Street and Fairmount Avenue, five blocks east of the neighborhood. No bus route operates on Fairmount's entire length, but in good weather, the walk down Fairmount Avenue to the subway is a pleasant one.)
---
Food Shopping in Fairmount
Supermarkets: Aldi, 31st Street and Girard Avenue, Brewerytown, just outside neighborhood; Klein's Supermarket, 24th Street and Fairmount Avenue, inside The Philadelphian; Whole Foods Market, 22nd Street and Pennsylvania Avenue, Spring Garden, five blocks south of neighborhood
Specialty grocers: Tela's Market and Kitchen, 1833 Fairmount Avenue, Francisville
Corner stores: Almonte Food Market, 1945 Poplar Street; Trust Deli Grocery, 2600 Brown Street; Economic Grocery, 839 N. 20th St.
---
What A Real Estate Agent Says About Fairmount
"There are so many great things about the Fairmount neighborhood to love, but what's top on my list is the endless amount of activities that are in walking distance.
"Looking for great museums and cultural institutions? Got you covered with the keepers of culture like the Art Museum and Franklin Institute. Want to attend a special event or enjoy live music? Walk down to the fireworks or any of the great concerts on the Parkway. Always on the hunt for great food? There's an endless amount of restaurants providing a very diverse culinary experience. One of my favorite places to eat is this really authentic Greek spot called Zorba's. A roasted leg of lamb, rice, and potatoes with tzatziki has me in heaven.
"I also really appreciate where Fairmount is located in relation to the rest of Philly, especially Center City. Public transportation makes it super easy to get in and out of the neighborhood. Kelly Drive allows bikers and walkers to have a beautiful and scenic route while exercising. Also, on a nice day, it's not too far to walk to Center City.
"Lastly, all your basic amenities like grocery shopping are very close by as well. With the Whole Foods in the area, you have a place to take your laptop and work, hang with friends, grab food, and grocery shop all in the same place.
"Overall, Fairmount is a great place to live. You get multiple housing options from condos to rowhomes from $120K to over a million. You have lots of places to eat, have fun, and are close to major roads. Make sure you check out what it has to offer."
—Cherise "Agent Lady" Wynne, Coldwell Banker Preferred
---
Local Color
The historic Fairmount Water Works sits right beside the Schuylkill at the neighborhood's western edge, at the base of the Faire Mount on top of which its reservoir once sat. That reservoir now serves as the foundation for the Philadelphia Museum of Art. Built between 1812 and 1872, the Greek Revival structure is the first municipal waterworks in America, a National Historic Landmark and a National Historic Civil Engineering Landmark. After closing in 1909, it housed an aquarium until 1962 and a swimming pool for a decade after that. In 2003, the restored Water Works reopened to the public as an educational facility offering tours and programs focused on watershed protection. The Engine House and Mill House atop the waterworks now house a banquet and catering facility.
---
More Local Color
Speaking of catering, some of the city's most beloved and creative restaurants are located in Fairmount and cater to a wide variety of tastes. Jack's Firehouse, pictured above, is a popular American eatery in a converted 19th-century firehouse that opens to the street when the weather's nice. Other well-known local restaurants include the London Grill and Paris Wine Bar, Bar Hygge and La Calaca Feliz.
---
Did You Know?
Fairmount is home to the most influential structure in the history of American prisons. Eastern State Penitentiary, opened in 1829, was the world's first prison to be called by that name; it was designed as a place for reform rather than punishment, and the reformers who developed its system of solitary confinement believed its single-occupant cells would instill a spirit of penitence in their occupants, hence the name.
Unfortunately, that experiment proved unsuccessful, with some prisoners going insane instead, but some 300 prisons worldwide adopted its design of cellblocks radiating from a central watchtower. Notable occupants of Eastern State's cells include mobster Al Capone and bank robber Willie Sutton, who staged an escape along with 11 other inmates in 1945.
After it closed for good in 1971, the prison fell into ruin as the city attempted to redevelop its site. Today, the ruined structure is a tourist attraction that serves to educate the public about incarceration and efforts to reform prisons over the years. And every October, the prison is transformed into one of the best haunted-house attractions in the country with the annual "Terror Behind the Walls" productions.
---
---