Another Cool Mixed-Use Building to Rise on North Front Street
ISA creates yet another envelope-pushing design for an 11-unit apartment building with street-level retail next to the El in Fishtown.
---
This much you can say for certain about the buildings that come out of Interface Studio Architects:
They're about as far from bland and boring as one can get.
Having already created one exclamation point for the stretch of North Front Street between Girard and Berks stations on the Market-Frankford Line in South Kensington, the "El Chalet," ISA has produced another metal-clad mind-bender for the 1200 block of Front, this time on the Fishtown side of the street.
"Frontline" is a five-story metal-clad structure that will contain 11 apartments and 1,100 square feet of commercial space on the street floor. The second, third and fourth floors will each contain two two-bedroom apartments and a studio unit and the fifth floor will have two bi-level penthouse apartments, one with two bedrooms in the rear and the other with three bedrooms in the front.
The apartments range in size from 475 square feet for the studios to 1,439 square feet for the larger penthouse. Rents for the studios start at $1,200 while the two-bedroom units will rent for $1,700 and up. Rents for the penthouse units have not yet been set.
The building's charcoal-grey metal facade will be enlivened by pops of pink on both the interior light well and a top-story cutout.
Frontline is a joint development of Nito Capital and Callahan Ward Companies, both of which have been active in bringing new projects to fruition in Northern Liberties, South Kensington and Fishtown.
Construction is now under way on this project, with completion set for the summer of 2018. Luminous Realty will handle the leasing of the units when they are ready. The renderings below offer a glimpse of what the apartments will look like on the inside.
---
1229-31 N. Front St., Philadelphia, Pa. 19122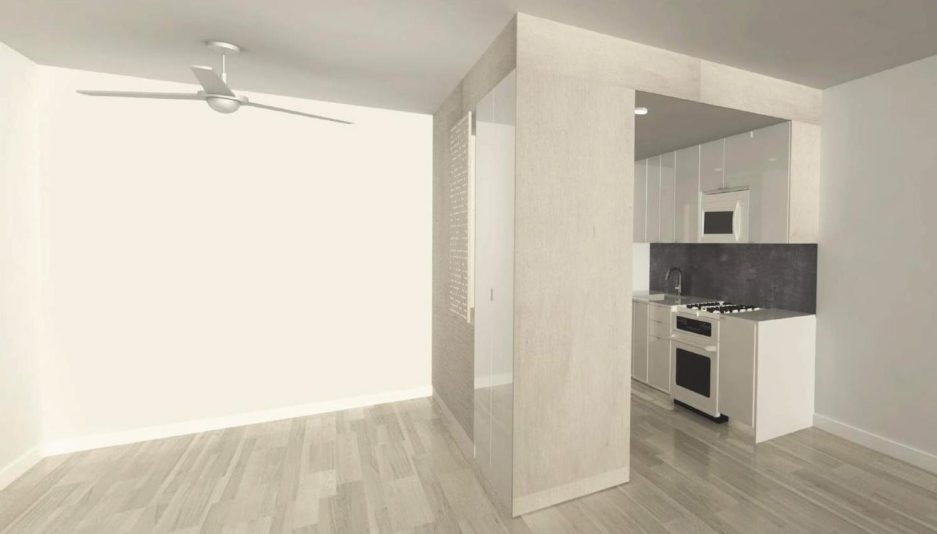 ---
Follow Sandy Smith on Twitter.
---
---