Rents Rise Modestly Again in July; Renters Give Area Good Marks
Rent growth in Philadelphia trails the national pace slightly, according to the latest Apartment List data. Renters also said they generally liked living here in the site's annual satisfaction survey.
---
Rents for apartments in Philadelphia rose slightly for the sixth straight month in July, climbing 0.3 percent from June levels, according to the latest monthly rent report from ApartmentList.com.
According to Apartment List, the median rent for a one-bedroom apartment in Philadelphia stood at $960 in July, and the median two-bedroom apartment rented for $1160. These figures are 2.1 percent above year-ago levels.
The annual growth rate for rents in Philadelphia lags both the statewide average of 2.2 percent and the national average of 2.9 percent.
The region retains its reputation as a relatively affordable large city. Of the 11 large metros in the chart below, only Houston and Detroit had lower median rents for a two-bedroom apartment than Philadelphia. And while rents in Houston fell year to year, Philadelphia's rate of increase is below those of peer cities on the East Coast.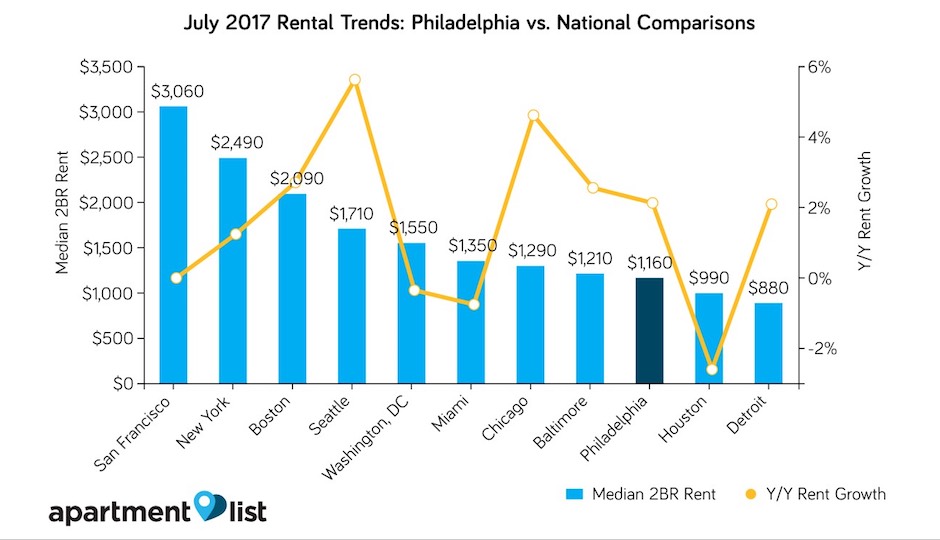 In a related item, Apartment List also released the results of its annual Renter Satisfaction Survey this month, and those results show that Philadelphia tenants are generally happy with conditions for renters here.
"Renters in Philadelphia are relatively satisfied with their city overall," says Andrew Woo, director of data science at Apartment List. "They gave average or above average scores in many categories, though they would like to see some changes in others."
Renters gave the city a B grade for overall satisfaction. Its strong suits were access to public transit (A+) and recreational activites (A-). Philly also received good grades from renters for jobs and career opportunities (B+), commute time (B+), pet-friendliness (B) and affordability (B-). They regard the weather (C+) as neither great nor lousy and also gave the city a middling grade for crime and safety (C). The one area where they said drastic improvement was needed was the quality of the schools, which they flunked.
Philadelphia renters were as satisfied as Manhattanites with the overall quality of life for renters, and they were far more satisfied than renters in Baltimore, which trailed the pack on the survey. But they weren't as satisfied as renters in Boston (A+) or Washington (A-) were.
Follow Sandy Smith on Twitter.
---
---