Who's Building Philly: Alon Seltzer
Home is where this god of small spaces hangs his hat. He's gotten so adept at transforming spaces for people like him who make the city their living room that Zillow came calling.
---
Before the "tiny house," there was the Rittenhouse Square efficiency apartment.
These shoeboxes for urban cliff dwellers enabled singles and others whose desire for urban living exceeded their need for space to take advantage of all the city had to offer: parks, cafés, shopping, culture, you name it. When the city was your living room, why bother with one of your own?
That attribute makes these efficiencies and studios popular with a younger set even now. But there's a hitch: Back in the 1950s, when most of the apartment buildings containing these units were built, they weren't terribly efficient in the way they used their limited space. And their appearance had likewise become dated.
Enter Alon Seltzer with his repair kit.
Seltzer grew up on the Main Line but fell in love with city living. And when he did, he joined the ranks of those younger residents who basically used their apartments as personal crash pads and lived their lives in the cafes and bars that line the streets.
But that didn't mean he didn't want a comfortable, stylish and functional crash pad, and he figured others would as well.
"I'm never home, so this fits my lifestyle," he says of his Rittenhouse studio apartment. "And I think there's a trend towards living smaller. In the Avenir at 15th and Chestnut, they had legitimate micro-units of 300 square feet. They were the first to rent, and they're fully occupied."
Given this, he figured that older buildings with units of similar size could use a refresh. He chose the Rittenhouse Savoy, a 1950s tower at 18th Street and Rittenhouse Square, as his laboratory. "It's the stepchild of the Square," he said. About the only amenity it offers its residents is great views of the park, so he has been acquiring smaller units with park views in the building and turning them into showpieces.
His secret: Get rid of the space-wasters and replace them with more efficient items that do the same job with style.
Like doors, for instance. "The older studios in the Rittenhouse Savoy have a door that leads into a closet, then the bathroom," he says. "Since doors take up space, you use pocket doors or sliding doors instead.
"And you use glass doors that let in light. Using translucent doors helps a lot in brightening up [a bathroom], for it's all the way at the back of the unit."
Then there's furniture that does double duty or gets out of the way when you need it to. "There's a company called Resource Furniture out of New York City that specializes in multifunctional furniture — desks that fold into walls, beds with hydraulic storage underneath."
Seltzer also deploys combination washer-dryers, a relatively recent development, in the units' laundries in order to provide additional storage space.
"The key is doing more with less," he said. "What's important is to maximize and utilize every square foot of space. It's easier to do it when you can demolish the whole place and start from scratch."
Seltzer's stylish rebuilds caught the attention of the folks at Zillow, which runs a "Tiny House Week" each year showcasing projects that make the most of a small space. Seltzer took over Zillow's Snapchat and Instagram channels for two days to give viewers a look at a completed project — his own studio apartment — and a from-scratch remake. "We brought in Bo Concept to furnish it and showed the progress using time-lapse photography," he says. "This was to show Zillow viewers how to furnish a studio properly while maximizing the use of space.
"The goal was to wipe away the stigma behind studio living, and I think we did just that. Zillow said it was the best project that had ever been done" for Tiny House Week.
Seltzer's passion for remaking small spaces got started when he had to make a virtue out of necessity. "I prefer a larger space but I also like high quality," he wrote in a letter describing how he got his start. "Unfortunately, I couldn't afford to purchase a newly renovated one-bedroom apartment in any building. The only way I could afford to live on the Square would be to buy a tiny studio. I found an owner who had a studio overlooking the Square. I purchased it and completely gut renovated it to look like a five-star extended-stay hotel."
Which brings us to what may be the most unusual aspect of Seltzer's work: In a development category where most of the action is aimed at creating affordable living spaces for the masses and the occasional nomad, Seltzer aims at the upper end of the market. "High-end tiny houses are kind of unusual" in the United States, he said. "But you see these in London, Hong Kong, New York and now even DC too— really expensive cities."
Philadelphia hasn't joined the ranks of those cities yet, but Seltzer has found there's a market for this sort of thing here anyway: tenants with enough money to afford more space but who opt for more style instead. "Let's say you have $2000 [a month] to spend on an apartment and want to be in Rittenhouse Square," he said. "I ask renters, 'Do you want a larger space with parquet floors that hasn't been renovated in 15 years?' Because if you do, I can take you to the Dorchester and put you in a nice one-bedroom for $2000 a month.
"But if you'd like a knockout studio with quartz countertops, Toto toilets, tile bathrooms, LED lighting, all brand new? Some people don't want that, but others do because of the low maintenance. They want to feel like they're walking into a hotel."
Which doesn't mean he hasn't done the occasional one-bedroom. "When I was renovating my first three studios, a woman walked in when she heard the noise from the renovations. She said to me, 'I live here half the year; why don't you oversee the design of my one-bedroom apartment while I'm away?'
"I don't consider myself a designer, but she walked in [to her redone apartment] and her jaw dropped."
Seltzer's affinity for Rittenhouse runs in his family. His grandfather has lived on and around the Square his entire life: at the Rittenhouse Plaza, in the Rittenhouse Claridge, on the 1900 block of Delancey Street and now at 10 Rittenhouse. His grandfather's grandfather owned a fur salon where the Firstrust Bank is now located at 19th and Walnut to boot. "My family has strong ties to this area and I couldn't see myself living anywhere else in Philadelphia," he wrote.
This god of small things is actively looking for other buildings to make over in this fashion. He has looked at the Dorchester but said that the numbers wouldn't work right now because the unit purchase prices are too high. Still, he said, it would be an excellent makeover candidate as the units have not been updated in a while, and he suggested that Allan Domb Real Estate, which owns several studio apartments in The Dorchester, might want to consider taking his approach to studio design: "If I start a trend, that's great."
Something else he would like to do is build an all-new building consisting of nothing but small studios with large common amenities like a roof deck. The problem, he said, is the city's "archaic" zoning rules.
Maybe Seltzer's next project should be to make over the CMX-5, RMX-3, RM-3 and RM-4 building specifications.
---
Small is Beautiful: More Seltzer Makeover Photos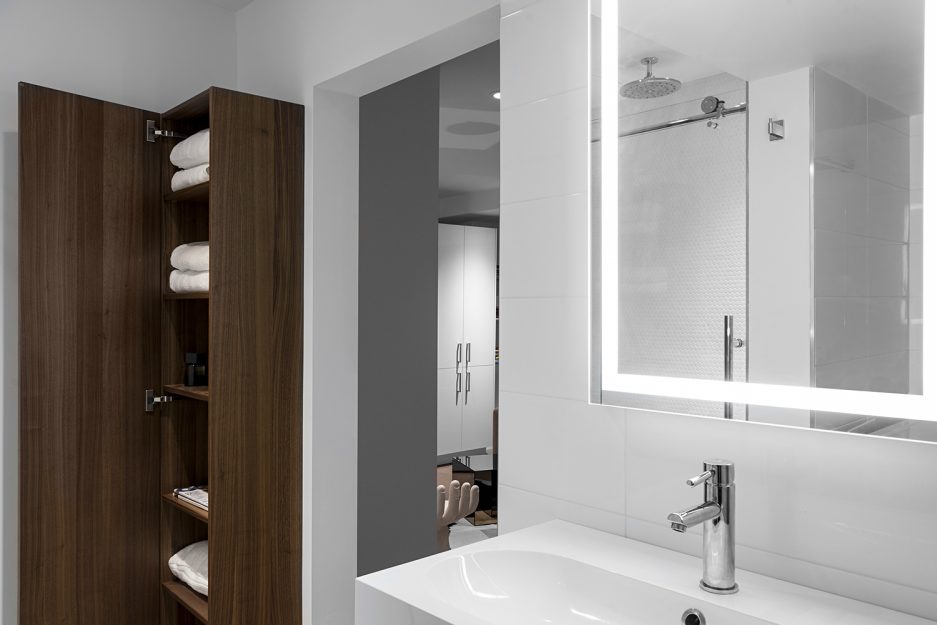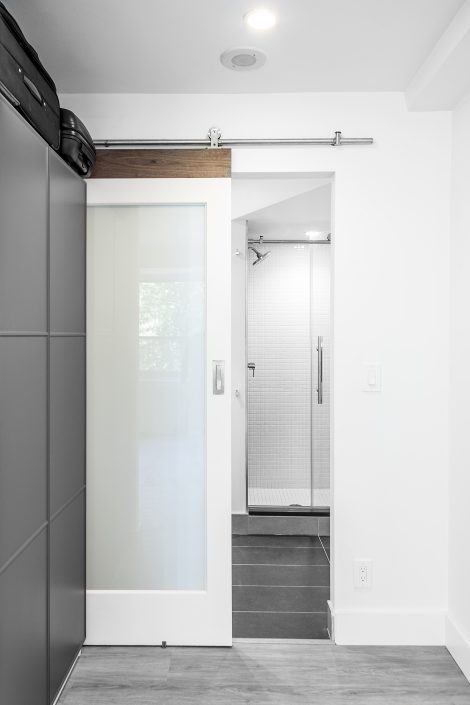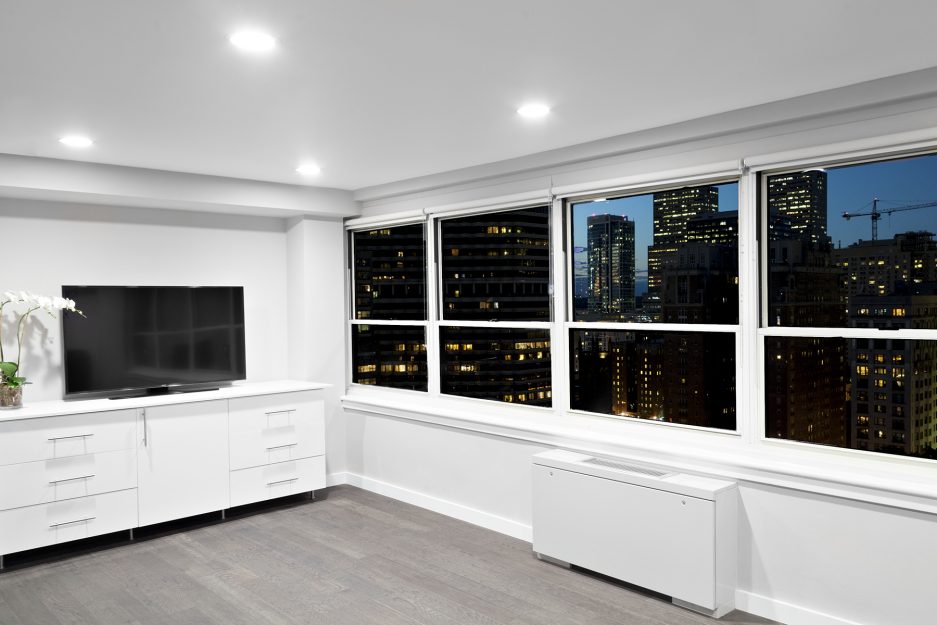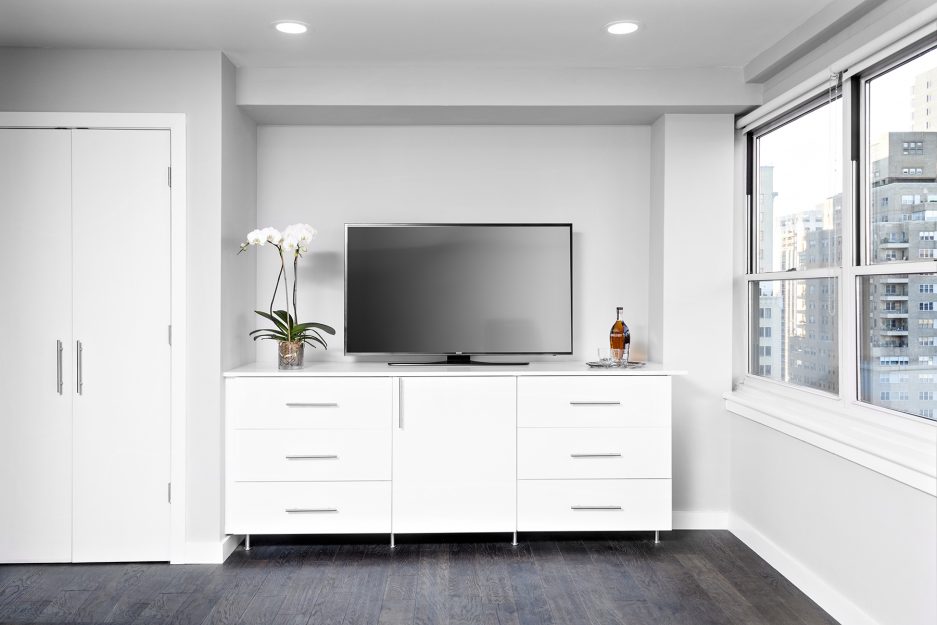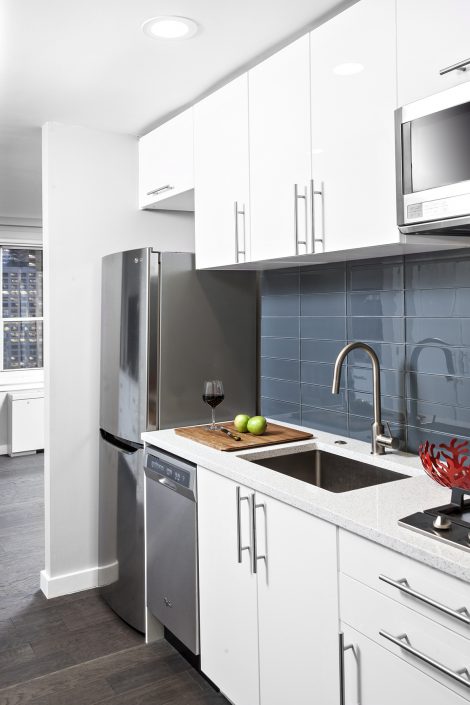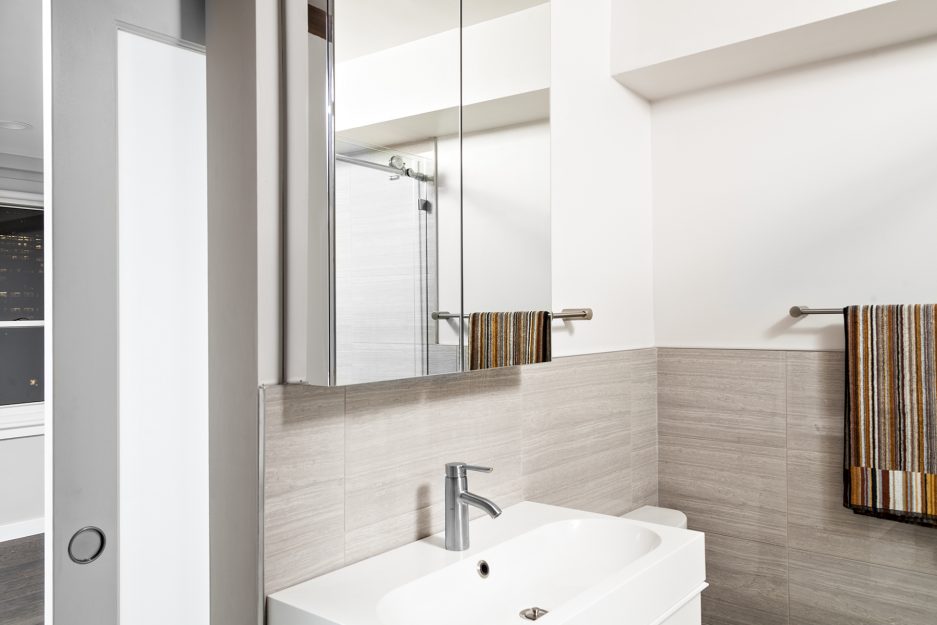 ---
Follow Sandy Smith on Twitter.
---
---