Philly Builder Recognized for High-Tech Solution to a Historic Restoration Problem
A manufacturer of high-tech custom windows honors builder T.R. Moser for his historically sensitive conversion of a former Catholic school into luxury condos.
---
When Moser Construction Management decided to undertake its first multifamily residential conversion project, it had two pretty high hurdles to clear. One was repairing the bones of a former Catholic elementary school in Narberth that had deteriorated over the years since the Archdiocese of Philadelphia closed it. The other was making sure it looked the way it did when it opened in 1925, at least on the outside, in order to satisfy Narberth Borough officials.
With a little elbow grease, some thoughtful interior design and some high-tech windows, Moser succeeded at clearing all these hurdles. Last month, Moser owner and operations manager T.R. Moser traveled to Minnesota to receive an award from the manufacturer of the windows, Integrity by Marvin Windows and Doors, and tour the manufacturing plant.
Before getting into why Marvin's Integrity division bestowed one of its 2016 Red Diamond Achiever Awards upon Moser and his company's project, let's tell the story of the project.
The Forest Walk condos in Narberth occupy the former St. Margaret parish school, built in 1925. The building is typical of Catholic parish schools of its time: a handsome stone Gothic Revival box with a symmetrical floor plan that put four classrooms and two small offices on each of the two upper floors and a cafeteria and bathrooms in the basement. ("They used their space efficiently," Moser said.) The school, now the only Catholic parochial grade school serving Lower Merion Township, moved to larger quarters nearby in 1974, and the archdiocese shut the building down completely in 2009.
"The parish had stopped taking care of it, and when we got control of the building, we had to put a temporary roof on it, for when it rained, it would continue to rain inside for three days afterward," Moser said. "The biggest challenge was trying to use the existing space we had and convert it into four finished flats with a garage underneath."
Fortunately for Moser, the leaky roof hadn't caused serious damage to the building's steel frame. That strong structure and the high ceilings on each floor meant that the planned four condominiums could be thoughtfully designed and engineered to appeal to a target market of older buyers who were ready to downsize their large suburban homes and move to more walkable small-town settings.
"What was nice about the structure was the high ceilings we had," said Moser. "This allowed us to focus on really cool ceiling designs and soundproofing done correctly." To soundproof the units, the Moser team used kinetic sound technology that employed 15-inch mesh screens between the original ceiling joists and the unit ceilings. The space in between the two also allowed for adequate fireproofing.
Then there was the borough's new adaptive reuse ordinance for older buildings, approved the year before Moser bought the school with projects like his in mind. Those high-tech windows played a key role in enabling Moser to proceed. They're called Integrity All-Ultrex Double-Hung Windows, and they're made from a proprietary process that creates extremely durable fiberglass frames that perform like new years longer than comparable windows. The double-paned windows were custom-made with simulated mullions that mimic the appearance of the building's original windows, which the archdiocese had removed and replaced with large-pane windows with steel lintels. Moser removed those windows, put in steel cages to house the new ones, and inserted the new windows in the cages. Because they were custom-built to fit the openings, they created a seamless facade that matched the 1925 design.
"When you drive by, they look like they've always been there," Moser said.
Marvin's reputation also helped get the project through the borough's permitting process a little faster. "Before we did the work, we had to go through a conditional use hearing and also discuss the facade easement," he said. "There were three architects on the review panel. It was nice to use a product that had such great name recognition. It was one less hurdle to jump over in a process that took a year to finalize."
The end product is a building with great curb appeal and spacious units with direct elevator access from the basement parking garage. "We recycled the old classroom doors for the basement storage units" as a way of further preserving what Moser called the building's "old-school flair."
Demand for the units has proved strong: one unit sold shortly after completion, and a second has a deposit on it now. The building's location and its appearance are both strong selling points, Moser said. "You're close to the train station, and you can be in Center City in 15 minutes." And Narberth is also appealing to a new generation of residents: "People want the community parks and the amenities within walking distance."
The Forrest Walk project is an example of a balancing act going on in many communities like Narberth that seek to adapt to changing times without losing their essential character. High-performance windows may not seem like key elements in that balancing act, but Moser will gladly p0int to his end product to provide evidence that they are.
---
Forrest Walk Conversion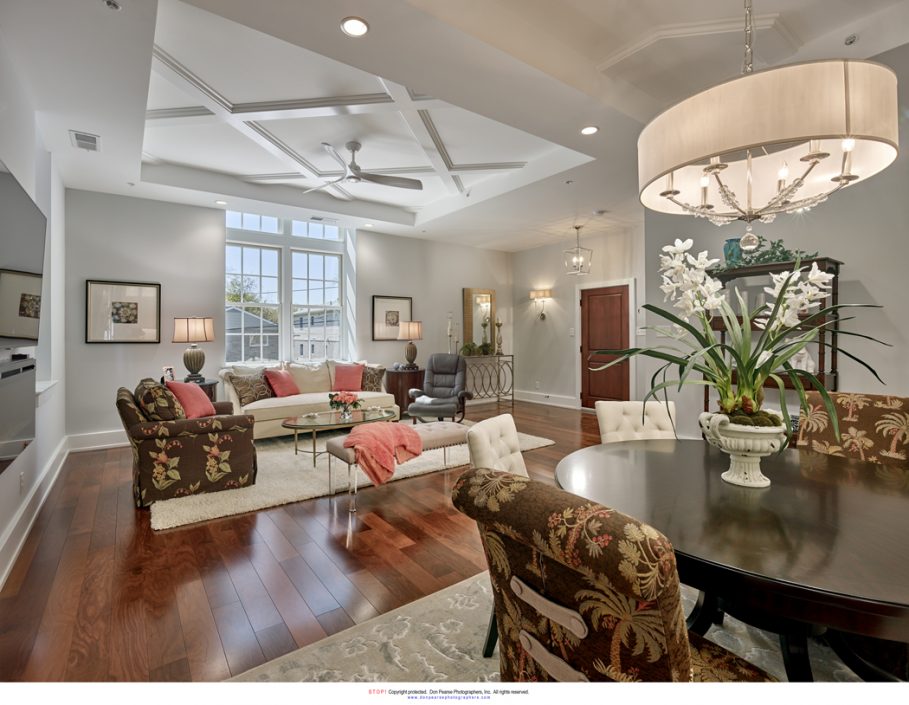 ---
Follow Sandy Smith on Twitter.
---
---